As marketers are having to think outside of the box for Covid-friendly campaigns, it can seem like everyone is going virtual. At first this was a clever way to pivot and stand out, but now with all brands leveraging their social channels and ad campaigns to the max – is it time for us to ditch the screens?
How can you do things differently?
We've collated our top five creative product launch ideas to help you get outdoors and engage more directly with your audience while adhering to safety guidelines. We'll take you through:
1.

Poster Campaigns With A Difference
When Nurture Brands bought some outside space to launch "Emily's Crisps", they thought April 2020 would be the ideal time for their promotion as it would coincide with the busy Easter Bank Holiday weekend. They were confident their posters saying "Ditch dull, eat bold", would be viewed by hoards of pedestrians and commuters.
However, on March 23 2020 the first lockdown was announced, so the marketing team pivoted to devise four new messages calling out their misfortune. For example, one said: "Our first ever poster, seen by a runner and one pigeon. Typical." Another pondered: "Hmm ….. Maybe we should have made a TV ad instead."
They then took their campaign online, sharing photos of their posters on social media channels with the #stayhome hashtag. Having such a self-deprecating and original idea for their updated outside campaign made their online message stand out, without making light of Coronavirus.
2.
Seasonal Promotions With Influencers
The marketing team for Tabasco® Sauce were tasked with finding new ways for Millennials to use their signature product, so they teamed up with sandwich-maker maestro and influencer, Max Halley, to create "Max's Pick-Me-Up Café", - a US postal van wrapped and converted by Raccoon.
During the Christmas party season in 2019, the team visited London's Victoria Station, Leeds city centre and Birmingham New Street Station and handed out "Max's Morning Reviver" - a headline-making, hangover healer. A total of 2,000 free sandwiches were provided to jaded commuters. (At that time the city centres were still bustling with workers a few months before the Covid-19 lockdown.)
The giant replica sandwich on the roof of the mobile café provided a fantastic selfie backdrop, helping to create awareness of the campaign across social media channels, including Max's multitude of avid online followers. The campaign was a hit and led to a 5% increase in sales of Tabasco® during December 2019.
3.

Celebrity Surprise Pop-Ups
When Heineken teamed up celebrities with an enormous, branded cherry-picker to launch their new zero-alcohol beverage, Heineken 0.0, it gave a whole new meaning to the phrase "beer break"!
Lucky home-workers who had entered an online ballot launched by Heineken, were delighted to have their working day interrupted by the celebrities, including kitchen disco queen, Sophie Ellis-Bextor and stand-up comedian, Eleanor Morton, serving them a pint from the cherry-picker through an upstairs window of their home., drawing huge attention from the media.
With their traditional sources of income, i.e. live performances and tours, put on hold for months due to Covid, there are plenty of celebrities welcoming the opportunity to do alternative PR "gigs" while they wait to get back on stage. So now could be a good time to approach agents with your creative product launch idea and invite their celebrity client to be the famous face of your campaign.
4.

Journalist and Influencer Freebie Giveaways
Loire Valley Wines launched their "London Bucket List" campaign, taking their colourful Piaggio Ape "Little Wine Truck" out to visit journalists and influencers to offer them a sophisticated tasting experience.
The serving counter of the converted Piaggio Ape was dominated by a large ice bucket overflowing with bottles of delicious wines from the Loire Valley. The vehicle also had an iPad installed so that the promo team could display video clips of the beautiful region in France that the wines came from and the fascinating wine-making process, whilst customers enjoyed their free tipple and offered their feedback.
Their popular tasting sessions were carefully curated to ensure they were Covid-safe, so that visitors to the Little Wine Truck could feel reassured and relaxed.
5.

Iconic Stunts To Excite Your Audience
Experiential agency, The Persuaders, let their imagination go wild when they worked with Netflix to promote the launch of Stranger Things 3. Fans of the series saw the show's "Scoops Ahoy" ice cream van enveloped by a huge scary monster with its tentacles "breaking through" the window of the van.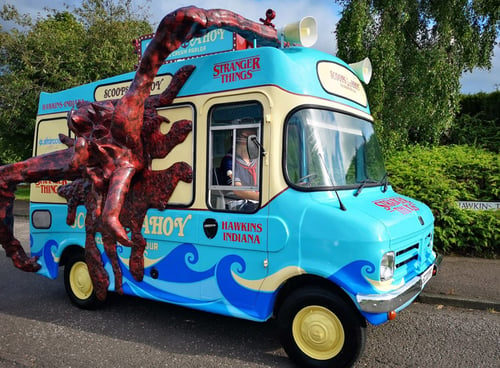 It was the stuff of nightmares, but certainly attracted attention and lots of selfies! The giant monster prop looked very realistic, but fortunately the brave promo team were unfazed by the monster on their roof and still able to give away free ice cream to the public. The van even had the Stranger Things theme tune as its jingle when pulling up to hand out ice cream in retro flavours, such as Coke Float, Cherries Jubilee and Banana Boat.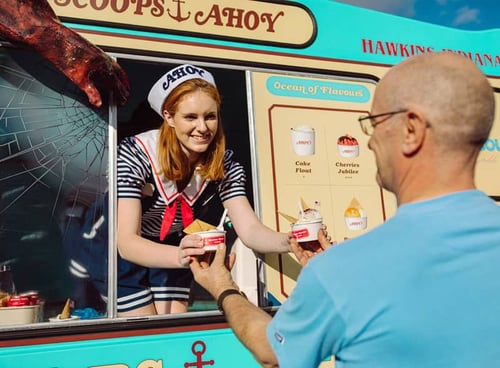 As a creative launch event idea it was a great success, taking terror, thrills and free ice cream to thousands of Netflix fans across the UK. To read more about the creation of the campaign, click here to read the case study.
As we emerge from lockdown, product launch ideas only leveraging social media and online ads may be missing out on an opportunity to make their campaigns memorable. Taking an OOH (Out Of Home) approach can help your brand truly stand out from the crowd, so Where brands are directly competing in an effort to try to make up for the shortfall in activity and product launches in 2020, can you afford to be missing out?
Using promotional vehicles is a fantastic way to take your product launch outdoors and to multiple sites. Check out our eBook "How to use Promotional Vehicles in Product Launches" for more creative product launch ideas using promotional vehicles. Click below to find out more!