If you are reading this article, you have no doubt been asked if you would consider sharing your experience with us in the form of a customer journey.
But just what is a customer journey, and what do you get out of agreeing to one? What does Promohire get? Is it a fair deal? As the Content Manager for Promohire, I often get asked these questions, so I'm well-placed to help you.
In this article, I will explain the benefits to both parties of collaborating on a customer journey video and I will also run through the process, leaving no doubt as to what we ask of you and what you can expect of us in return.
Contents:
What is a customer journey video?
A customer journey video is pretty much what you might expect. It is a type of case study, but one that is focused on explaining the service or product from the customer's point of view.
Our customer journey videos take the form of an interview with the client, which we overlay with footage of the campaign in action.
What we get out of filming a customer journey video with you
If you agree to film a customer journey video with us what we get out of the collaboration, is the ability to share your story with our audience and future customers and prospects.
As a relatively niche portion of experiential marketing, it's important for us to be able to explain to clients how we can support them and the level of service they should expect to receive.
There is no better way of doing that than letting our clients tell their stories from their perspective. It's honest, relatable and fully transparent – the way we like to do business.
What you get out of filming a customer journey video with us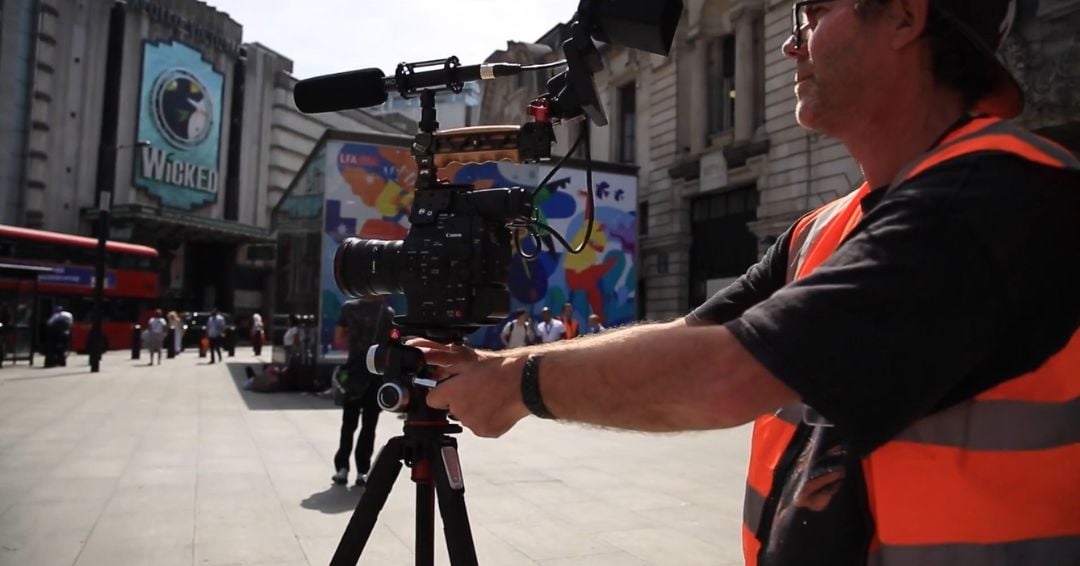 You get your own personal videographer! Our friendly videographer Justin is at your disposal. Justin is there not only to capture an interview with you for the customer journey video but also to capture as much footage of your campaign in action as possible.
This is all footage we will happily share with you in still, video and time-lapse format. If you don't have a team in your business capable of editing such footage we can do that for you too, producing social media-ready shorts, videos and images.
Justin is also a fully qualified and talented drone operator, which allows us to get some really unique shots if that's something that interests you.
To recap, depending on your requirements you get:
Promohire's talented Videographer - Justin has more than 25 years of experience in commercial videography, and he's all yours for the campaign!
Video footage.
Time-lapse footage.
Drone footage.
Imagery.
You have the choice between the raw footage or professionally edited ready-to-post shorts, videos and images for your social media.
We can also provide you with teaser photos or videos in the run-up to your campaign to help you build the hype!
How customer journey videos work
You are going to be extremely busy come activation day and we totally get that. There's a lot of pressure that comes with that level of responsibility and the last thing we want to do is add to that.
That's why we keep things simple:
We won't ask you for the interview when you're run off your feet.
We won't get in your way.
We will prepare you for the interview well ahead of time.
Here's how it works:
Long before the start of your campaign, we will send you a script template.
The template details the standard questions we ask every client.
Each question contains prompts to help you give a more well-rounded answer.
You will agree on an appropriate date and location for Justin to come up and film.
On the day Justin will capture footage for your campaign and, at an appropriate moment, film the interview with you.
The interview won't take long, they usually last only a couple of minutes, but you are welcome to speak as long as you like!
Once Justin has finished editing the video, and any relevant media we have agreed to supply you – he will let you know when the interview will go live and supply you with a link to view the content.
There are several ways you can prepare for the questions:
Write out your own answers and commit them to memory
This is a good option if you aren't feeling confident. Writing down your answers ensures you have a visual reference in case you forget anything and even if you struggle to memorise them, Justin can cut between questions, allowing you to have a quick look at each answer before you read it out.
Just answer the questions on the day
Many clients choose to do this because as the key manager for the campaign, they already know every detail of the campaign inside out and back to front and are unlikely to stumble over any questions.
What makes a really good customer journey video?
In a word, transparency. This video will be viewed by people who were once in your position, wondering whether investing in a promotional vehicle campaign would be worth their time and budget.
The best thing you can do to help those people is to be honest. When you answer the questions, be open about your fears and expectations as well as the level of service you received. Was the campaign a success?
Are you able to share any metrics? QR code scans, newsletter signups, footfall, impressions, sales – any data you think relevant.
You don't have to mention specific KPIs if you aren't comfortable but an indication of success would be very welcome.
Check out our example video below for more context.
Customer journey video example
Below is a recent customer journey featuring Malone Souliers Head of Marketing, Sophie Swift. This is a great example of the kind of video we are hoping to film with you.
Sophie was very candid with us and was even happy to share she managed to secure 440 QR code scans in less than 10 hours of work, a great win for Malone!
Frequently Asked Questions
We understand that you might not have done this sort of thing before so we've prepared a list of questions that clients frequently ask us.
What if I'm terrible on camera?!
Trust us, you won't be! After filming many customer journey videos and product and service-related videos with Promohire team members we have come to learn that whilst you may well be nervous, you won't be terrible.
Stumbling over a few lines or forgetting your words is totally normal, and easily remedied in a subsequent take. The best advice we can give you is just to not stop, make sure you finish your line no matter what happens!
It's a proven technique that helps first-timers or the camera-shy quickly gain confidence.
How long will the video take?
The interviews are usually a very small part of your day, often only taking a couple of minutes.
How much media will you send me?
How much do you want? There isn't a fixed amount, so make sure you make your needs known to the Promohire team.
Don't you need a permit to film?
Many areas of major cities, towns or venues will require filming permits. Often this is included in the price of hiring a space at a venue, but if it isn't we can help you get the permits sorted.
Can you capture drone footage of my event?
Yes, we can, as long as your event does not take place in areas where drone flights are restricted. This is sometimes the case close to airports for example.
Any further questions?
If you have any further questions feel free to reach out to Justin, myself or your Promohire rep, we are more than happy to help!