As you may have noticed when using our calculator, our budget total is only an estimate, as there are many factors that go into pricing up a final quote. In the additional service pricing section, you will find 6 other factors showing "from £xxx".
We would like to delve into these and other factors that affect price to aid you in gaining a clearer picture of how much promotional/event vehicle wrapping and hire costs. Whilst we would love to be able to tell you in this article exactly how much your project will cost, there are far too many variables at play that affect the final figure. That being said we will try to be as specific as we can.
Lets dive into all things cost!
Prices at a glance
Below you will find a snapshot of the prices covered in this article. Click on each category to learn more. It is worth mentioning that these prices are only estimates, not guarantees.
Category

Service

Price

Standard design including 2 revisions

£400-£500

CAD drawings for build out and fit-out project

£400-£800

Renders

£2000-£3000

Standard +Renders + Production + Moodboards

£3000-£5000

3D Prop design and fabrication

£2000-£25,000

Extra standard design revisions

£100

Standard logistics, daily driving costs

£450

Full logistics, daily vehicle transportation cost

£600

Additional hours

£200-£300

Banksman

£300

Electrician

£400

Campaign Manager

£450

Event Manager

£415

Brand Ambassador

£330




Photography

£700

Standard Video

£1500

Campaign journey

£2500-£3500

£200-£500
Design services
The cost of the design process varies upon the complexity of the proposed project, the type of vehicle, and how much design support you might need. Our support services include the production of mood boards, conceptual designs and full technical CAD drawings.
The best way to minimise these costs is by being prepared with your assets and a specific brief. If you have a design prepared ahead of time, you will save money. The average cost of design services for assets and a specific brief range from £400-£500.
We would advise you to familiarise yourself with our full selection of promotional vehicles before you start thinking about designs. Observe how previous clients have made a vehicle's unique characteristics work for them, and factor that into your own design process, you can get a better idea by looking through some of our case studies, you won't be disappointed!
Producing a design
Once you have your assets and a full brief in place the design process can begin, and we will send you a vehicle template.
Producing graphical designs for vehicle wraps can be challenging for designers not familiar with the dimensional challenges and resolution requirements. This is why we will send you an artwork guide to explain some of the specific challenges of mapping a 2D design onto a 3D structure, as well as any particular intricacies such as windows or surface irregularities that might factor into design considerations.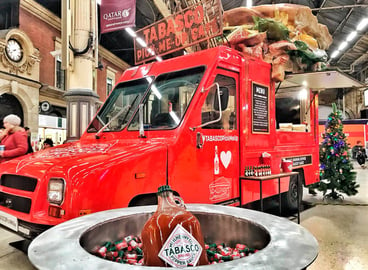 We are more than happy to facilitate complicated designs, props and external modifications to a vehicle, but please note build projects cost more. The total cost for 3D props is very hard to nail down as it really depends on what you want, but in the past we have seen costs range anywhere from £2000-£25,000.
Once you have sent us a design we will create a visual for you to examine, 2D is standard, if you would like a 3D render this will add £2000-£3000 to the design services total. Together we can revise and amend as necessary, though more than 2 revisions will cost more than our standard rate.
Timescale
Time is money, and we certainly don't want to waste yours, which is why we give you so much information up front. When it comes to project timescale we request that:
Final artwork – signed off at least 3 weeks prior to the event.
Renders – required 5-6 weeks before the event
Builds – allow 5-8 weeks for production time from signed off artwork, especially if you need bespoke props. This is only an average, more complex builds will take longer.
On average we find projects take about 5-6 weeks to complete, though prop builds can add extra time. Extra revisions or late artwork puts extra pressure on both you and us to deliver your project on time. This is why we advise you to be as prepared as possible to maximise your ROI.
Logistics
Having your logistics prepared ahead of time will save you a lot of stress, which is why we offer fully managed logistical services. Our budget calculator only makes estimations based on the M25, so if you are going further afield than London, factor that into your calculations.
If you are planning an extended campaign of a week or more, add in rest days. It will cost you more in terms of accommodation fees but it is worth it, extended campaigns are hard work and you will need more R&R then you are used to. When it comes to maximising your impact each activation day, you will want to be at your very best.
Don't forget about route related charges, think congestion or emission zones, toll roads, certain bridges, tunnels etc. This may be something to consider when planning routes and selecting locations as it all adds up, even the mileage!
Some common daily charges in London:


Ultra Low Emissions Zone (ULEZ) = £12.50
This will cover cars and small to large vans.
Low Emissions Zone (LEZ) = £100-£300
HGVs, lorries and vans over 3.5 tonnes. Buses and minibuses over 5 tonnes. Charges are based on manufacturer declared emissions, which operates on a sliding scale.
HGV Minimum emissions standards:
Euro VI/6 = No charge
Euro IV/4 or V/5 = £100
Euro IV/4 non-compliant = £300.00
Standards for Vans:
Euro 3 = no charge
Euro 3 non-compliant = £100
Congestion charge = £15
Regardless of vehicle type.
Vehicles
All our vehicles are social media ready, meaning they are drivable around your location(s) of choice, but we divide them into two range based logistics packages, standard and full logistics.
We supply professional drivers for all our vehicles, as many of them (particularly if they are older) require an expert touch and more than a little patience! This takes the hassle out, allowing you to focus on your brand activation.
Full logistics
Some of our older vehicles aren't up to the challenge of long distance travel, so they travel in style aboard our dedicated transporter. Once on location the vehicle and professional driver are at your disposal.
Vehicles in this category:
Standard logistics
Most of our vehicles are far more drivable, and more than capable of some long distance driving. Again, we recommend a professional driver; it will save you stress in the long run and allow you to focus on your campaign. There are times however, where if a vehicle is particularly slow, we may transport it to a far off venue - at no extra cost to you.
Vehicles in this category:
Logistics and venues
Some venues come with requirements and regulations that can affect cost, though it is worth noting that these will total far less than the cost of the venue slot itself.
Access
Access restrictions affect when you can bring in your vehicle. This might mean you can only bring in a vehicle between midnight and 2am, so you have to factor in the cost of the additional hours worked by the people involved. The logistical problems of getting workers home in the middle of the night also adds cost as public transport is often unavailable. Additional hours often costs £200 - £300.
Knowing your access times is critical to campaign success; there will be no brand activation if you arrive at the wrong time!
Health and Safety
It is important to be aware of the health and safety regulations of your chosen venue, failure to comply with any regulations costs you money, and you may be denied access to your venue.
Some venues will want you to extract fuel from vehicles and even put down drip trays to capture any leaking fuel. Some may require a 0 fire rating, meaning in the event of fire materials cannot combust in under 20 minutes. This particular stipulation means that certain older vehicles cannot be used, as they only conform to the regulations of their time.
Venues will sometimes require you to have a Banksman – someone to oversee the process of moving a vehicle into its allotted position. We can supply one for you, one of the reasons why we need to know all details of your venue in your brief. A banksman will add £300 to your end bill.
Power
Do you know your power requirements? Do you have power arrangements in place? Some venues will require you to use their own power supply for an additional fee, whilst others allow generators or other external power sources. If you have complex requirements we can provide an electrician at extra cost. The average cost of an onsite electrician is £400.
Campaign Management services
We offer management services to assist you with certain campaign practicalities that you may not be familiar with. We can co-ordinate all things vehicle, logistics and location, this might involve liaising with local councils, site services, sourcing power, compliance with regulations or restrictions.
Campaign managers
A campaign manager will handle all operational issues that may crop up prior to the event itself, something that requires a lot of planning. They would work as an extension of your team, taking full ownership of the brief and delivery of brand activation.
The price of a campaign manager is typically £450 a day, though in the case of extended campaigns we would look to settle on a flat fee.
Project Manager
The project manager takes on responsibility for a campaign once the majority of the initial preparations are underway. They will liase with your team in the run up to the event, assisting the campaign manager with any necessary logistics.
We recommend that as a minimum you would have a project manager onsite for the first day of your activation to ensure everything runs smoothly. A project manager typically costs about £450 per day.
Event Manager
An event manager will handle all operational issues that might arise during brand activation events. The price of an event manager is typically £415 per day.
Additional Staffing
Need a helping hand on event day? We can supply a range of staff to suit your needs from brand ambassadors to professional chefs.
Brand ambassadors
Our brand ambassadors are engagement professionals – we source only the best talent to engage with clients and get your brand activation message across. We usually charge £330 a day for the use of our brand ambassadors.
Photo & Video
We have an inhouse videographer trained to bring your story to life. They can join you live on the day, capturing your brand activation as it happens.
Photography will cost £700 a day.
For a 3 minute video including photos and assets, we charge £1500. If you just want the raw unedited footage we charge £800. Our videographer has a broad variety of camera equipment to capture your campaign including several drones.
Our campaign journey videos are our premier option and ranges from £2500-£3500. This includes a 7-10 minute video as well as shorter teaser videos, stills and time-lapses for you to tease out on social media.
In this video you are the star, speaking directly to your audience as you explain what drives your brand and the message behind your campaign.
We have found this is a brilliant way to drive engagement and extend your impact well beyond activation days. for more information check out our Videography Services guide.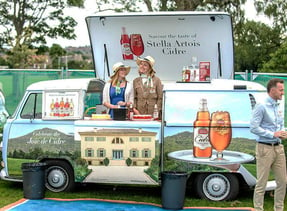 Sampling and fulfilment
If you require catering or replenishment services we are happy to help, sourcing and storing food, drink, stock or whatever else may be required.
The price of this is hard to predict, as it depends on the type, volume and diversity of the goods supplied, as well as any special requirements such as refrigeration. Sampling and replenishment services range from £200-£500 a week.
What are my next steps?
After reading this you should have a much clearer picture of the factors that contribute to the overall cost of a custom wrapped promotional vehicle. In addition, you should also have an idea of our process; how we can work with and assist you in executing a flawless campaign.
For a full rundown of the promotional preparation process, we recommend you checkout our vehicle wrap project timeline. If you are preparing a brief for your next project, why not check out our Promohire checklist, the perfect way to keep all the details of your brief in one handy place.
If you have everything ready to go, please contact us, we would be delighted to bring your ideas to life!