Looking for an eco-friendly vehicle to join your next campaign? Leasing your vehicle with a carbon neutral setup is the cleanest way to a run a sustainable vehicle campaign, but that's often easier said than done.
Where are you going to buy a budget friendly sustainable vehicle, much less power your lighting or appliances without cheap non-renewable sources? Well the answer is you don't buy, you lease.
In this article we delve into the eco-friendly advantages of leasing, as well as environmentally friendly options to power your green setup.
Why hire?
The biggest advantage of hiring is that you aren't buying a vehicle. Why is that an advantage?
Environmentally, it has the same benefit as carpooling or using public transport; reducing the number of vehicles on the road. Less traffic means less emissions and less emissions equals healthier planet – simple.
If you were to buy a brand new vehicle you would also be taking on the carbon and raw material debt required to build and ship it to you.
Buying second-hand might seem like a greener option, but if you only want the vehicle so you can customise it for a temporary campaign, then why bother? You will be stuck with the onerous task of selling a heavily modified vehicle, which isn't great for the environment either.
Vehicles that sit inactive for long periods of time slowly degrade, they are meant to be driven.
The first thing to go on an inactive vehicle is the battery, but brakes, tyres, even engines may suffer as a consequence of inactivity. Replacing any of these is not environmentally friendly.
There are schemes in place to recycle some car parts but they aren't squeaky clean. Car batteries are recycled for example, but they only extract the most valuable materials, such as lead. The rest ends up in landfill.
So hiring is much better for your carbon footprint, your budget and takes away the hassle of selling it, but which vehicles and power options will minimise your environmental impact?
Sustainable vehicle options
There are a number of different setups that you can employ, but a best fit scenario will come down to promotional vehicle choice, campaign goals and even the season!
No engine no pollution
The simplest way to avoid contributing to climate change is to just avoid an engine altogether! This may not be an option if you plan to drive your promotional vehicle as part of your activation campaign, but if not, will you really need an engine?
Many of the most eye catching promotional vehicles are old. Unfortunately this means they often aren't the cleanest vehicles on the road.
The best solution to this is to opt for a full logistics package when leasing a promotional vehicle. This means that you're vehicle will be transported from place to place by a loader truck with a far greener modern engine.
If you don't need an engine, and you want to maximise available space, such as for a retail or beauty setup, something like our Airstream might be a perfect fit. A vintage American equivalent to the British 'caravan', this road roller is a modern favourite, with eye catching looks and style that draw a crowd even before you wrap, kit and decorate it.
Electric vehicle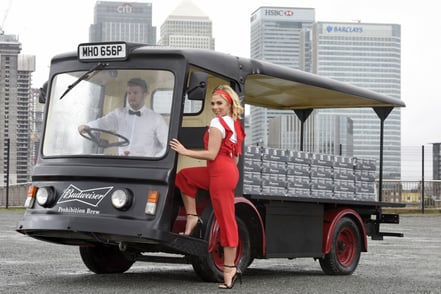 If you do want to drive your vehicle around as part of your activation, then an electric vehicle may be a good fit if you are opting for sustainability. Of course finding an electric vehicle with vintage style isn't easy, but we do have them.
Quintessentially British, our milk floats are an ideal asset to any campaign looking to combine sustainability with 1950's retro styling. The nostalgia of this vehicle grabs hearts and minds wherever you go, whether that be central London or a countryside fair.
With exemption from ULEZ and Congestion zone charges, it's also a very cheap day out – a must have for a moving urban activation. We find the Milk float is extremely popular as a sampling or product launch platform.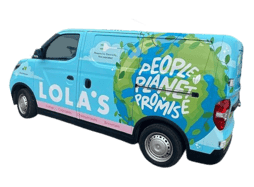 We also offer a more modern option with our new Electric Maxus. This medium sized van has about 5 times the range and is much faster, handy if you have multiple sites to visit in a single day with some distance between them.
Have a specific vehicle in mind? Don't worry if you don't see it in the fleet, we offer conversion services too. We can construct your dream electric vehicle from the ground up, building in everything required for your new marketing asset to do it's job sustainably.
Starting with an electric vehicle as the base, we add an internal power system for your appliances hooked up to an integrated lithium ion and solar panel recharge system.
Sustainable Power Options
So now you have a vehicle, how are you going to power it? Powering your setup off an idling engine isn't always a good idea environmentally or logistically. Luckily for you we have some great green options that will keep you going all day long.
Battery power
If you are looking for something a bit gutsier power wise, you might want to invest in one of our lithium power bank setups. These are a powerful, long-lasting solution popular with drinks set ups and even light catering.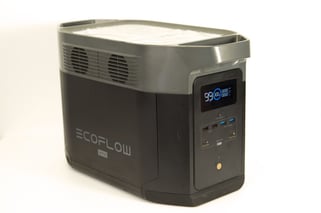 Just one of these batteries can easily power a bar setup with fridges for an entire day and if you're needs are greater, we can design a battery system to keep you power independent throughout your campaign.
These batteries can easily be charged from a regular 230v wall socket, ideal for on the go charging.
The great thing about these batteries is that you do have flexibility with where you charge them. So if you wanted to take a particularly eco-conscious stance for example, you could charge them using only renewable sources of energy.
This would remove your dependency on the national grid which currently draws 57.2% of its power from non-renewable sources.
Solar panels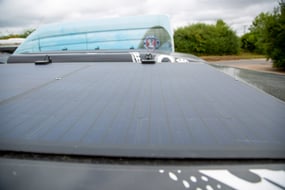 Combining a lithium battery with solar panels is an even better scenario, as one will top up the other throughout the day, meaning you use less-non renewable energy to charge them.
This option is particularly useful in summer, when solar intensity and duration peaks, making a substantial difference to your power usage.
It's also useful as a visual cue to consumers – solar panels are conspicuous, so it's immediately obvious you value sustainability if you have some on the roof of your vehicle.
Venue power
Setups requiring ovens, fryers and other appliances are just too power intensive for batteries to deal with alone. This means that for heavier duty rigs, such as full blown catering trucks, plain old plug power will often be your greenest option.
It's certainly a much cleaner option than a diesel or petrol generator, and depending on your requirements you may still be able to combine a venue socket with a solar panel or batteries, to minimise your power grid dependency.
Carbon offsetting schemes
If you can't use a green vehicle or power supply then the best way to mitigate your environmental impact is to look into a carbon offset scheme such as Ecologi, or Native Energy.
Companies such as these have systems in place for businesses to offset the climactic cost of promotional activities. Using these kind of initiatives also gives you free reign on vehicle selection, meaning even if you pick a massive double decker, you can rest assured that your environmental impact will be negligible.
What are my next steps?
So now you understand the ecological benefits of leasing as well as your sustainable power options, it's time to think about your vehicle, venue and design ideas.
Thinking about your bottom line? Head to our pricing page. Whilst your there why not try out the budget calculator, it's a great way to ballpark your expenses in only a couple of clicks. For the full breakdown though, we recommend reading our cost and services explained guide.
If you're getting ready to submit your brief, or want to know how to get the best from our services, the Promohire brief checklist is for you.