Has your product launch or brand awareness activity been on the back burner during the Pandemic? You're not alone. According to Better Retailing, stores are likely to face an avalanche of new products in 2021 as postponed launches are finally un-paused.
While new products may be on the shelves in stores and in stock online, in-person marketing and brand awareness is still incredibly important to help spread the word and create a buzz. But how can brands adapting to Covid-19 create events that reduce the risks of transmission for all involved?
Marketing during a Coronavirus pandemic means that mitigating the risks still posed by Covid-19 needs to be part of your pre-event risk management process.
In this blog, we'll dive into the safety aspects of event planning post-lockdown and the kinds of safety measures you can include to manage the risks.
1.
Be prepared - source your safety supplies
Holding a product launch during Covid-19 means remembering to budget for all the extra supplies you will need to ensure a safe activation. It is essential for brands adapting to Covid to seek out reliable suppliers of quality products who deliver on time. You will need to have ample stocks of disposable masks, hand sanitiser, anti-viral spray and paper towels in plenty of time for your activation. If your team will be handing out free samples, you may want to order latex gloves for them to wear. You will also need to organise signage and hardware such as sanitiser dispensers and safety barriers. A fogging machine can be used to kill off lingering germs if any of your activations are taking place under cover.
2.
Train your team – the safety of your audience is in their hands
You'll need to make sure your team are confident to politely enforce the 2 metre rule at your activation and are prepared to remind visitors to wear masks if your event is taking place under cover. Establish whether or not you will admit people who say they are exempt from mask wearing so there is no confusion and your team have clear rules to follow. If your activation is likely to attract a large audience, your team will need to manage the flow of people so that numbers are limited to avoid crowding and the footfall keeps moving. All these Covid-19 safety measures will reassure the public that your team care about their welfare.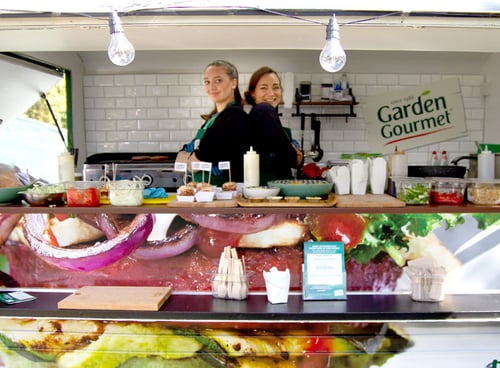 As it may be difficult for your team to socially-distance from each other at all times during your brand activation, on top of wearing appropriate PPE, it may be be advisable for them to take a lateral-flow Covid-19 test on the morning of the event to check they are not infected with the virus.
3.
Set up sanitising stations and social distancing signage
When event planning during Covid-19 it is important to ensure your activations will have plenty of space for the public to socially-distance and there is somewhere to locate sanitising stations. Two metre marker stickers can be positioned on the floor for in-store events, or marker flags can be used if, for example, an activation is taking place on a soft surface outside, such as a field, park or beach. "Please Keep A Safe 2 metre Distance" banners or posters can be displayed, and safety barriers or tape installed for helping to manage queues.
4.
Clean, Clean, Clean!
Ensure you have a team member responsible for cleaning at your brand activations. Any surfaces that may be touched by members of the public, such as barriers, must be wiped-down regularly with anti-viral spray and the used paper towels placed in a closed pedal-bin. Before the event, establish what you will do with used cleaning materials at the end of the day so that they are disposed of responsibly and not left behind. If your team are wearing gloves, these should be changed regularly, and also disposed of in the closed pedal bin. If any of your event is taking place under cover, ensure there is adequate ventilation. Carry out a deep-clean at the end of the day, and use the fogging machine to kill off bacteria in enclosed spaces.
5.
Get the message across
Make sure you have a punchy, dynamic tagline to all your social media messaging so your audience are clear that your product launch will be Covid safe. After having been protected by Lockdown for so many months, many people may be nervous about venturing out to public places and will be more likely to attend your event if they feel reassured. Your messaging can remind people to wear a mask and let them know that social distancing will be enforced at your activation, sanitiser stations will be available and they will be in the safe hands of your fabulous promo team!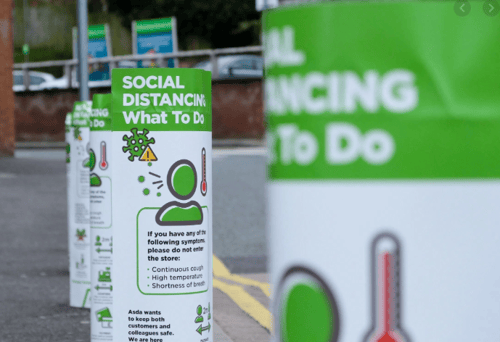 The importance of consistency & communication
Ever since the start of the pandemic, good communication has been essential to ensure that the public have a clear understanding of the rules to help keep them safe. This remains the case, not just for national messages from the government but also for any kind of event that the public are invited to attend post-lockdown. Therefore, make sure you have a communications plan in place so that not only the public, but also your promotional team and the wider marketing department are all singing from the same hymn sheet when it comes to the safety measures being introduced for your post-lockdown brand activations.
If you need inspiration for the type of product launch to hold, you can download our eBook: "How to use Promotional Vehicles in Product Launches" for some exciting and novel ideas. Click below to find out more!