Our Exhibition Vehicles are a collection of modified Citroën, Renault and Fiat vans. We've had them custom built to support and enhance mobile activation events and long term campaigns.
It's a modern vehicle with a lot of practical features including external awnings, large double doors and even multiple interior rooms. It's our second largest vehicle next to the Double Deckers but comes with a lot more mobility.
So it's large, modern, very customisable and relatively mobile; but does that make it the right vehicle for you?
In this article we break down the pros and cons of Exhibition vehicle hire, enabling you to find a best fit vehicle.
Size
The size and shape of our Exhibition vehicles is one of their greatest assets, they are essentially big boxes on wheels, but in the advertising world that's a good thing.
Pros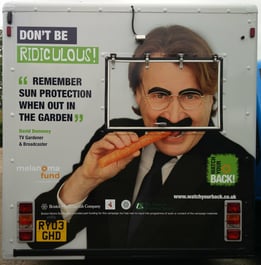 The boxy shape means that the sides of the vehicle are large and flat, perfect for displaying large scale branding, that maximise your impact.
You can think of the Exhibition vehicle as a better version of a mobile billboard, able to display your branding not only from the sides, but from behind, from the front, and even from above if you desire.
This advantage carries over to the inside, allowing us to use every inch of space when we build out your design.
The interior floorplan ranges from 6.5 to over 9 metres depending on the vehicle you choose; plenty of space for engaging clients within the vehicle, and more than enough space for a variety of campaign purposes.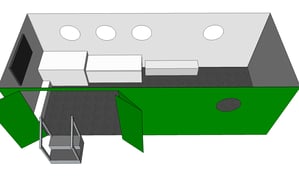 The vehicles also come with large bi-fold doors, which massively open up the van to better display your interior display.
Cons
Size does come with some limitations. Both our Exhibition units are mobile, but the 6.5 metre option is more practical as a multi city option, especially if you are on the move every day.
That doesn't mean the larger 9 metre alterative can't be used for multiple locations, it just takes a little more planning when it comes to route selection.
The other limitation with larger vehicles, is that it can limit your choice of venue, so if you already have a venue in mind, make sure you know the rules and regulations. The last thing you want is to hire out an exhibition vehicle or Double Decker Bus, only to be denied access to your venue.
There are many smaller option available if the Exhibition Vehicle proves too big for you, but our Airstream is the next step down size wise.
Customisability
A real strength of these vehicles is there customisability, there isn't much you can't do with them.
Our layouts
Large Exhibition vehicle – This option has a floorplan over 9 metres, large bifold doors and is low to the ground, great for accessibility (we can also add stairs or ramps).

Medium Exhibition vehicle - We have two models available: one features large double doors, the other a large vending hatch. The vending option also features a rotated double door meaning one door opens up, the other opens down, creating a mini stage with an awning.

Exhibition Bus - The Double Decker's smaller cousin, this single deck option is low to the ground, large at 7m long, and very adaptable.

Pros
As we mentioned earlier, an Exhibition Vehicle is essentially a large van, with a big box on the back of it. This makes the vehicle very easy to customise: it's like a blank 3 dimensional canvas.
We can build out the floorplan to your specifications, but most customers like to include the current layout, which features two meeting cubicles, in addition to the central room.
Even if you don't want to use the van for a meeting purpose, they make handy storage spaces for stock or any other campaign related materials.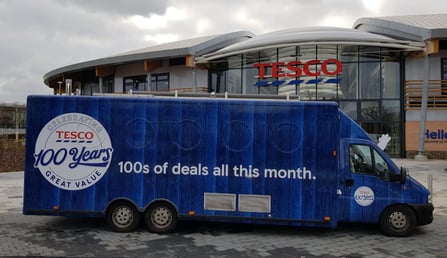 We've seen this vehicle used for a variety of sampling, health and retail campaigns. It's often used as a consultation or meeting space by many service based industries.
The NHS used it for a recruitment campaign, pets at home used it to demonstrate animal care products and TESCO even used it in their 100 year celebration.
The exhibition vehicles are also popular with charities looking for mobile community outreach programs, such as gambling addiction, debt recovery and general health care.
Cons
The Exhibition Vehicles main advantage is also it's Achilles heel. As mentioned earlier it's a large blank canvas and that makes it a bit nondescript, it can be anything you want it to be but by itself it's nothing.
So if you want a vehicle that already has some history and style to back it up, have a look at our vintage collection. The closest in terms of size are the smaller Airstream and larger Routemaster bus, but if you are willing to go smaller we have many options including Ice Cream Vans, VW Campers, Citroën H-Vans and Renault Estafettes.
Logistics
As they are fully mobile, Exhibition Vehicles are covered under our standard logistics package. This includes a professional driver, route mapping and of course transporting your vehicle to and from each venue for each activation day.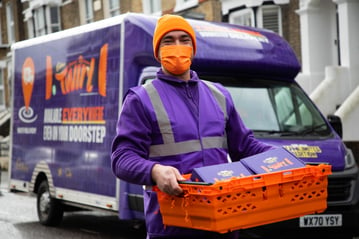 Pros
As a fully modern large van, the Exhibition vehicle can be driven directly to and from each venue, rather than transported aboard a loader.
This means your design will be fully visible to the public and generate thousands of impressions on its way to your venue.
Cons
As a larger vehicle, route mapping must be considered more carefully, and driving to and from events may take slightly longer.
This means you just need to factor in extra driving time (including legal rest periods) into your timesheet – something we are more than happy to help with as part of our logistical services.
Cost
The Exhibition vehicle is priced at £7,220 for a one day event, including wrapping and logistics. Internal modifications to this vehicle tend to start around £2000, but can exceed £10,000 if you are looking at largescale changes.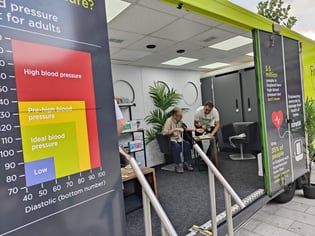 Pros
When it comes to cost the Exhibition Vehicle is unbeatable; it is very competitively priced.
It's £300 cheaper than the Airstream, and offers a lot more space for the money.
It is also close to £4,500 cheaper than a Double Decker bus and far more mobile.
Cons
It is much cheaper per square foot than many vehicles in our fleet, but it can't match the vintage charm of some of our older options, so factor that into your decision on whether this vehicle is right for you.
What are my next steps?
If you are interested in one of our Exhibition Vehicles feel free to navigate to our Budget Calculator, where you can ballpark the cost of an Exhibition Vehicle based campaign.
We also recommend using our Costs and Services Guide, for a more specific explanation of all our services and how much that might add to your final bill.