When the pandemic made it impossible to hold any type of event indoors, marketing executives had to think outside of the box and think of other brand activation strategies for their clients' new products. Social media campaigns came to the rescue to a large extent, but could not replace the valuable "in person" experience offered by live events. So outdoor activations using branded promotional vehicles became the perfect solution for many agencies, keen to make a strong impact with their brand in a Covid-safe way.
But now we can plan indoor promotions again, are there ways to use a promotional vehicle indoors? They certainly add excitement and interest to brand activations.
The answer is a resounding "yes"!
There are plenty of ways to use a promotional vehicle for an indoor brand activation, and this blog will tell you how. We will take you through:
Ideas for venues for your indoor promotion
To narrow down the venue options, think about where you will be most likely to find your target audience. You can always rely on finding a good cross-section of consumers in shopping centres and railway station concourses. Public buildings such as museums are also a good choice, as visitors are less likely to be in a hurry, with more time for investigating your activation. However, if you are targeting a specific group of people, you could explore the possibility of reserving a pitch at an exhibition centre when it is hosting an event that relates to a specific interest, such as a boat show, craft fair or business seminar.
Choosing the best promotional vehicle for an indoor activation
There are no hard and fast rules around which types of promotional vehicles are best suited for indoor events, but you will need to consider the following factors which choosing a vehicle:
1. Budget
The cost of hiring a promotional vehicle varies depending on type of vehicle, for example, hiring a Routemaster bus requires a bigger budget than hiring a London taxi. Our Budget Calculator will give you an instant estimate of the cost of hiring the different types of vehicles. The estimate includes the cost of the vehicle wrap, logistical support (within the M25) and the necessary health and safety documentation.

2. Size and manoeuvrability
A spacious venue such as Olympia, or the Excel Centre can easily accommodate a large vehicle like a double decker bus, but you will need to opt for a different vehicle if you want to take it to a venue such as a small shopping centre.
The vehicle's manoeuvrability could be a deciding factor if it will need to be positioned alongside other promotional vehicles and stands when it arrives at the venue. You will also need to check with the venue to see if they have any criteria around the size and types of promotional vehicles allowed access.
3. Theme
The theme of your promotion will also influence the type of vehicle you choose. A vehicle like a Vintage Camper Van or Citroën H Van will be ideal for a food or wine sampling campaign, whereas an Airstream or Exhibition Vehicle will be more suitable if you need space for a display or an experiential activation.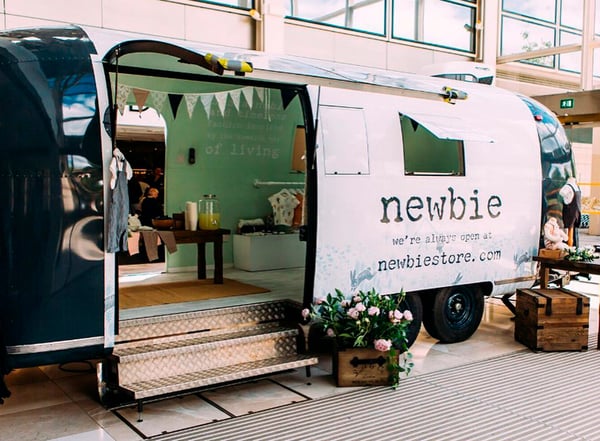 Indoor brand activation logistics
It is crucial to get a good grip on the logistics of your promotion well in advance to avoid last-minute hurdles, such as struggling to find the entrance to the venue, or locating your pitch once you have gained entry. Make sure you have crossed all the t's and dotted all the i's so that your brand activation goes without a hitch. Think about what you will need at the venue, for example, will you need WiFi? By planning ahead, you can rest assured that things will go smoothly for your activation.
Another important factor is planning the route to the venue, checking for any roadworks that may be scheduled for the date of your activation, and any traffic-calming measures such as width restrictions that may be an obstacle for your promotional vehicle. If you will be transporting a vintage vehicle to the venue, you may not be able to take it onto a motorway and will have to research an alternative route on A roads. As part of their Support Services, promotional vehicle hire companies will usually provide a driver who will look after the route planning and logistics of your campaign for you.
Health and safety guidance
When you arrive at your venue, be mindful of health and safety issues, such as obstacles and trip hazards close to your pitch. When you are planning your brand activation, check with the venue to see if there are restrictions on the number and type of props you can set up alongside your vehicle. If space is limited and the venue is likely to be crowded, it may not be possible to have many extra display items or counters etc. in front of your vehicle, especially if you will need room for an audience or space to form a queue.
Once your promotional vehicle is safely in situ at your pitch, be sure to check that the vehicle is secure, the brakes are on and the keys removed from the ignition. Items like heavy helium cannisters, if you will be inflating balloons, must be stored safely and not in a location where they can be accidentally knocked over. Be vigilant when implementing health and safety measures, as any hazards still in place could cause an accident and at the very least, reflect poorly on your brand.
Vehicle checklist for an indoor brand activation
Apart from making sure the vehicle is secure, there are other checks that have to be carried out once you have arrived at your pitch, for example, isolating the vehicle's battery and draining the fuel. Will you have someone with the skills to do that for you? If the hire company has provided an experienced promotional vehicle driver, he or she will know exactly what needs to be done and can also help with setting up your activation and packing everything away at the end of the day.
All set? How Support Services can ensure your campaign is a resounding success!
Your hire company's Support Services can assist with the whole process of organising your indoor brand activation, from looking after the logistics and route-planning, to providing a fantastic promotional team. This will free up many hours of your valuable time to concentrate on your other important tasks.
The cost of hiring the vehicle will normally include a driver, who can make sure your beautiful vehicle arrives safely at the venue, looking pristine and meeting all the required safety guidelines. Why not check out our range of vehicles today to explore the different options for your activation? Our team of experts are on hand to advise you and help turn your concept into a stunning reality.
Check out the following articles for more inspiration and tips for successful brand activation strategies:
https://www.promohire.co.uk/blog/hiring-a-promotional-team
https://www.promohire.co.uk/blog/launch-event-support-services
https://www.promohire.co.uk/blog/how-to-do-product-sampling
https://www.promohire.co.uk/blog/campaign-product-launch-videos