How do you hold a successful product sampling campaign when so many traditional locations get ruled out?
Before our lives were turned upside down by the Covid-19 global pandemic, there were numerous sampling locations to choose from. Popular indoor exhibitions, like the Ideal Home Show, presented a great opportunity to reach thousands of people over a short space of time. Oh, how things have changed!
Railway station concourses, normally thronging with commuters, are unlikely to be as busy again in the near future, and with so many people now working from home, city centres and office blocks are quieter than they were before the pandemic. It could be a while before things go back completely to what used to be "normal".
So, as we steadily emerge from lockdown, where can you find your target audience? Here are our top location tips to help you choose a product sampling site that works for your brand:
The Top Product Sampling Locations for 2021
Industrial Estates and Retail Parks
Weekend and Bank Holiday favourites
We all know how busy the Ikea car park gets on a Bank Holiday Monday, and it is strangely reassuring to know that some things never change, even during a pandemic! Of course, all retail car parks, except for supermarket car parks, were deserted when non-essential retail had to close during lockdown, but now their doors are re-opening, people cannot wait to return to their favourite stores.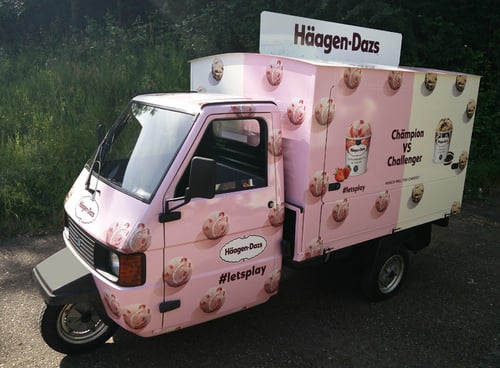 Most popular stores will have socially-distanced queues outside and there will be plenty of people waiting and milling around the car parks – a great opportunity to book a space to set up a branded gazebo, or set up a promotional vehicle, such as a custom-branded Piaggio Ape, to engage these shoppers, distribute samples, and raise awareness about your brand.
Supermarket Car Parks
While in-store sampling events are put on hold, you can still target the car park
Supermarkets are also locations where you could hold a product sampling event in the car park. Sampling events in these environments are particularly effective for branded goods that customers can then pick up and purchase in-store - especially if they have been given a discount voucher by the promo team. An eye-catching custom-branded promotional counter beneath a gazebo can be set up to store and display your samples, and to place a hand sanitiser for customers to use. If your stall gets busy, remember to encourage social distancing to mitigate the risk of transmission and stay within the rules of the store.
Town High Streets and Shopping Centres
Another good option as we come out of lockdown
As shops re-open, one of the surprising consequences of the pandemic has been the number of new customers visiting their local high street shops and shopping centres. Retailers have noticed that many residents now working from home are discovering their local shops for the first time. Previously, if they commuted out of town every day, they would frequent the shops close to their workplace rather than wait until the weekend to shop in their home town.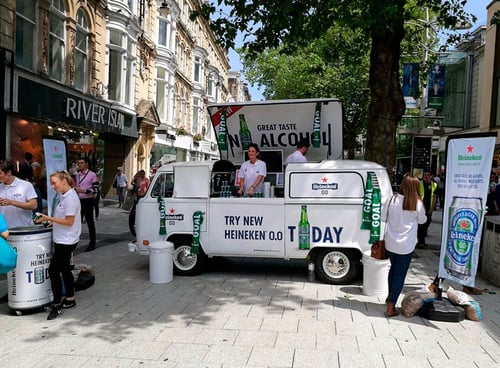 A quirky promotional vehicle such as a colourful promotional vehicle, wrapped in your product's branding, would certainly turn-heads on a local high street. Or a "pop-up" inside a shopping centre might be worth considering if you want to hold your event indoors. There are many customisable display products available to draw attention to your sampling event, such as custom roller banners or pop-up display stands .
Parks and Beaches
Perfect for catching people with time on their hands
Our beautiful parks and beaches in the UK will be especially busy while foreign travel is still mostly off the cards. 2021 is the year of the "staycation" so sunseekers will be heading for local beauty spots during their leisure time and the traditional British seaside holiday will be the getaway that many families will enjoy this year.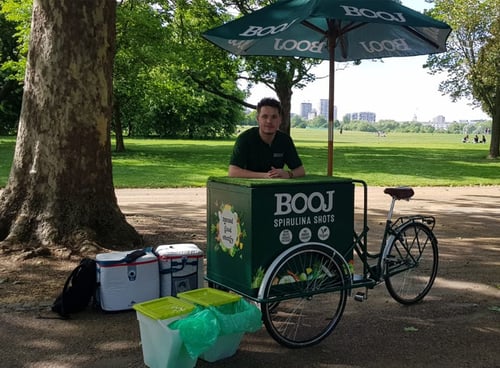 A fun, promotional ice-cream van, would be the perfect choice if your product is a refreshing drink or ice cream and you are targeting a high volume of sample giveaways. Or how about holding a guerilla sampling event, sending out your promo team on promotional bicycles or tricycles with supplies of free samples in their baskets or boxes? They are great for reaching lots of people in parks or on seaside promenades – what better way to introduce your brand than with a memorable extra treat on their day out!
Doorsteps
Target potential customers before they even leave their house
It is a lovely feeling to have an unexpected surprise at your front door, like a delivery of flowers or a friend with a gift, so why not offer that experience to your target audience with a doorstep sampling campaign? These can be geared towards everyone living in a certain postcode, or specific addresses, for example the homes of influencers and journalists.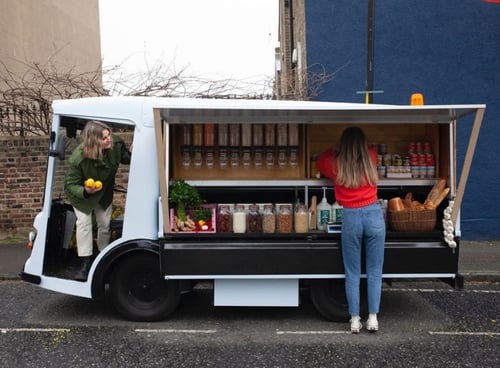 Promotional vehicles work very well for doorstep campaigns, as well as providing transport for your team and carrying your supplies – once parked up they can be another location to hand out free samples to passers-by. An iconic electric milk float could work well for this type of campaign, or a customised camper van. They will certainly send a ripple of excitement along the street as they make their colourful entrance.
Learn more about how to plan a great doorstep promotional campaign.
So, where will you hold your next sampling activity?
There are still plenty of locations where a successful product sampling event can be held this year. As we move out of lockdown and into summer, people are keen to experience the freedom of going outdoors to shops and parks again, and are planning their summer breaks. This presents many opportunities to get your product into their hands and gather feedback. You can also encourage people to share their reactions on social media, especially if they can't resist taking a selfie by a fabulous promotional vehicle.
For more exciting and engaging product launch ideas using promotional vehicles, you can download our eBook - 'How to use Promotional Vehicles in Product Launches'.