Deciding to hire a promotional vehicle to use for a brand activation or product launch campaign is the first of many decisions you will need to make to ensure your event is a success.
While your vehicle may be the centrepiece to your activity, it's more than 'just a vehicle' - there are a number of other elements to address:
As you can see, working with a promo vehicle as part of your activity requires keeping track of several elements, especially if you have no previous experience or you're managing other client campaigns at the same time.
So, if you're struggling for time, how can you ensure your project runs smoothly?
Enter promo support services.
Brand activation support services like the below can help you manage your time more effectively and provide huge benefits for promotional vehicle campaigns.
1. Logistics Support Services
Although a standard support package may include a driver, that's not where logistics ends. Some venues, such as railway stations and shopping centres, will require you to bring the vehicle on site early, drain the fuel tank and isolate the battery. Festivals will have specific build-up/breakdown times you must adhere to.
Taking care of logistics such as these are all part and parcel of your promotional vehicle hire company's support services. The following issues also come under the umbrella of campaign logistics:
Overnight parking

– if you are going on tour with your vehicle;

Route planning

– working out a logical route and allowing for possible delays and issues such as vehicle height restrictions.

Transportation

– arranging for a trailer to take a fragile vintage vehicle across the country, via motorways, for example.

Timings

– planning a manageable timetable that allows for setting up and unloading your vehicle, then packing away at the end of each stop.

Build up and break down support –

getting your vehicle in place at your venue and complying with the venue requirements, for example, early arrival at a railway station or festival before the rush starts.
2. Booking & Sourcing Staff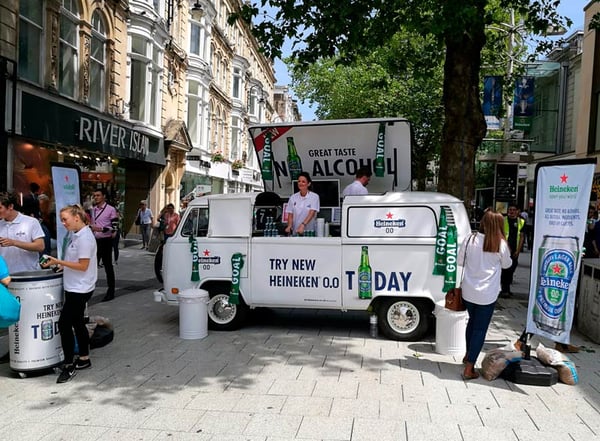 You will need a dynamic promo team with the right experience and training to work with your promotional vehicle. Experiential marketing agencies are the traditional route to hiring promo teams. However, a reputable promotional vehicle hire company will be able to source staff for your campaign and ensure they are fully aware of all the practicalities and regulations around working with a promo vehicle, for example:
The risk assessments and health and safety issues around a guerilla marketing campaign where the staff will be required to set up at locations and pack away again at speed, possibly several times a day.

Food hygiene certification if the team will be handling and/or preparing fresh food for a sampling campaign.

Arranging for the promo team to attend brand days at your headquarters in order to be fully briefed on your brand ethos and campaign points.

If your brand activation involves a nationwide tour, then you will either need to have a team that travels with the promo vehicle, wherever it goes, or have teams booked at the different locations you will be visiting. This is where a promo vehicle hire company that provides

launch event

support services

,

with all their experience and contacts, will be able to organise this for you, and you can rest assured your promo events will be staffed by a fantastic team.
3. Design Support Services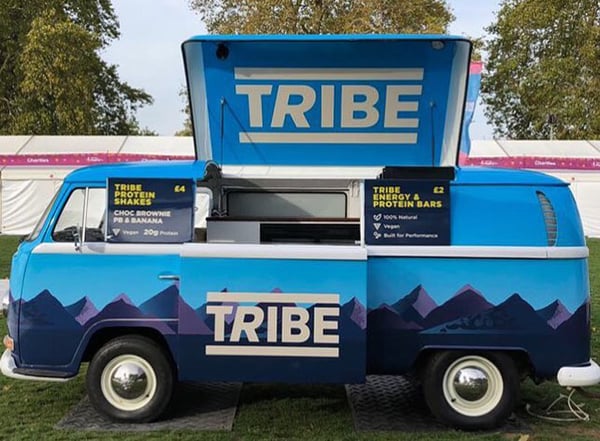 Once you have hired your promotional vehicle and finalised the messaging for your campaign, you can use it in the design for the wrap for your promotional vehicle. You can use a custom design template, provided by the vehicle hire company, to design the wrap yourself. Alternatively, the company may be able to offer vehicle wrap design as an additional support service when you book the vehicle for your campaign.
4. Photo and Video Production
Having made the decision to invest in a stunning promotional vehicle for your campaign, you can increase the return on your investment considerably by recording key moments to upload to your client's website and social media channels. This will enable you to expand the campaign's overall reach and make a lasting impact online as well as offline.
The advantages of using an experienced promo support service for your campaign photos and video include:
Range of photography/film equipment

- a professional photographer or videographer who works with a promotional vehicle hire company will have the experience and know-how to highlight your fabulous vehicle from all angles, whether it's using a GoPro or DSLR.

Composition

– A professional photographer will know where to get the best action shots, e.g. of the promo team handing out samples, so that the branding/website address etc. on the promo vehicle behind will appear in photos and film.

Attention to detail

– Ensuring the background is cleared of unattractive clutter and being aware of how the daylight changes at your location are just a couple of the factors a professional photographer will consider, to capture your vehicle looking its very best.
5. Sample Fulfilment Services
If you have never run a sampling campaign using a promotional vehicle before, there are some practicalities that need to be planned for so that your campaign doesn't fall at the last hurdle:
Sourcing samples –

if you do not already have a supplier for your samples, support services can source a reputable supplier, not only for the food or drink, but also extras you may need, like ice, plastic cups etc.

Stocking and replenishing samples

- The samples will need to be stored somewhere safe and hygienic, e.g. an industrial size chiller cabinet or freezer, ready for your campaign. A certain amount can be carried on board your promotional vehicle, but have you thought about where you will be storing replenishments, and how to get them to your vehicle when you need them?
If you're concerned about how to go about tackling the above tasks, then a promotional vehicle hire company that offers assistance with launch events can save the day! Using their expertise to resolve each of these factors will all be part and parcel of the additional support services available to you when you hire the vehicle.
6. Location Consultancy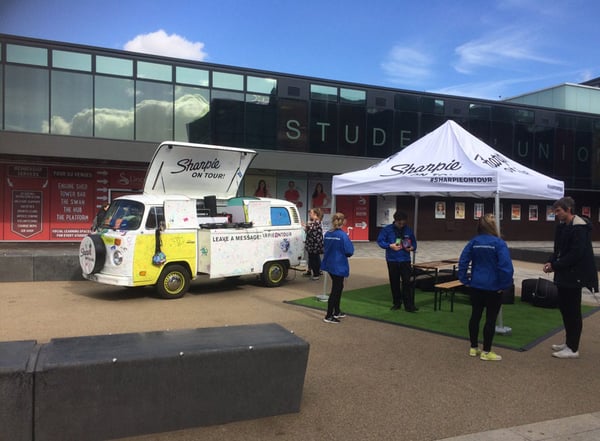 The type of location(s) you will be visiting can make or break your campaign. But how do you know you've got the right venue for your audience with optimal footfall? This is where your promotional vehicle hire company may be able to provide additional support. They've seen it all, dealing with paperwork and staffing for a range of different venues and can help point you in the direction of your ideal location.
Many locations will specify times for you to arrive and leave, as well as which entrances and exits to use not to mention the documentation that needs to be completed when you make the booking. Promo vehicle hire support services will check all these things out for you, so there is no confusion on the day.
You can start by using the "Five Ws" as a checklist to narrow down your options:
Who will you be targeting?

The type of person you want to reach out to with your campaign will influence the best type of places to visit with your promo vehicle.
What type of campaign?

Is it a fast-paced, guerilla marketing campaign in a city centre, a national music festival tour or a static campaign at a single location?
When will your campaign be taking place?

For example, will your campaign be taking place during school holidays, to target families, or at Christmas, when people are looking for gift ideas?
Where have you held any similar campaigns in the past?

Were they a success, or do you want to try something different this time?
Why are you using a promotional vehicle for the campaign?

Is it to target influencers' homes, or do the rounds at vegan festivals?
Answering the above will help to focus your mind so you have a clear brief and a productive discussion when you reach out to your promotional vehicle hire company.
Five ideas for the best locations for a product launch event:
Industrial Estates and Retail Parks

- great for holding an event where you want to target a wide demographic of people.

Supermarket car parks

- these are good for guerilla marketing campaigns where your team can surprise shoppers on a vintage bicycle or colourful tuk tuk.

Public parks and coastal resorts

- two of the best locations to reach out to families during the summer school holidays.

Railway station concourses

- a good choice at Christmas, when commuters are in a festive mood.

Doorsteps

- worth considering if you are launching the product with surprise free sample giveaways or visits to influencers' homes.
7. Campaign management
If you are organising a product launch or brand activation using a promotional vehicle for the first time, then engaging the services of a manager with years of experience will greatly reduce the risk of you making costly mistakes that could ruin your campaign. A campaign manager can save you having to firefight all of the changes and having to communicate with all the suppliers yourself.
Apart from having the reassurance a professional event management service provides, it will also save you precious hours of your time that can be diverted to other important projects you may be working on at the same time. A campaign manager can be as involved as you want, either assisting you, or taking over the reins completely and giving you regular updates.
Having a discussion with your vehicle hire company will help you to decide if you need to employ their promo support services to organise any of the above elements of your campaign, or simply manage the whole process for you.
There are lots of bridges to cross to achieve success when using a promotional vehicle as part of your campaign, but at Promohire we can provide all the promo support services you need to achieve success - without getting your feet wet!