In this in-depth case study learn how Promohire supported Netflix via Collective Studios and Above and Beyond for the promotion of the Witcher season 3. Watch the above interview to hear Netflix Marketing Manager Annalisa Ciganko's thoughts on the campaign and how Promohire helped.
Who are Netflix?
Netflix is a globally renowned online streaming service, providing access to best-in-class TV series, documentaries, films and mobile games.
What did Netflix want?
Netflix were looking to drive up the hype ahead of the release of the Witcher season 3, one of their most popular streaming series.
Staff at Netflix thought a Witcher branded Ice Cream Van would be a great way to not only drive awareness of the coming series, but also to build a tasty incentive into their marketing.
Through Agency Collective Studios, they enquired if we would be able to support them with a custom ice cream truck, able to support a supersized Witcher Medallion, and capable of travelling up and down the country.
They also wanted custom Witcher themed ice cream to match the dark themes of the show.
How did Promohire help?
After our meeting with the Netflix team, we got straight to work. Our talented propmaker Becky drew up designs for the Medallion as well as large fake chains and metal decals to be affixed to the van using the assets sent to us by Netflix.
Once the designs were approved, the build stage began. Becky hand crafted the props using a variety of methods, including moulding, 3D printing and a lot of love and labour!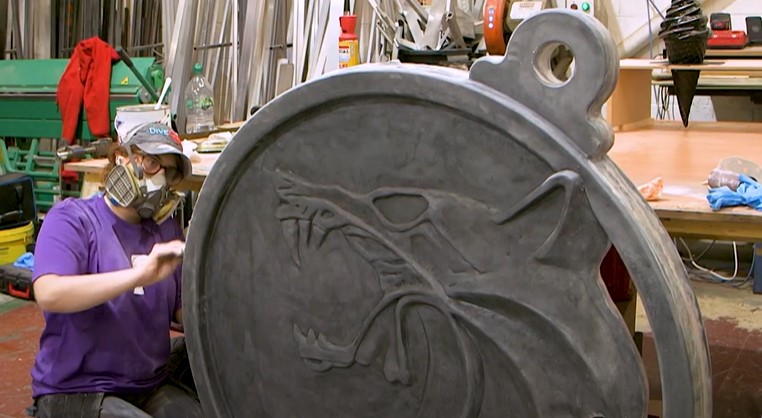 Meanwhile, Gary and the support team were able to source bespoke ice cream to match the themes of the Witcher.
"A black cone was created, served with a bespoke Mr Whippy black ice cream, complete with candyfloss, multi coloured topping and finished with a specialist strawberry sauce".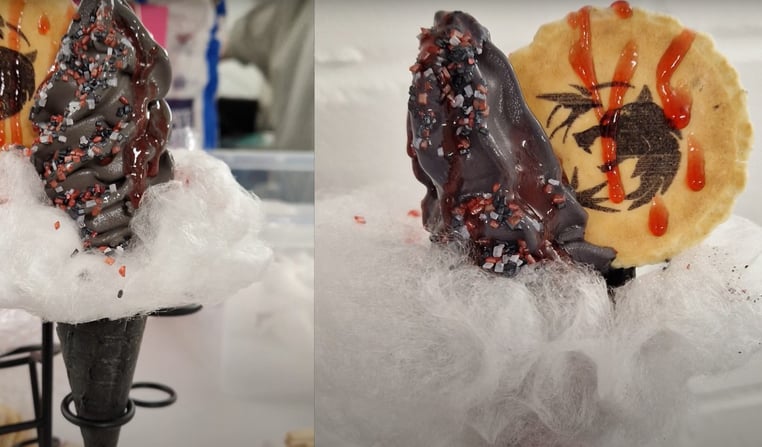 Once Props, ice cream and branding were ready, it was time for the vehicle to hit the road. We managed all transport, set up and de rig of the Ice Cream Van across the 5 week campaign ourselves, as part of our logistical services which are included in the price of hire.
We also supplied the Ice Cream creation team, a singing troupe of actors and on-site security.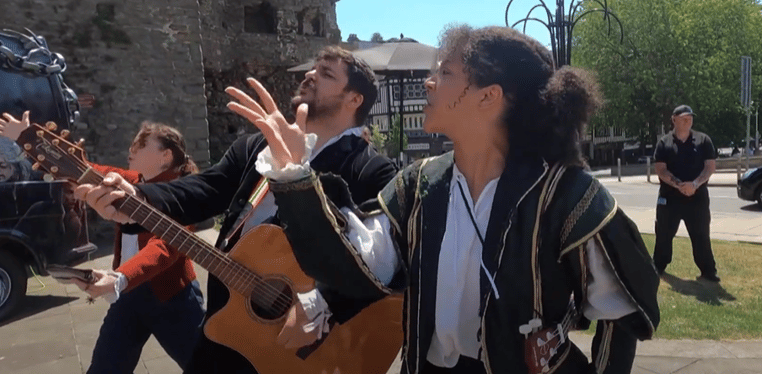 What was the result?
The Ice cream van travelled the length and breath of the country, making a huge impact wherever it went, with locations including, London, Glasgow, Edinburgh, Belfast, Bristol, Swansea, Newcastle and even Glastonbury festival!
"Promohire has been amazing!" Exclaims Annalisa Ciganko recounting how the team dealt with a technical problem that briefly caused the ice cream machine to lose power at Swansea Castle.
"I was really really impressed with the work that happened to get things back up and running, in addition to the fact that the van looks absolutely beautiful. We are really, really happy with the end result."
Want to take your next campaign on the road?
We can help! We have more than 20 different types of vehicle ranging from humble Tuk Tuks and trendy VW campers, all the way up to Land Rover Defenders and even Double Deckers.
Check out our costs and services guide to familiarise yourself with everything we offer, plus our budget calculator which can ballpark your expenses.
If you've done all of that you're in a great position for us to help you and get the ball rolling, hope to hear from you soon!