In this in depth Case Study, Malone Souliers' Head of Marketing Sophie Swift outlines what it took to smash her KPIs during her first promotional vehicle based campaign. Watch the above interview to hear Sophie's thoughts on the campaign and how Promohire helped.
Who are Malone Souliers?
Malone Souliers is a luxury British shoe brand founded by Mary Alice Malone. Mary wanted comfortable, beautiful shoes made for women by women and with a background rooted in cordwaining, she was perfectly suited to the task.
Launched in 2014, Malone quickly caught the attention of editors and buyers across the globe with signature shoe 'Maureen' becoming an instant hit.
What did Malone Souliers want?
Head of Marketing Sophie Swift explains that despite being a British brand Malone's biggest audience is in the Middle East, so for this campaign they wanted to bring it back to their roots and make a big impact in London.
Sophie wanted to connect with customers in person, and loved the idea of using a quirky vintage vehicle as part mobile shoe store and part luxury experience. She had seen how effective such a campaign could be, but had never orchestrated one herself.
"This is a first for the brand, we really needed help with everything", says Sophie. "We really needed to find a company that could kind of show us the procedure, show us from scratch all the way through to the final product, take us on that journey."
"We needed help with internal fit, we needed help with the wrap", she continues referencing the gorgeous space-age gradient branded Routemaster, which was inspired by Malones Autumn Winter metallic leather styles. "We had a design vision, but we really needed help bringing that to life."
How did Promohire help?
"We actually reached out to a few companies, but Promohire was our favourite", Sophie admits. "I mean, they were the most responsive, brilliant in terms of being super informative. They had all the facilities that we needed in order to make this work."
Malone loved our Routemaster. The vintage vehicle fit in with the brand image and was large enough to accommodate Sophie's internal fit-out ambitions.
"As I said, we didn't know anything about these kinds of pop ups, this is a first for us, and they were really hands on in helping us and really bringing this to life."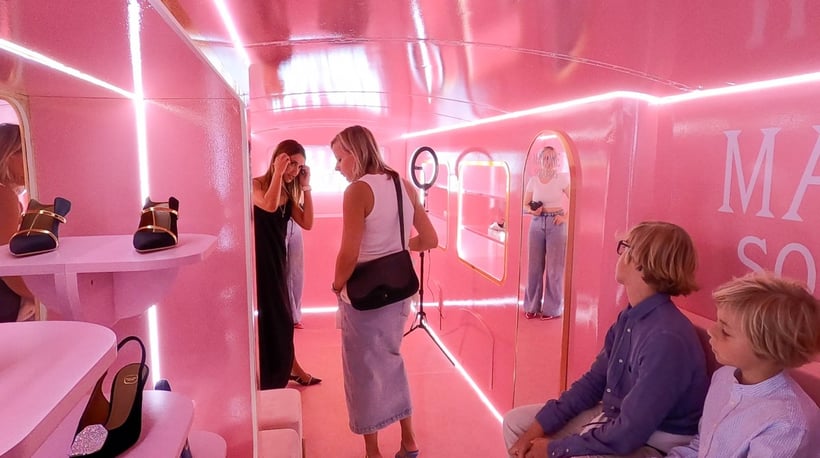 In line with Sophie's brief our team fully renovated the bus, transforming the lower level into a high-end mobile shoe store, and the upper deck into a drinks bar where customers could relax after enjoying a hard day of shopping!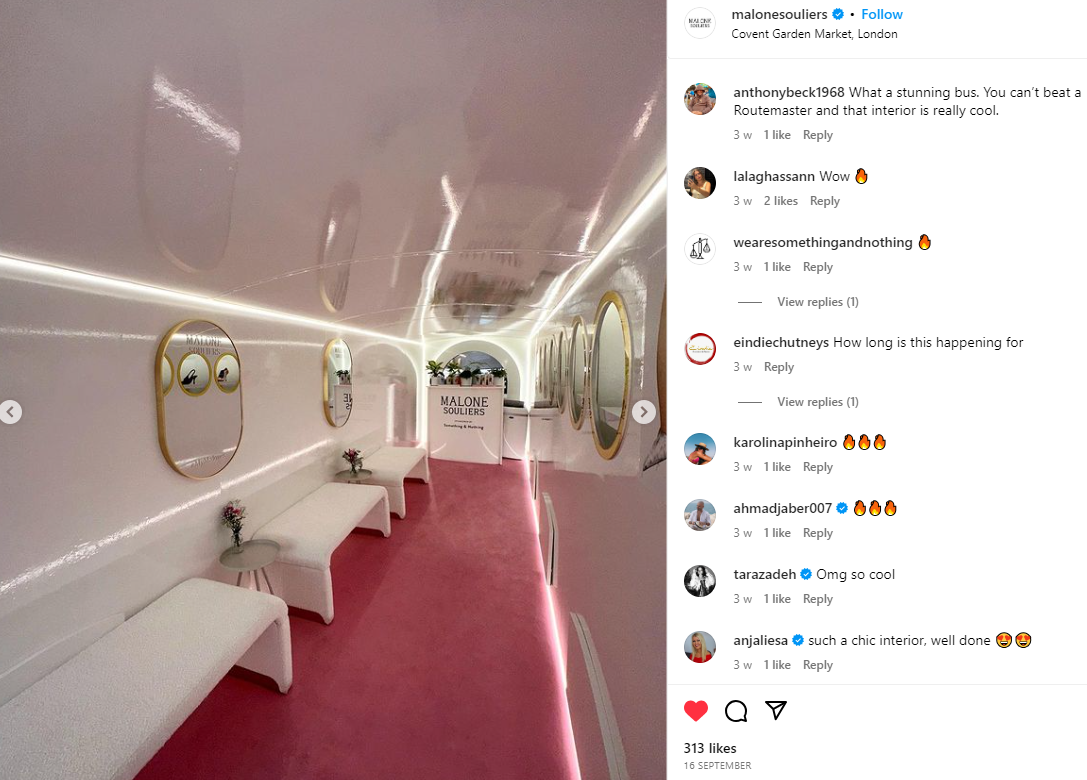 "Promohire were excellent, especially when coming to our permits. So, we were looking at different locations around London, and Promohire basically sourced the best permits for us, the best location and the best deal, and we couldn't have done that without them."
What were the Results?
"We've had a lot of footfall into the bus, which we are all really excited about. We've got email signups, we've got lots of interested customers for our products, which we couldn't have done without Promohire, and we're very happy to be working with them."
Sophie later disclosed to us that during the course of the one day activation, the team secured 440 QR code scans in less than 10 hours - not a bad day's work!
"We would definitely love to work with Promohire again", says Sophie, "They've been absolutely excellent from start to finish, and really great partners to work with moving forward."
Want to take your next campaign on the road?
Promohire can help! With more than 20 different types of customisable vehicles available, as well as numerous support and management services, all you have to do is tell us your ideas and we'll take care of the rest!
Check out our costs and services guide to familiarise yourself with everything we offer, plus our budget calculator which can ballpark your expenses.
If you've done all of that you're in a great position for us to help you and get the ball rolling. Hope to hear from you soon!