In this in-depth case study we detail how we worked with Planted on a brand awareness campaign, resulting in the creation of the UK's most sustainable food truck!
Who are Planted?
Planted are a Swiss plant based food company, aiming to reduce the negative impact of traditional meat on the planet through healthy and tasty meat alternatives.
What did Planted want?
Planted came to us with a dream to create the UKs most sustainable food truck, aiming to prepare and serve a range of their delicious meat alternatives as samples to prospective customers.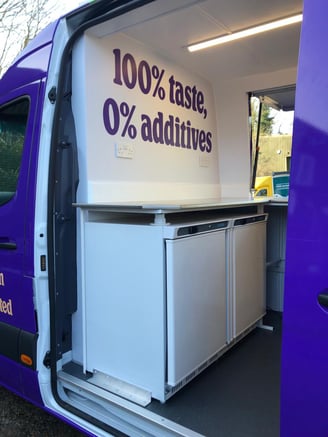 The truck would be as sustainable as feasibly possible using current technology, with the plan being to modify an electric vehicle into a mobile kitchen capable of batch cooking enough meals for the Planted team to keep pace with the demands of hungry crowds in high footfall areas.
Planted wanted to make the vehicle a permanent marketing asset, and had drawn up detailed plans of future campaigns to justify their investment.
They planned to commission and purchase the vehicle before Summer in order to take advantage of numerous food festivals combined with pleasant weather.
Without physical stores, the vehicle would serve as a brand hub and mobile kitchen combined, helping them to make their mark on the UK market.
How did Promohire help?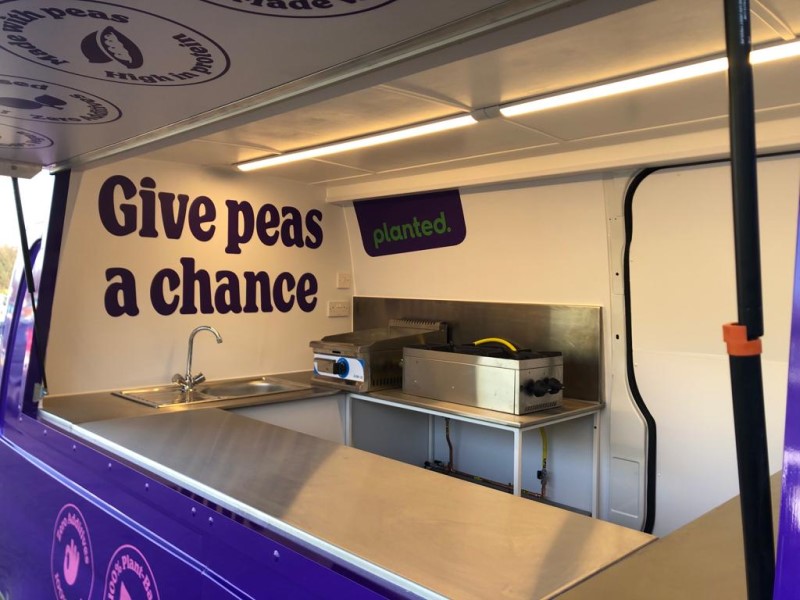 We sourced, purchased and modified a Mercedes e-Sprinter van for Planted, building building in a mobile kitchen from scratch.
We constructed the stainless steel counters and serving hatch ourselves, and also installed the appliances, ventilation, electricity and plumbing required to make the kitchen functional.

A lithium/solar recharge system runs most of the kitchen whilst static, with an electric engine powering the van whilst out on the road.
Our design team also worked closely with Planted to brand the van according to their guidelines and specifications. We also supplied Planted with additional signage and collateral.
What was the result?
"Just look at what we've ended up with" beams Liv Sinclair, Marketing Manger at Planted. "We are hoping to hit 75,000 taste buds this Summer alone, and all of that is only possible through our awesome truck!"
"So Promohire have really helped deliver something that helped us achieve our goals, and it's only [going to help us grow] from strength to strength!"
"My experience with Promohire was awesome! I think Gary and the team did such a good job, not only with the final output, but also bringing me along the journey the whole way, so thank you very much!"
The van has become a permanent marketing asset for the Planted team, who showcased the van at Taste London 2023 and other venues up and down the country this year.
Want to take your next campaign on the road?
We can help! We have more than 20 different types of vehicle ranging from humble Tuk Tuks and trendy VW campers, all the way up to Land Rover Defenders and even Double Deckers.
It's also worth checking out our costs and services guide to familiarise yourself with everything we offer, plus our budget calculator which can ballpark your expenses.
Most of our clients don't have a long term need for a promotional vehicle so choose to rent rather than purchase. However, if you are considering buying a vehicle, then read our rent or buy guide before you make a decision.
If you've done all of that you're in a great position for us to help you and get the ball rolling, hope to hear from you soon!