Putting together a promotional vehicle design brief? You can use this guide and attached form to organise everything in one convenient place! Brand activations using custom wrapped vehicles takes planning, but don't worry, we are here to help!
We provide a wide range of services to assist you with campaign delivery, but in order to help you, first we need a detailed brief, with a focus on certain key elements, specifically:
Campaign goal

Timescale

Your preferred vehicle

Design brief

Hire period

Destination(s)
Once we know the basics we can also assist you with any additional services you may require such as campaign management or videography. Please refer to our support services page for the full list.
In an ideal scenario you present us with a detailed brief that allows us to give you a specific itemised quote.
We understand that you might not have a full plan ready to go straight away and certain elements may be fluid and subject to change. However, the more information you can give us about your plans and ideas, the better we will be able to assist you.
Cost
If you haven't already, we recommend you check out our pricing page. The page has a handy budget calculator which can ballpark your expenses, in addition to an additional services costing section.
For the full list of all our cost and services, please refer to our price guide.
Campaign goal
The main things we need to know are:
Why are you embarking on a campaign?
What is your goal and what is your plan to achieve it?
Get specific, What will the activity be, and what will you regard as a successful outcome? Is that connecting with X amount of influencers? Is it to hand out X amount of samples? 20k more subscribers? Drive social media engagement?

Having this nailed down from the beginning will enable us to assist you quickly and efficiently.

Need some inspiration? Try our 8 simple steps to prepare you for a promotional vehicle campaign. This article will walk you through the concepts covered here in more detail, and present you with an example campaign for context.

If you want more information, c

heckout out these articles on campaign planning:
Vehicle
Which vehicle has caught your eye? You can view our whole fleet here if you need more time to consider - we have more than 40 unique vehicles available currently.
Have another vehicle in mind? We can help you source quality vehicles for out of fleet purchase, and provide advice on different financing and leasing options.
We need to know your chosen vehicle ahead of time, so we can ensure the vehicle is available and can be prepped per your ambitions. Speaking of which…
Timescale, hire period and destination
When is your campaign taking place? When will you need your vehicle by? Knowing this information from the outset helps us plan ahead, ensuring production time and event day line up smoothly.
Where will your vehicle be going and how long will you need it for? Are you staying in one place or are you going to multiple destinations? Are you static or mobile?
A log sheet displaying timings, planned routes and destinations would be ideal.
We need this information upfront, in order to plan the logistics of delivery and source an appropriate driver for the duration of your campaign. Need some help?
Check out how to plan promotional campaign logistics and vehicle routes for advice. This article will prepare you to answer important questions such as:
How will the vehicle get to your event sites?
How many locations will you visit?
How can you be sure you will arrive on time?
Who is going to drive your vehicle?
Different venues have different regulations with regards to access times, power rules, health and safety etc, so we need to know your list of venues ahead of time in order to plan accordingly.
Need some help sourcing locations? Check out our product sampling location guide.
Design thoughts
What are you planning? We don't expect you to have a fully fledged vehicle design straight away, but it's helpful if you have a fairly firm idea in mind.
Jump on Pinterest or Google to explore potential ideas and themes. Do you think you will need any props or lighting? A moodboard is a great way to unite your ideas into a fairly cohesive plan.
Canva has some great resources to get you started.
Think about how you would ideally brand and build the exterior and interior of the vehicle (if applicable), everything can be modified as per your brief.
A rough mockup of your vehicle is a good idea but don't don't waste time on exact measurements unless we have sent you a specific vehicle template.
Fonts, pantone colours, lighting, appliances and your preferred power supply are all design details we will want to know. Will you need any props built? We can outfit your vehicle with pretty much anything as long as you let us know upfront.
Pretty much anything you say? Yes! We can easily source, build and brand dumpbins, furniture, counters, fencing, umbrellas, gazebos and many other traditional display add-ons, but it doesn't stop there!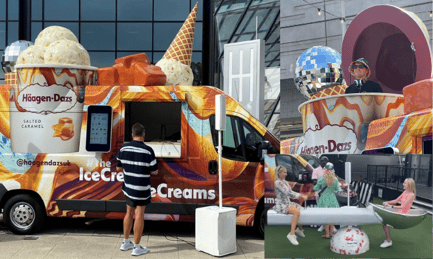 We've created all kinds of outrageous and eccentric props over the years.
Want a giant 3D sandwich on top of your vehicle? We can do that!
Or how about an Ice cream truck with a hidden DJ booth and giant ice cream scoop seesaw? We did just that for Haagen Dazs!
Almost any kind of fully custom prop is possible as we have the facilities to do everything in house.
Do you have any additional requirements?
We offer a range of additional services, including campaign management, event management, staffing, photography, videography, even sampling and fulfilment capabilities! If you require any of these be sure to let us know.
If you have any requirements not mentioned here, please include them, we are happy to accommodate you if it is within our power to do so.
Ready to submit your brief?
Just fill out the form below, and we will get in touch.