What goes into a promotional vehicle design? Creating a high quality design starts with careful planning, and a solid understanding of 2D to 3D design mapping. Campaign success or failure relies on eye-catching and intelligent branding.
The design process encompasses several stages: inspiration, development, refinement and approval. A promotional vehicle company will work with you during the development and refinement stages of your design process.
Designs often contain several different build elements that completely overhaul the exterior and interior of a vehicle.
Usually exteriors feature an eye catching vinyl wrap, signage and even external props that change the dimensions of the vehicle. The interior will be made up to the requirements of the campaign. This could be new furniture, carpets, appliances, power, structural remodelling etc.
Inspiration
Know what you want yet? It's time to put your thinking cap on. Jump on Pinterest or Google to explore potential ideas and themes. Think about what your brand represents, do your ideas match up? What is the activity? What will be a successful outcome for the campaign? Connecting with X number of influencers? Hand out X number of samples? 20K new subscribers? Drive social media engagement?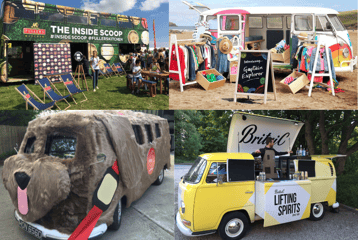 There are many potential avenues to explore when it comes to a campaign, so think strategically to find an idea that best represents you.
You should also consider some practical elements, do you want any external elements on your vehicle? Assuming you opt for a vehicle wrap, will your design call for decals or other signage? What are you planning with the interior? Will we need to build you any props? What kind of lighting and appliances will you need? How are you planning to power your vehicle?
A moodboard is a great way to unite your ideas into a fairly cohesive plan. Canva has some great resources to get you started.
Trying to forecast cost so early into the design process is difficult, but we do have resources available for you to make a reasonably accurate guess. Our pricing page is a great place to start, we have a budget calculator, which can ballpark your initial expenses, in addition to a full costs and services article which details all the elements that factor into the price of promotional vehicle hire.
Development
Once you have a fairly concrete plan on your hands, it's time to create a project brief. A project brief will contain your design thoughts and ideas along with specific campaign information. Checkout our Promohire brief checklist for more information.
Most companies wont expect a fully formed design straight away, but it's helpful if you have a fairly firm idea in mind. Most design ideas can be fulfilled, so long as they fall within the physical limits of the vehicle.
At this stage, you will talk through your ideas with the company and they will give you a template to implement your ideas, along with some practical advice relating to your promotional vehicle choice.
Here are a couple of things to consider when planning a design for your project:
Assets – We will need access to your brand assets and guidelines, in order to put a wrap together. We will want to know your preferred fonts and pantone colours.


Work to scale - Your designer will typically need to work to a 10% scale using images at 300dpi resolution. This will ensure that when the design gets printed, it's of the highest quality and resolution.

The final design print will be blown up to around ten times the size of what's on the screen, and they should work to this scale as standard.



Treat each panel as it's own design - On-screen, your designer should break your vehicle structure into its component parts on the template and design the back doors, side panels and wings separately.

This is important for the wrap supplier as each vehicle section will have its own individually printed piece of vinyl.

These can then be moved around independently until they fit side-by-side on the vehicle, a bit like a jigsaw puzzle. Checking the design throughout this process is vital to ensure that the different segments of vinyl perfectly match.

Millimetre accuracy is especially important if you're creating some sort of optical illusion with your wrap.

Translation – This is particularly important when you have the vehicle template for your chosen vehicle. The template is 2D, the vehicle is 3D, so take that into account when planning your design, how will this 2D design map to a 3D vehicle?

You don't want your logo tailing off onto the roof due to a curving design (think Airstream), or blocked by a window etc.


Design aid – How much assistance will you require? Do you need assistance with production and moodboards? Will you require renders?


Balance - Are you using anything heavy? If so where are you planning to load it into the vehicle? In most cases weight wont be a major issue, but it is always a consideration when it comes to build safety.


Aerodynamics – Planning anything for the exterior? If the modification will interfere with aerodynamics it could impact road safety. The last thing you want is a prop ripping free or disintegrating on the open road.

Odd dimensions can place you at the mercy of the winds, making it difficult or dangerous to control the vehicle, or again, breaking the prop.

The solutions to these sorts of issues is to either simplify your design, build in removability or opt for our total logistics package, where we will deliver the vehicle for you via our transporter.


Dimensions - Will your design impose height or width restrictions on your vehicle? If so you may have to be extra careful with route selection, think low bridges, narrow passing points etc. You need to make sure there is actually a clear path to your chosen venue.
Refinement and approval
Once you have filled and returned your design template, its time to refine. Typically designs see about 3-4 revisions before final signoff, but if you are struggling we can offer a more managed design process.
We can also provide you with 3D renders if required – it's a great way of visualising your creation. Together we will bring forth a final design, and submit it to all key decision makers for approval. This needs to be done 3 weeks prior to your first live day. Once we have all artwork signed off we can then get down to bringing your design to life.

What are my next steps?
You should now have a better understanding of the design process involved in bringing a promotional vehicle design to life. To learn more about the whole process, why not check out Design, Delivery and Beyond, an overview of the whole promotional vehicle hire process.
Want to get into the nitty gritty on any other campaign services? Head to our pricing page and scroll to additional services. Whilst your there why not try out the budget calculator, it's a great way to ballpark your expenses in only a couple of clicks. For the full breakdown though, we recommend reading our cost and services explained guide.
If you're getting ready to submit your brief, or want to know how to get the best from our services, the Promohire brief checklist is for you.