Promotional campaigns come in many guises and at times it is tricky to know where to start. First you have to be crystal clear about what it is you actually want to achieve from the campaign, then who will be your target audience and where will you find them?
Once you have a clear idea of your objectives, next comes figuring out how best to achieve them and planning your budget. Finally, once your campaign has been rolled out, how will you gauge its success?
Our step-by-step guide will help you to answer these questions by taking you through the key stages of planning, implementing and analysing your next campaign – whether it's a product launch, sampling event or PR stunt.
The five essential ingredients for a successful promotional campaigns that we will take you through are:
1. Planning your strategy– how to determine your audience, define your objectives and decide which communication channels to use;
2. Developing your budget– taking the time to determine your total promotion budget;
3. Developing your message– what problem is your product/service resolving for your target audience? How will this be communicated?
4. Campaign Delivery– co-ordinating the ongoing delivery of your content.
5. Reviewing your campaign– analysing the results of your campaign and determining its effectiveness.
1. Planning your strategy
Top of the list is defining your objectives and deciding who your audience will be.
Do you want to:
Increase sales?

Enhance brand awareness?

Promote a special offer?

Launch a new product?

Activate a brand?
….... or maybe a combination of two or more of the above?
Then comes your target audience. Do you want your promotional campaign to attract new customers or communicate to existing customers, influencers or decision makers? If you are trying to push up sales, who are the sort of people that will be interested in your product and what are the best ways to target them? If you are unsure, you could undertake some market research to see which demographic profiles are most likely to become customers.
Once you have a clear vision of your ideal customer, you can then decide which communication channels to use. This will be influenced by your target audience, but can be a combination of traditional print, social media, TV, billboards etc.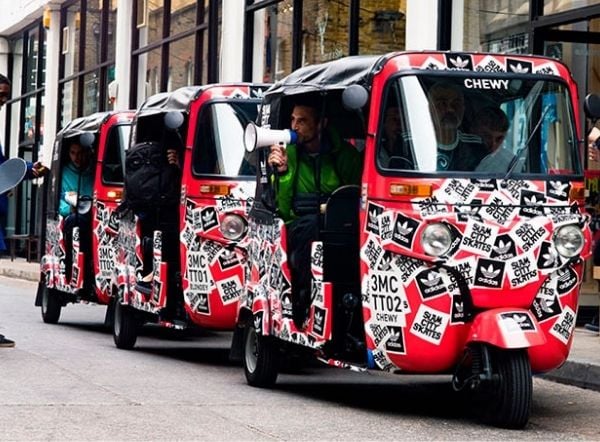 One of the most powerful forms of communication to include in your marketing strategy is in- person, face-to-face promotions, such as a product sampling campaign or product demonstrations at outdoors events.
Follow this link for our guide to some great product sampling locations
The five key demographic segments:
1. Age
2. Gender
3. Income and occupation
4. Ethnicity and religion
5. Family structure
All of the above demographics will influence the format of your promotional campaign, from which type of social media channels to use, to the type of events to attend for in-person promotions.
2. Develop your budget
You next have to allocate funds to the different strands of your campaign to determine their affordability and parity. This will help calculate its potential for success and will be essential to look back over when reviewing your campaign afterwards.
3. Develop your message
Once you have decided which communication channels to use for your promotional campaign, you will need to develop your message. Write down what the problem is that your product or service will help to resolve for your customers, e.g. how to live more sustainably, eat more healthily, live more comfortably etc.
You are now ready to decide the message you want to communicate to consumers that will show them how your product will help to resolve that problem. Using a variety of different communication channels will enable you to promote your product in different ways, for example, you can show your audience how appetising a delicious new food product looks with a TV or print advert, but they can see it for real and taste it for themselves at a product sampling event.
Read our article to find out how you can use a branded vehicle to support a product sampling campaign.
4. Deliver your campaign
Now that you know who your audience will be, have decided which communications channels to use and developed your message, you need to plan the roll-out across all the channels. This task will be a bit like spinning plates, so write a document setting out your timetable for integrating the different elements of communication into your marketing strategy.
The key thing for planning a successful promotional campaign is to get the timing right for each stage and not rush things. If you are planning a seasonal promotion, pitches at seasonal events and promotional vehicles, if you are hiring one, will be booked up in advance so remember to book early. Ultimately, you are aiming for all the elements of your campaign to be singing from the same hymn sheet in a timely way.
Read our article for guidance on how to use video to extend the reach and increase the longevity of your promotional campaign.
5. Review your results
This is where you will closely scrutinize every aspect of your campaign to see which elements worked well and which elements, if any, were not so successful. How did the actual performance measure up to your planned objectives?
Conducting surveys and market research can ascertain whether consumers can recall specific advertising messages, and which were the stronger elements of your campaign. This will determine the campaign's most memorable strands, and how they left consumers feeling about your company or product. A thorough review will not only gauge the effectiveness of the overall campaign but also provide invaluable data for when you plan your next campaign.
Are you ready to start?
With careful thought and meticulous planning, your promotional campaign can be a resounding success that reaches the right people, at the right time, with the right message. For some great promotional campaign examples, read our blog "Five creative product launch ideas to inspire your campaign".
If you're looking to hire a promotional vehicle to add some "wow" factor to your promotional event, click on this link to see some great options.