In this in-depth case study we detail how we worked with American skincare brand Fresh, taking their ideas from dreams to reality and securing a stunning win for the company.
Who are Fresh?
Fresh is an American skincare brand, they use natural ingredients and modern science to perfect beauty products that are sustainable and effective.
From humble beginnings as just one small shop in a Boston neighbourhood, Fresh has blossomed into a global brand that customers can't get enough of.
What did Fresh want?
Fresh had launched a new body care collection using plant based milks, and were keen to demonstrate the health benefits. They hit on the ingenious idea of serving the same plant based milk to customers to prove you could trust the ingredient.
To fulfil this plan, Fresh was looking for a vintage vehicle they could decorate in brand colours and add external props to. The challenge for Fresh was to find the right vehicle and create an impactful visual display.
This meant Fresh needed a partner who could bring their branded vehicle plans to life and handle all the logistics required to cover their 6 proposed locations.
Fresh was introduced to Promohire by Space NK whom they partnered with for the promotion. We've worked with Space NK on numerous projects over the years, so they were able to assure Fresh that we would be their perfect partner.
Head of Marketing for Fresh, Alexia Le Mouellic, enquired about the possibility of using one of our popular Citroën H-Vans as a mobile barista setup. She wanted the van branded in Fresh colours, a branded sign added to the roof, and trailing external flowers.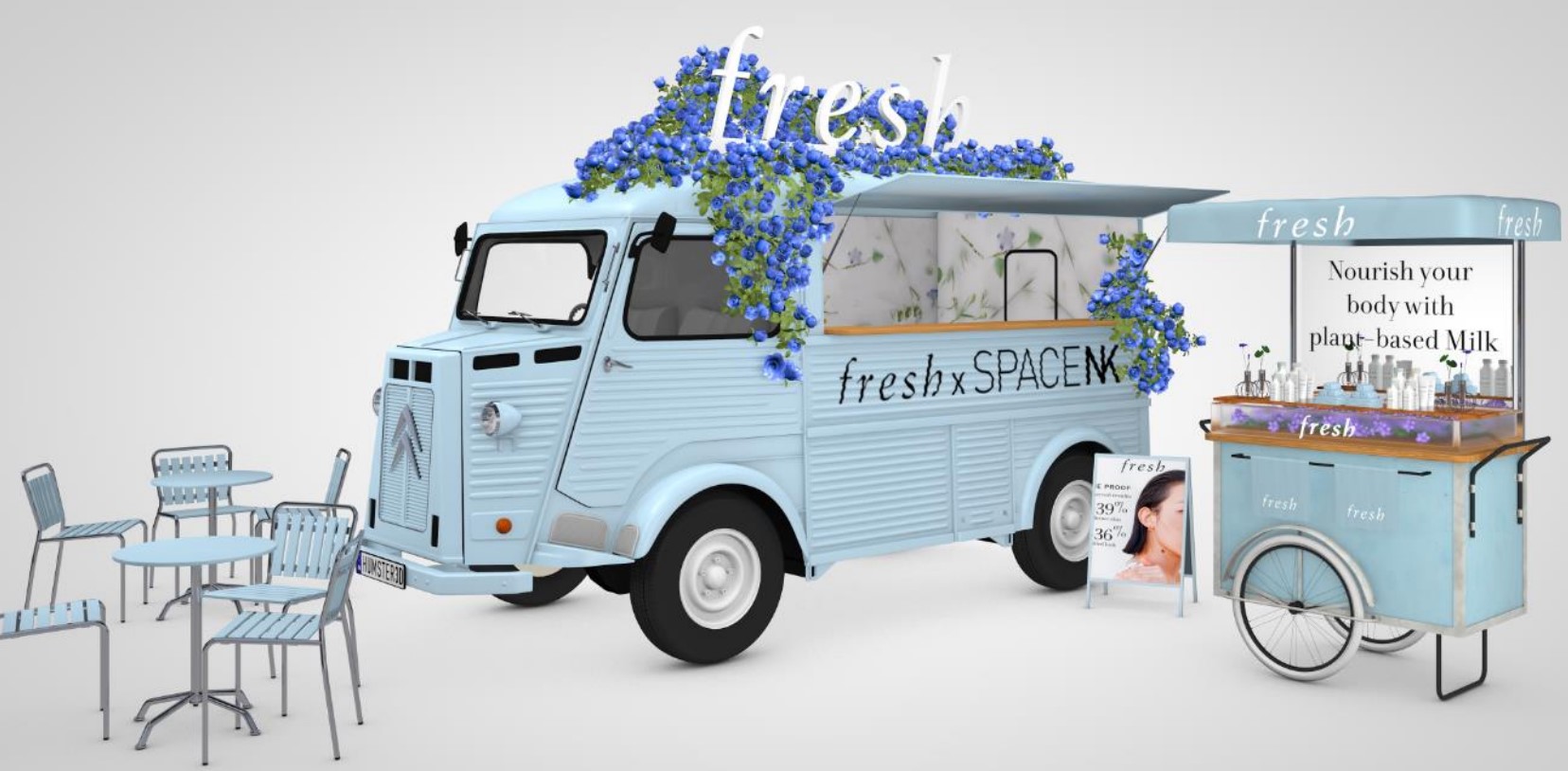 Alexia also asked us if we were able to supply and brand a number of tables and chairs to expand the setup into a café, and supply and brand a mobile cart to allow Fresh to distribute samples from multiple locations simultaneously.
The Fresh team wanted to visit 6 different locations with 16 live days, a distance of 236 miles, so were looking for a service capable of managing extended and involved vehicle logistics.
Take a look at Fresh's proposed route below:
How did Promohire help?
Alexia's build offered some unique challenges for us, but we were proud of the final result.
We built out Fresh's design as per their brief, branding and modifying one of our Citroën H-Vans into a 'Milk Float café' complete with outdoor seating and a mobile vending cart.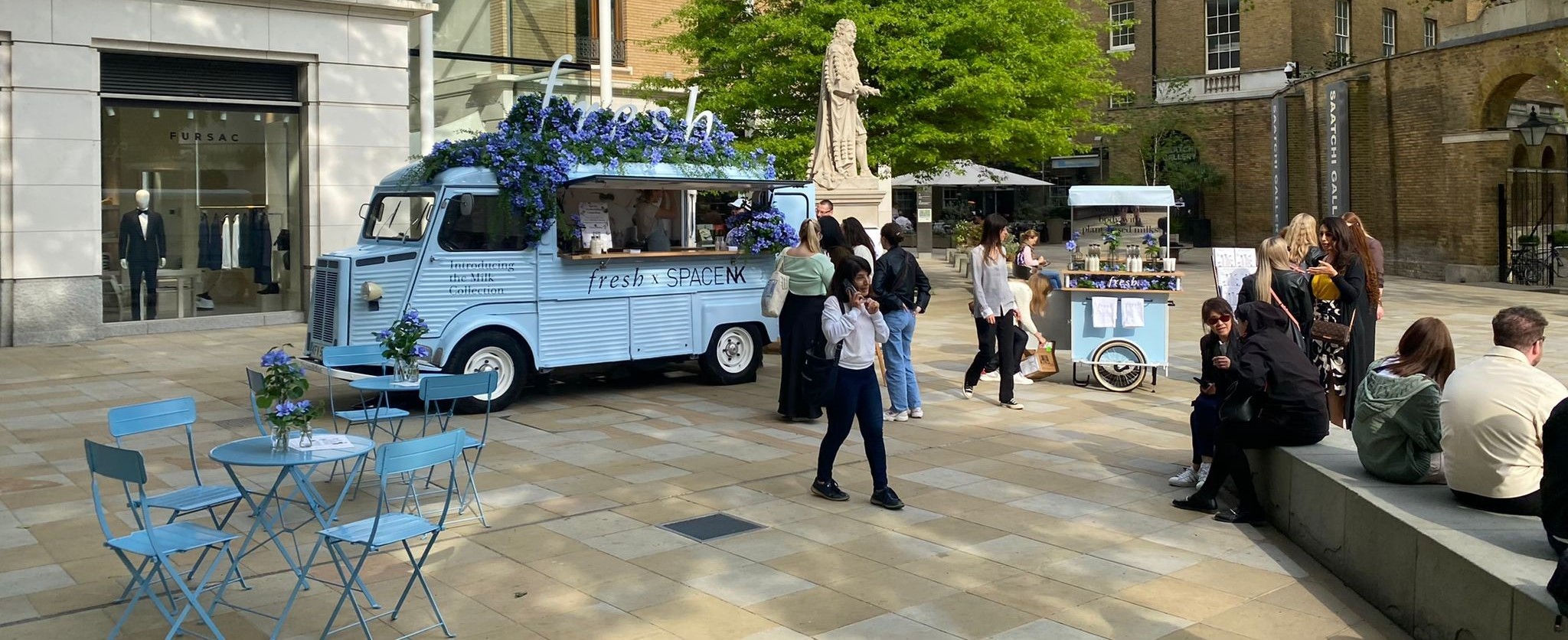 The flowers were one of the more complicated aspects of the build, but were totally worth the effort.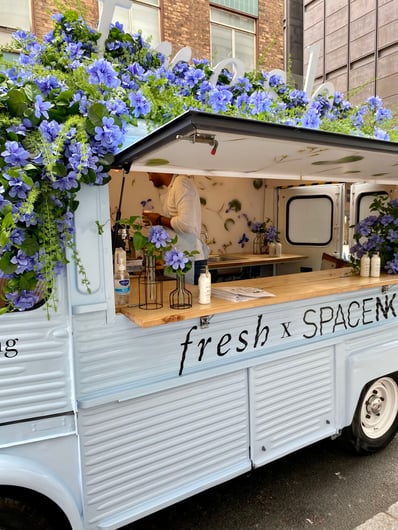 They really highlighted the natural angle Fresh were going for and the whole aesthetic was just gorgeous!
With 16 live days on our hands we made sure to bring our A game. We transported setup and derigged the plant milk café every day, allowing the Fresh team to focus on their campaign.
We did run into a snag at one location though, when a venue refused to grant the vehicle power.
However this isn't our first rodeo, and experienced Logistics Manager Paul was on hand to provide back up power, allowing the day to continue without a hitch.
Logistics management is a standard service that is included in the price of hire for every vehicle we offer.
We also collaborated with Alexia and the Fresh team to produce the campaign journey video at the top of this page.
Our premier videography service, we work with you to script, film and produce a long format video that captures your story and journey throughout the campaign. You also receive stills, videos and time-lapses to tease out on social media.
What was the result?
"Our campaign performed extremely well," says Alexia.
"We were absolutely delighted with the results and definitely we believe the H-van was very important in the success because it looks so gorgeous and was very impactful."
"Promohire really respected the brief perfectly, including the colour of the van, the look and feel of what we wanted to achieve, so we are very, very happy."
"The experience with Promohire was great and I would definitely recommend it!"
Thank you for the kind words Alexia and Fresh, it was a pleasure working with you!
Fresh also took the opportunity to extend the campaign online, with posts to social media gaining significant traction, with many commenters wishing Fresh had come to their location too!
Are you interested in making your promotional dreams come true?
If you are reading this and thinking, wow I'd love if that could work for me, then why not check out our vehicle options?
We have more than 20 different types of vehicle ranging from humble Tuk Tuks and trendy VW campers, all the way up to Land Rover Defenders and even Double Deckers.
It's also worth checking out our costs and services guide to familiarise yourself with everything we offer, plus our budget calculator which can ballpark your expenses.
If you've done all of that you're in a great position for us to help you and get the ball rolling, hope to hear from you soon!