Developed as a simple, low cost panel van after World War 2, the Citroën H-Vans corrugated, boxy design has gifted it a striking and memorable legacy.
Although we think of it as a vintage vehicle today, the H-Van was actually quite ahead of its time when it was first introduced in 1947.
It was the first mass produced van for example, to utilise a monocoque construction, where the body and chassis are integrated into one complete unit. This allowed the H-Van to be lighter and stronger than competitors.
The design was as practical as it was innovative and as a result the H-Van barely changed in over 30 years of production.
The low flooring in particular has made this a particularly popular vending choice, and it's very common today to see one of these corrugated crusaders, repurposed as a coffee van.
With its French retro styling and unique engineering, the H-Van has become a popular collectors piece over its 70 year history, but is it the right vehicle for you?
In this article, we break down the pros and cons of Citroën H-Van hire, enabling you to find a best fit vehicle.
Legacy
If you want a vehicle as eye catching as it is practical, you can't go wrong with this French classic.
Pros
Citroën H-Vans standout. The unique corrugated design is just very obvious; no modern and very few vintage vehicles use it. The cab style is also very unique, featuring a high short cab with swept back suicide doors.
The design is still so popular that Italian mega fan Fabrizio Caselani began a company dedicated to converting Citroën's modern van, the Relay, into H-van replicas.
There is certainly an audience willing to carry the legacy into the modern age, but for most people nothing trumps the real thing, and that's why Vintage H-Vans will always remain popular.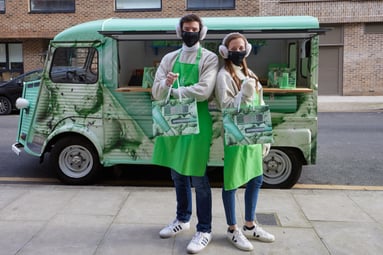 They are mostly known as a technological leap forward for logistics vehicles, but their trump card is that one of a kind styling, something that always draws a crowd.
Although it is probably the most Iconic French van, In many ways then the H-Van is somewhat of a blank, if corrugated, canvas. This allows the vehicle to fit into any kind of campaign that values vintage star power.
Cons
All our vintage vehicles are funky and attract attention at venues, but each has its own particular legacy. If funky, French and novel doesn't fit well with you we have plenty of our other vehicles in the vintage collection that may suit you better.
The VW Camper is more of a free spirit, the Milk Float is a retrofuturistic British classic, the Airstream an American innovator; analyse your options to find the vehicle or vehicles that best suit you.
Size
With an internal floorplan of 4.4 - 6.5m, these vehicles offer plenty of space for sampling in a relatively compact package.
Pros
Although the panels of the H-van aren't flat, they are uniform, meaning they won't impact our ability to brand them. This relative flatness is ideal for large scale graphics and branding.
We have both the short and long wheelbase H-van available, allowing you to scale the vehicle to suit the demands of your campaign. The short wheelbase version is 4.4 metres whilst the long wheelbase is 6.5 metres.

The long wheelbase H-Van is more than up to the task of sampling for most activations, it's the most efficient sampler in the fleet thanks to a serving hatch that runs the entire length of the rear compartment.
The H-Van is 360 degree brandable meaning we can brand every part of it to help you stand out.
These advantages allow you to really capitalise on the available surface area to create eye catching designs that will enable passers-by to recognise you from a distance.
Cons
If you do feel you need extra space our Airstreams are slightly larger, and our Exhibition Vehicles larger still. If you need a smaller vehicle the VW Pop-Up Camper is a good vintage alternative.
Customisability
Our H-Vans are primarily designed for vending or sampling and are suitable for any industry.
Pros
If your campaign requires sampling you can't go wrong with an H-Van. We've seen this van used by food and drink, beverage, health, fitness, telecommunications, television and many more.
Ours feature a wide serving hatch that runs the length of the vehicle's usable exterior, allowing more than enough room to efficiently engage with customers.
Our long wheelbase (LWB) H-van is probably the best sampler in the fleet, ideal for a barista setup, drinks, snacks, light catering or any other product vending type activation.
Gaviscon used our LWB H-Van to tour several major UK cities, serving up PH neutral food in order to raise awareness about nutritional acidity regulation.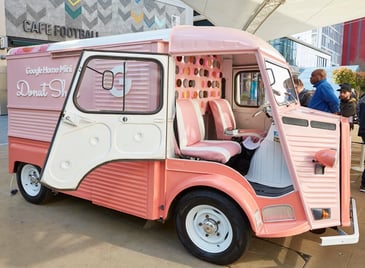 Every part of this vehicle is brandable including the interior cab. We can even reupholster seats in the cab if you desire as we did for Google here.
Cons
You can only fit two people in the cab in the vehicles standard orientation, so you can't really engage customers inside.
So if your activation requires an internal display, you are better off looking at the VW Camper van, or our larger Airstreams.
Logistics
This vehicle is included in our full logistics package. This includes a professional driver, route mapping and of course transporting your vehicle to and from each venue for each activation day.
Pros
Although this vehicle works better as a static display, it is drivable around your locations of choice.
As with all our vintage vehicles, the H-Van is social media ready, meaning it is capable of short journeys of 5-10 miles, providing a moving platform for photo ops and general customer engagement.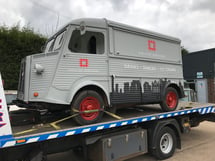 Cons
It is worth noting however that the vehicle is slow and cannot be driven on motorways, which is why we transport it for you over long distances.
Cost
Our Citroën H-Vans are priced at £6,500 for a one day event, including wrapping and logistics. Internal modifications tend to start around £2000, but can exceed £10,000 if you want unique changes.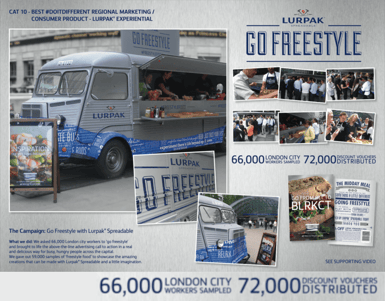 Pros
Although the H-Van is far from the cheapest small vehicle in our fleet, it is one of the most popular, so you can rest assured that if you choose this rustic French option, you won't regret it – it's popular for a reason.
Price is certainly important so be sure to shop around your options before you make any decisions, but don't forget about your ROI.
What you stand to gain from a well-executed activation amounts to far more than the price difference between an H-van and any of its competition.
Cons
There are many cheaper alternatives in the small sampling vehicle range. Our Renault Estafette is the H-Vans chief competitor, it's also French and costs just £5,750, a saving of £750.
The full small to medium vehicle range, including VW Campers, Pop-Up Campers, Electric Milk Floats, US Postal Vans and Ice Cream Vans costs between £5,230 and £6,100 – all cheaper than the H-van. If you want to go really small, our Piaggio Apes start from £3,390, very budget friendly.
What are my next steps?
If you are interested in one of our H-Vans feel free to navigate to our budget calculator, where you can ballpark the cost of a H-Van campaign.
We also recommend using our costs and services guide, for a more specific explanation of all our services and how much that might add to your final bill.