It doesn't get any more British, than the Land Rover Defender. Introduced in 1948, the Land Rover brand has been synonymous with hard work and reliability for over 70 years.
Defenders are still a common sight in the UK today and are used by farmers, the military and off road enthusiasts. It's also a bit of a fashion statement, and it's not uncommon to see luxury editions rolling around central London.
The Defender is definitely a national treasure, but does that make it the right vehicle for your next campaign?
In this article, we break down the pros and cons of Land Rover Defender hire, enabling you to find a best fit vehicle.
Legacy
If you want a classic British symbol to draw attention to your next campaign, the Defender is a great choice and is still heavily associated with hard work and dependability.
Pros
If you're looking to build trust, the Land Rover is your ideal partner, a vehicle that is the very definition of 'going the extra mile'.

With a Defender as the foundation of your display you convey to leads that you can be relied upon to add value and support them throughout their lifecycle as customers.
In this way the vehicle starts working for you even before its wrapped and branded to your specifications, and long before you actually begin engaging with potential consumers.
As an off-roader, the Defenders reputation for high performance translates brilliantly to the fitness, nutrition and outdoor industries.
Cons
If reliability and service aren't the main focus of your campaign, this vehicle might not be for you.
If you are looking for a funkier less rugged vehicle the VW Camper or Citroen H-Van may be a better fit.
Size
Even with its smaller footprint this vehicle offers a fair amount of space and is perfect to serve from.
Pros
We use longer wheel base Defenders to give you the most space possible for vending and display purposes.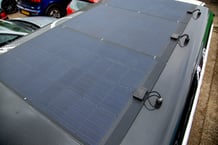 Our Defenders are van models meaning they don't have windows. This maximises your available flat surface for largescale graphics and branding.
With its long flat roof, the Defender is perfect for solar panels and a lithium battery setup. You can often go a whole day without using external power.
Cons
If you want to be able to engage lots of clients inside the vehicle, the Defender isn't for you, and you would be better off looking at an Airstream or even an Exhibition Vehicle.
These vehicles have the space to accommodate larger groups, and the Exhibition Vehicles even come with meeting rooms.
Customisability
This vehicle is primarily used for sampling but we've seen it used for a variety of vending purposes and it has even been used as a DJ Booth!
Pros
Our pop-up models allow you to physically vend from the vehicle, with the vehicles height giving you a great platform to engage from.
Our standard models have removable counters that can be easily mounted to the back of the vehicle, giving you a functional counter with the back door acting as a branded backdrop.
You are then able to use the rear of the vehicle as a drinks bar thanks to the built in shelves and refrigeration we provide.
Cons
The Defenders are primarily designed for vending and that is what they are most often hired for. If you want a full blown catering setup, our Modern Sampling Vans are a much better choice.
That doesn't mean these vehicles can't be adapted to suit your purposes though. We pride ourselves on problem solving at Promohire, so please Contact Us if you are feeling uncertain about your Defender plans, we'd love to help.
Logistics
As fully mobile vehicles Defenders are covered under our standard logistics package. This includes a professional driver, route mapping and of course transporting your vehicle to and from each venue for each activation day.
Pros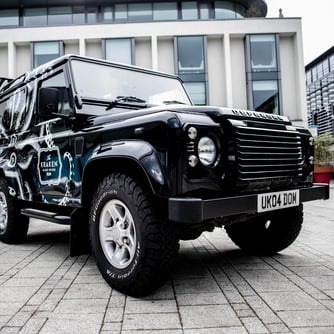 As an independent vehicle, the Defender can be driven directly to and from each venue.
This means your design will be fully visible to the public and generate thousands of impressions on its way to your venue.
We choose younger vehicles that still have their classic styling, but come with modern convenience and better reliability.
This means if you are planning to purchase the vehicle you won't be left struggling when it's your turn behind the wheel.
Cons
These vehicles are designed to conquer difficult terrain and wide open spaces, so they don't have the turning circle of a black cab and of course being vans, you can't see out the back.
This is why we provide a professional driver unless you are planning to purchase the vehicle, the precise parking manoeuvres required at some venues can be tricky without experience.
Cost
So, what does it cost to get your hands on one of these rugged British icons?
Pros
The Land Rovers are very reasonably priced at £6,500 for a one day event, including wrapping and logistics. This is the same price as a Citroën H-Van, despite the Defender being a larger vehicle.
The Defenders are available for both short and long term hire, with the option to even buy at the end, if you want to make this vehicle a permanent promotional partner.
Cons
If price is your primary concern, the Ice Cream Van is marginally cheaper and the US Postal Van is significantly so.
If your bottom line is cost these may appeal more to you, but if you are more concerned with your ROI, i.e. what you will get out of the campaign then select your vehicle carefully.
What are my next steps?
If you are interested in one of our Land Rovers feel free to navigate to our budget calculator, where you can ballpark the cost of a Defender campaign.
We also recommend using our costs and services guide, for a more specific explanation of all our services and how much that might add to your final bill.