There's a reason why ads are plastered to the sides of London's iconic red buses; they're tall, obtrusive and offer plenty of flat surface area, almost like a mobile billboard.
These factors make the double decker the perfect addition to a promotional vehicle campaign looking to maximise impact, but does that make it the perfect vehicle for you?
In this article we break down the pros and cons of double decker hire enabling you to find a best fit vehicle.
Size
The size of the double decker is both its greatest selling point and it's Achilles heel. On the one hand being so large makes the bus very noticeable, but it also makes it hard to manoeuvre.
Pros
It's great for mobile campaigns as a way to get noticed, or as a stationary venue. The vehicle has the most internal space of any amongst our fleet and we've seen it used for retail displays, catering setups, consultation booths, or even a mixture of several themes.
Notably we were able to transform one of our double deckers for a Cadbury's Crème Egg hunt. We managed to fit a small café into the bus, replete with kitchen and vending hatch for crème egg based mug cakes, along with a spotters hide, photobooth and scramble pit filled with hidden crème eggs.
The vehicles size makes it ideal for mobile campaigns as you will get noticed out on the road or driving through urban areas.
The bus is often booked to be driven around city centres for example to capitalise on this advantage. Some campaigns opt for a bit of both, with stationary and mobile elements to get the most out of mobile impressions and direct interactions with customers.
Cons
Ok so the space sounds great, but how about that manoeuvrability? Manoeuvrability is the price you pay to stand head and shoulders above other promotional vehicles.
This means that route planning is a little more challenging as the bus can't pass low bridges or exceptionally narrow roads. As a result it may take the bus slightly longer to reach a destination and it is slightly more difficult to park.
If you are planning to visit an indoor location, make sure you check if there are any restrictions that might prevent you from using a tall or exceptionally large vehicle. If you are using our services we take care of these issues for you as part of our logistics package, included in the price of hire.
Logistics
As a fully mobile vehicle the double decker is covered under our standard logistics package. This includes a professional driver, route mapping and of course transporting your vehicle to and from each venue for each activation day.
Pros
As a fairly independent vehicle, the double decker can be driven directly to and from each venue, rather than transported aboard a loader.
This means your design will be fully visible to the public and generate thousands of impressions on its way to your venue.
Cons
As with many vehicles designed for the city, the double decker is speed limited to 50 mph, meaning that it cannot reach the national speed limit on motorways.
It's worth noting that as a larger vehicle, the bus certainly won't be throwing its weight around at inappropriate speeds: it's extremely dangerous and likely to end badly. It's also illegal for buses and coaches to exceed 50 mph on single carriageway roads.
Although some of this may be obvious, it's worth stating because it's easy to plug some timings into Google Maps and clean forget that they are only realistic for cars.
All this really means is that you will need to factor in extra driving time (including legal rest periods) into your timesheet – something we are more than happy to help with as part of our logistical services.
Customisability
So the vehicle is obviously very large, but what can you do with it? Is the vehicle a good fit for your campaign goals?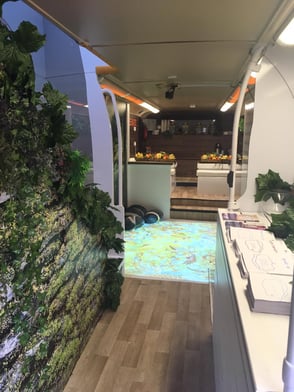 Pros
There isn't a lot you can't do with a double decker, it has the space you need to outfit it for almost any activation centric purpose. It's large enough that you can get ambitious, transforming the bus to host a combination of activities and facilities in service of your campaign goals.
It's really a bit of a Swiss Army Knife, we've seen setups for vending, retail, catering, sampling, touring, brand roadshows, live concerts and even a combination of several themes.
Cons
It might be too much for you, there is so much you can do and a lot of space to fill, so you may struggle with ideas.
However if you do have difficulty we have the experience to assist you as part of our campaign management services.
Cost
The Double Decker costs £11,600 for a one day event, including wrapping and logistics. The Routemaster costs £11,450.
Pros
While it does have a higher end cost, the double decker does give you the most square footage for your money, so if you are looking for a vehicle to host an extensive internal display this vehicle is actually one of the cheapest.
The same price point advantage applies to advertising space, no other vehicle gives you the sheer surface area and visibility for the price.
Cons
These vehicles are the most expensive amongst our fleet, and they will also be subject to ULEZ, LEZ and congestion charges. For more information on costing you can use our budget calculator to compare pricing across our vehicle fleet.
If you are willing to go a little smaller our exhibition vehicles are a viable alternative.
They are significantly cheaper to hire whilst still offering a lot of space in a smaller footprint, allowing for greater manoeuvrability if that is a major concern. Low to the ground and single storey, these vehicles are ideal if you want to maximise accessibility.
Open top double decker
An open top double decker only has a roof that extends for about the first quarter of the top floor or even no roof at all. These are the versions typically used by sightseeing tours across London. We have several variants of this bus.
Pros
The open topped double decker is like a moving stage, and that's exactly how clients often treat it, using it for tours, photocalls and even live concerts.
We transformed the bus into a literal stage for Leo Burnett and Jesse J as part of a McDonalds activation campaign for example. She was able to give a live concert on the go; providing the perfect audio visual experience for surprised fans all over London.
This is a great way for influencers to connect with consumers, without the expense of a venue and without the need for extensive crowd control preparations.
Cons
It might Rain!
Closed top double decker
This version of the bus has a fully enclosed roof. We have the iconic vintage Routemaster along with several modern variants amongst our fleet.
Pros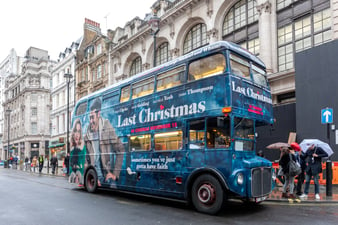 A fully enclosed double decker has two complete stories, allowing you to create fully mobile large scale displays. Although such a large vehicle cannot enter certain venues, you often don't need one.
In a double decker, you are the venue, with the space to engage customers in a diverse range of activities.
The vintage version is particularly popular with customers as a national symbol, and will generally draw a crowd for photo ops on that factor alone. Combine that with an eye-catching design, and your on to a real winner.
If you want the bus purely as a mobile billboard, this is your best bet, a fully enclosed double decker has the most available surface area to display your branding.
Cons
You might miss the sunshine!
What are my next steps?
If you are interested in the double decker feel free to navigate to our budget calculator, where you can ballpark the cost of a double decker campaign.
We also recommend using our costs and services guide, to forecast a more specific explanation of all our services and how much that might add to your final bill.