Brimming with retro Italian charm, these nifty samplers combine classic styling with great flexibility and campaign boosting functionality.
The Piaggio Ape burst onto the scene in 1948, and has been in continuous production ever since thanks to a simple yet robust design that still has few rivals today.
The fact is that there is an endless market for small, functional machines in urban areas – especially where narrow streets, congestion or regulations prohibit the use of larger vehicles.
As a result the Piaggio has come to embody a sort of quaint rustic aesthetic, the sort of vehicle one would expect to find parked in a quiet side street of an unspoilt village.
This combination of form and function has made the Ape a great choice for businesses looking for a smaller sampling vehicle.
The Piaggio Ape is agile, charming and quite practical despite it's smaller size, but is it the right vehicle for you?
In this article, we break down the pros and cons of Piaggio Ape hire, enabling you to find a vehicle that best suits you.
Legacy
Charming and practical right out the box, you can't go wrong with the Piaggio Ape.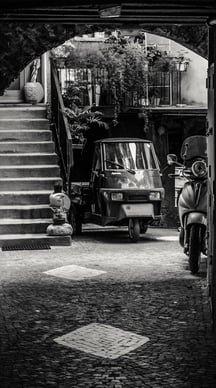 Pros
The Piaggio has a long history of endearing itself to customers across the globe. In its home country of Italy, the Ape is as part of the landscape as a vineyard covered hillside.
It's used in villages, towns and bustling cities, where its compact size serves it well on narrow or congested streets.
The vehicles adaptability means it can be converted to serve many different purposes, something that has made the vehicle enormously popular in India and other countries where smaller vehicles have the upper hand.
This same adaptability made the vehicle a practical choice for promotional events, meaning we can easily customise the vehicle to order.
Cons
All our vintage vehicles are funky and attract attention at venues, but each has its own particular legacy.
If retro Italian charm doesn't work for your campaign, have another look at the vehicle fleet, we have a broad range of vintage options spanning Europe, America and Asia.
Size
One of the smaller vehicles in our fleet, this agile option is perfect for a bustling city centre or size restrictive venue.
Pros
This vehicle is nimble, it can get you into areas you wouldn't otherwise be able or allowed to vend in, such as a crowded shopping centre.
Although small, the vehicle does have the boxy shape required to display largescale branding, meaning we can use every square inch to maximise your impact.

Cons
At about 2.5 metres long this is far from the largest vehicle in the fleet.
If you feel you would like just a little extra space we have a whole range of small to medium vehicles including VW Campers, Pop-Up Campers, Renault Estafettes, Citroën H-Vans, Ice Cream Vans and Dodge Aeromates.
Customisability
We have a range of different Piaggio Apes available from micro to mighty, suitable for a variety of different campaigns.
Pros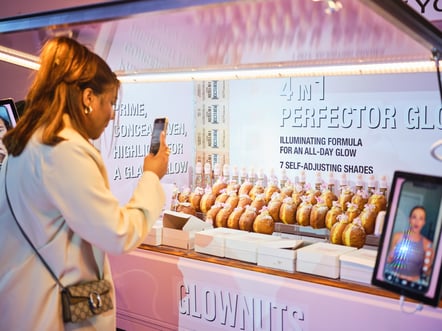 These vehicles are ideal for light catering, mobile bars or sampling based activities.
Our Piaggios have been used by many industries, including food, drink, retail, beauty, art and even construction.
The vehicles have rear and side hatches that can be adapted to suit your requirements.
We can easily add coffee machines, chiller fridges, discreet power units or just extra storage if you need it.
Cons
You cannot stand inside the vehicle in it's standard configuration so if you want to vend from the inside, we recommend a slightly larger vehicle, such as a VW-Pop-Up Camper Bar, Renault Estafette or the Electric Milk Float.
You also cannot engage people internally so if this is important to you check out our VW Camper or larger Airstream.
Cost
Our Piaggio Apes are priced at £3,390 for a one day event, including wrapping and logistics. Internal modifications tend to start around £2000, but can exceed £10,000 if you want unique changes.
Pros
The Piaggio is one of the best budget samplers in the fleet, and a great option if you are just looking to dip your toes in.
Return on investment is key after all so many clients use the Piaggio as a kind of promotional barometer to see if funky vehicles really do catalyse a well thought out campaign.
To that end the vehicle is cheaper than the vast majority of samplers in the fleet, with it's closest rival, the VW Camper, still costing £1,840 more.
The vehicle is nearly half the price of a Citroën H-Van and more than half the price of the Airstream, meaning you could have two vehicles for the price of one and sample multiple venues simultaneously.
Cons
There aren't many cheaper options, but we do have them. In the vintage range our Horse Boxes and Tuk Tuks are cheaper at £2,680 and £3,090 respectively.
If you are willing to go really micro we also do Promotional Bikes for just £1,380.
What are my next steps?
If you are interested in one of our Piaggio Apes feel free to navigate to our budget calculator, where you can ballpark the cost of a Piaggio Ape campaign.
We also recommend using our costs and services guide, for a more specific explanation of all our services and how much that might add to your final bill.