In the wake of Covid-19, brand events and product launches have changed. With potentially more flexibility for people to work remotely, targeting audiences may feel more fragmented than before. Agencies and brand managers are therefore under more pressure to think past their traditional product launch plans and create something innovative...
...But it's not all doom and gloom. With the likelihood of a continued focus on events taking place outdoors or in large, ventilated spaces, there are plenty of opportunities to launch products or hold in-person brand activity.
Product launch ideas could include:
3. Small-scale product sampling
5. Aligning your online and offline channels
So, where do you start? In this blog, we'll highlight useful ways of creating flexible activations and campaigns.
1. Holding open-air events
Although lockdown is set to be gradually lifted across the country, it looks like there will be a reduced number of fairs, sports gatherings, outdoor concerts and agricultural shows this summer. But there are still ways to target a large audience with an outdoor product launch.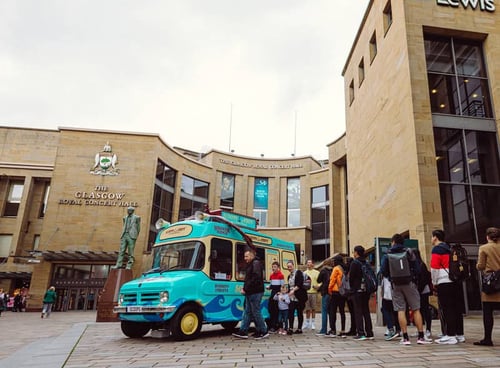 Brands can explore the possibility of setting up interactive and Covid-safe pop-up displays around larger public parks, shopping centres, retail parks and supermarket car parks. Thanks to the introduction of home-working, shopping habits have changed and local high streets are seeing an increase in footfall whilst once bustling city centres are much quieter than they were "pre-Covid". After being in lockdown with limited social interaction for months, many people will welcome the opportunity to engage in some friendly banter with your promotional team and hear about your exciting new product.
2. Keeping on the move
Why it's important to increase mobility
The lingering impacts of lockdown on consumer behaviour will continue to emerge, and levels of footfall at sites and pitches may be more unpredictable than before. Therefore, mobility is key, and customised vehicles allow you to keep your product launch agile, moving between sites to optimise your activity if footfall isn't at the level you expected.
Finding the best mobile launch solution
The success of any brand activation is all in the planning. If your product launch involves moving from location to location, careful forward planning is essential.
The vehicle mileage and type of product being launched will need to be considered when choosing the best vehicle for your activation. For large scale activations and product PR stunts, a colourful bus wrapped with your messaging can make quite an impact as it rolls into its new location, generating lots of excitement! Ice-cream vans, camper vans and even vintage milk floats can be vehicle-wrapped to your branding specifications. Just use your imagination!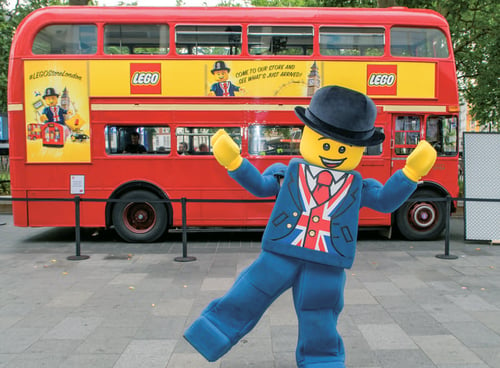 If your product launch activity includes multiple sites, the route needs to be researched any roadworks scheduled for your event date. Timings, fuel stops, pitch locations and who will be driving the vehicle all need to be clearly defined before launch day. And where the vehicle goes, your promo team will follow, so they need to be briefed and ready for action when they arrive at each destination.
3. Small-scale product sampling
If you're looking to move your promotional team around a large site, a fleet of tuk tuks with sampling boxes, or old-fashioned Mary-Poppins bicycles are a fun way to draw attention to their arrival. Everyone loves a free sample, so split your team and kit them out with hired, custom-branded electric bikes or wheelie sampling bins for a punchy guerilla activation covering a retail park or local town. Built-in sampling boxes are perfect for holding small FMCG products, including fragrance samples and sweets, while wheelie bins can carry bulkier items like ice creams and cold drinks. You can also complement your product launch with branded flags placed strategically around the site with a colourful gazebo at base camp for maximum impact.
4. Creating safe spaces
It looks likely that social distancing in public places will remain in place for some time after lockdown ends. Therefore, it will need to be factored into your campaign's risk assessment to ensure the safety of the public and your promotional team at product launch events.
How can you enforce social distancing?
As well as having more promotional staff on hand to help enforce a queuing system, polite reminders to socially-distance can be placed on A-boards and banners. Removable floor stickers or printed flags can serve as a guide for your audience to keep 2-metres apart when they approach. Sanitisation stations can also be supplied as an extra precaution, providing everything you need to make the public feel safe.
5. Aligning your online and offline channels
An easy way to enable your product launch to reach a wider audience is to bring a professional photographer and/or videographer along to record the event to incorporate your 'on the ground activity' into your social media strategy. It is cost-effective to engage an expert to record and edit the launch activity, so your online audience get to see the "best bits" in glorious technicolour, increasing the overall reach of your offline launch activities. Photo selfie-spots alongside fun Instagram-friendly props, and signage with hashtags can be set up to encourage visitors to share the experience on social media. Your launch can offer plenty of imaginative photo opportunities in a Covid-safe way.
6. Providing a personal touch
When it comes to product launch ideas, remember that personalisation goes a long way, especially when times are tough. Having worked for weeks, maybe months, on your campaign, you need to make sure people know all about it, and this is where reaching out to the media and influencers can help. But how can you engage with them if they are working from home?
Brands could leverage topical news and product-related trends to pique journalist and influencer interest and arrange to take samples to their doorstep to review themselves. You could even provide a bespoke sampling experience at home!
Covid-safe, doorstep experiences are memorable, and is an unexpected surprise, providing content that influencers will want to share. What a fabulous way to showcase your product launch in post-lockdown Britain!
To find out more about how you can use a promotional vehicle in your next product launch, download our eBook 'How to use promotional vehicles in product launches'.