In this in-depth case study we detail how we worked with agency Multiply on a product launch for skincare brand Aveeno, transforming their detailed brief into an attention grabbing mobile beauty parlour that customers loved.
Who are Aveeno?
Aveeno is a very well known skincare brand dedicated to creating natural ingredient based solutions for skin health and wellness.
With 70 years worth of published clinical evidence behind them Aveeno pulls no punches when it comes to establishing credibility.
What did Aveeno want?
Aveeno was looking to promote a new oat-based skincare range, but they didn't just want to make a bunch of noise. As part of the campaign they wanted to put their products in customer's hands, so they could see the effectiveness for themselves.
Multiply handled the campaign, and after consulting Promohire's vehicle options enquired about our Vintage Airstream.
Impressed with Promohire's credentials, expertise and past projects, Account Director Laura Jones sent us a detailed plan to use the Airstream as part mobile demo lab and part shop window.
Laura wanted her product reps to be able to connect with customers and demonstrate the product inside and outside the vehicle. She wanted to visit 5 locations across 6 days, the plan being to raise product awareness right next to stores where interested customers could then go and buy Aveeno products.
Multiply were really keen to stand out, which was one of the reasons Laura chose the Airstream.
We completely agreed with her choice; it's sleek looks are extremely unique, and as a vintage American vehicle, very rare in the UK. With a floor plan of up to 8m there is plenty of internal space for a variety of activities and external branding - just what Multiply was looking for.
How did Promohire help?
The agency's experience and professionalism really made this project a blast! They submitted a very polished brief, which allowed us to get their project underway without significant revisions or delays.
We built in bespoke wrap around cupboards and countertops as per Multiply's brief, fully customising the interior to match the light oat theme requested in their moodboard.
Below you can see a selection of requests from Laura's brief: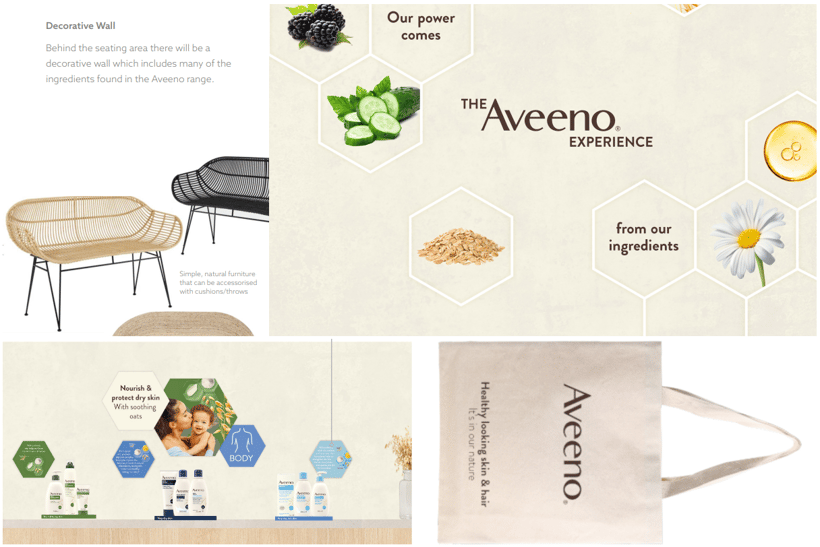 Now check out the finished result below: How did we do?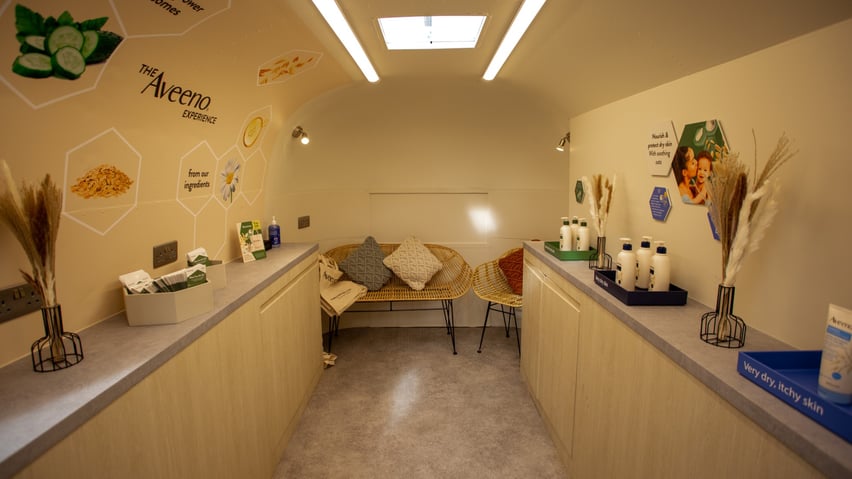 For the exterior, we branded the Airstream in high quality vinyl, built and affixed a custom Aveeno sign to the roof, laid down artificial grass, erected picket fencing and topped the display off with artificial plants and a flower wall.
We also built a product display into the original serving hatch, allowing Aveeno to display their products just as they would in a shop window.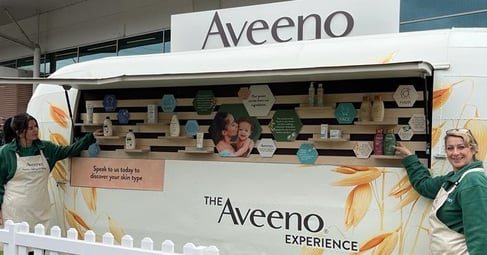 This helped maximise product visibility and enhanced the Aveeno teams ability to engage with customers.
Interested customers could then be brought inside to discuss the product in more detail.
Laura planned to visit multiple locations across North London, West London and Central Oxford.
We managed all physical transport, setup and derig of the Airstream and display from the beginning to the end of the campaign. This is included in our logistics package, which is standard for all our vehicles. We make sure you are setup and ready to go in the right place at the right time.
We also collaborated with Laura to produce the campaign journey video at the top of this case study. Our premier videography service, we work with you to script, film and produce a long format video that captures your story and journey throughout the campaign. You also receive stills, videos and time-lapses to tease out on social media.
What was the result?
Multiply were great partners on this project, from enquiry to final delivery everything ran smoothly and Laura was able to pull off the campaign without a hitch.
"Everyone has been admiring the Airstream, so it's been a really great standout piece for the campaign."
"The campaign is performing brilliantly so far [...] yesterday we sampled over 1000 people."
1000 real world interactions per day?! Fantastic! The team also took the opportunity to extend the campaign online via Instagram and Facebook, and encouraged customers to do the same using the Aveeno tag line.
Thank you Multiply, It was a pleasure working with you!
Want to take your campaign on the road?
If you are reading this and thinking, wow I'd love if that could work for me, then why not check out our vehicle options?
We have more than 20 different types of vehicle ranging from humble Tuk Tuks and trendy VW campers, all the way up to Land Rover Defenders and even Double Deckers.
It's also worth checking out our costs and services guide to familiarise yourself with everything we offer, plus our budget calculator which can ballpark your expenses.
If you've done all of that you're in a great position for us to help you and get the ball rolling, hope to hear from you soon!