Looking for a great location for your next promotional vehicle based campaign? Whether you are planning short or long term, we are here to help.
At Promohire we get a lot of venue and location based enquiries, so I decided to write this article to cover off some of the most common questions.
Read on for our top 5 performing cities and venues in the UK and advice on venue selection.
Venues 101
The UK has plenty of venues to offer, many with promising statistics and great performance histories. Whilst such statistics are important, it's also important to make sure that the venue you do choose, is the right one for you.
The nuts and bolts of venue selection will rely on foot traffic, that's why shopping centres, train stations and high streets rank high on everyone's venue list. But that doesn't mean you forget your target market.
For example, if you were launching a vegan product range, whilst London would certainly be important, you wouldn't want to forget well-known vegan hotspots such as Brighton, Bristol and Manchester.
You also want to be careful with space selection. Again, whilst a statistic might tell you for example, the average footfall for an entire shopping complex, it might not necessarily tell you the footfall going passed your exact space.
Don't just grab the cheapest spot for the highest footfall – check exactly where your location will be. Make sure your spot is smack bang in the middle of where you want to be, don't end up as a sideshow when you are aiming to be the main event.
Statistics only show potential, they can't always forecast what your actual experience might be. That's why it's always helpful to chat to an industry expert, who can give you deeper insight into how locations are currently performing.
London
As the nation's capital and largest city, London is naturally the first choice for many brands and offers the most high quality venues.
London Kings Cross Station
Easily London's best site, this location is the best for footfall, cheapest by cost per thousand and it never underperforms.
You also have the space for larger displays, making this a great place for campaigns featuring larger vehicles such as Double Deckers.
Southbank
Southbank is another great location. It's the 5th most visited attraction in the UK, and it's Double Decker friendly depending on the space you choose.
Locations like Queens Walk are particularly picturesque, a brilliant British backdrop for any Brand event.
If capturing the heart of Blighty is critical to your campaign , why not cap it off with a mobile national treasure? Black cabs, Defenders and Routemasters are all UK favourites.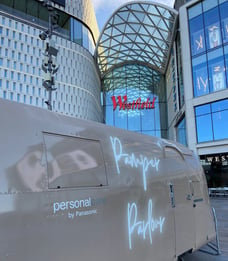 Westfield
Westfield is another obvious choice for brands. With an average weekly footfall of a million people and an average dwell time of 106 minutes, there's plenty of time to draw in shoppers, demonstrate products and start conversations.
London has 2 Westfield locations, one in White city and one in Stratford. Both have the capacity for larger vehicles such as an Airstream or Double Decker.
Birmingham
As the country's second largest city and largest metropolitan area outside of London, Birmingham is a great choice for any campaign. Almost every major travel route passes through Birmingham which makes it a true hub of activity.
Birmingham New street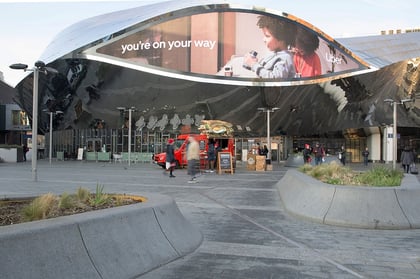 At the centre of this Hub sits Birmingham New Street. This holy grail combination of train station and shopping centre ensures extremely high foot traffic for the area with footfall averaging more than 1.1 million weekly.
This venue is perfect for small to medium activations, but with a space footprint of 6x6 metres you won't get a Double Decker on it. However it's an ideal spot for a vehicle in our small to medium range such as a short-wheelbase Citroën H-Van.
Bullring & Grand Central
Connected to Birmingham New Street the Bullring is possibly the most popular venue in Birmingham.
It doesn't have quite as high footfall as New Street, but at 750,000 per week, you probably won't notice. The Bullring has several spacing options able to accommodate vehicles up to 15 metres long, perfect for larger options such as our Exhibition range and of course the Double Decker.
Birmingham High street
The high street itself is has started gaining traction as an up and coming place for marketeers of all shapes and sizes.
Linking the Bullring and Marks & Spencer this vibrant area provides a bustling back drop to any campaign.
These cities are so close together that it's often one or the other for many campaigns, but if you can manage both our top picks are below.
Spinningfields
Manchester's upmarket shopping complex, this is a mixed use space where business meets leisure.
Averaged footfall reaches 119,000 weekly with 66% of visitors being female. The site can accommodate a wide range of vehicles from smaller Estefettes to massive Double Deckers.
Wellington Gardens
Right in the city centre, Manchester's Wellington Gardens offers a more mass market demographic.
Large sites are available of up to 20m x 10m and weekly footfall is very high at 667,000 plus.
Liverpool One
Set up in the heart of Liverpool, this venue has a long history of delivering excellent results.
The space you get is very prominent – right in the middle of all the action, allowing you to take advantage of 500, 000 weekly footfall and an average dwell time of 99 minutes.
The site is 12x12 meters which is enough space to accommodate most vehicles including a Double Decker bus.
Albert Docks
Liverpool's number one attraction and the most visited multi-use attraction outside of London, this is one venue you won't want to miss.
Whether it be Piaggio Ape, VW Camper or bus, this venue can handle them all.
Cardiff
The capital and largest city of Wales, Cardiff's concentrated city centre makes it ideal for campaigns. You can expect a steady flow of people at all hours with an average footfall rating of 767,000 plus.
The city is also on a fairly direct route to London via the M4 making it ideal for a tour emphasising southern cities, say London, Reading, Cardiff, Bristol and Brighton.
There are multiple sites to choose from in the same area here, meaning the main venue is the tightly packed city centre itself. Spaces range in size but many are able to accommodate vehicles as large as Double Deckers.
Brighton
Few things can beat the charm of the sun and sea, something the city of Brighton takes full advantage of. People still come from far and wide to visit the Brighton pier and in areas like the marina you can expect average dwell times of 2-3 hrs.
Native tourism to the city went through a sort of rebirth thanks to the pandemic and it's a favourite next move for young professionals looking to escape the clutter of London.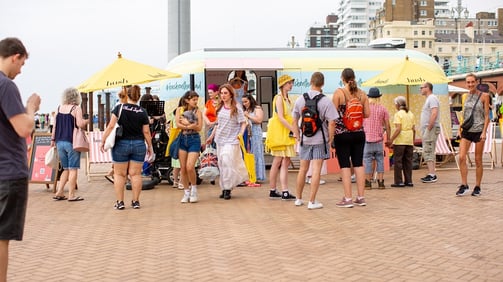 So, despite lower average footfall than some of the other cities on this list, Brighton is very much a contender and you can expect a very strong performance from a good beachfront display. Recent client Hush can certainly attest to this!
The sites available cater to a range of vehicle sizes, with marina and i360 spots able to accommodate vehicles as large as a Double Decker.
What else is out there?
If you want to learn more about all the venues the UK has to offer, we recommend checking out our friends over at Experiential Space. Their handy website acts as a location search engine, letting you filter by venue, activity type, site type and of course location.
If you are planning to use one of our vehicles and need to check their size against your allotted space, check the dimensions, which are listed on each vehicle's page for every vehicle in the fleet.
Putting together a plan
When it comes to creating a timesheet with a roadmap of your intended locations, try to balance impact with efficiency. Ideally you want to hit every relevant customer hotspot, but that's not always possible due to time or budget constraints.
Therefore if your aim is to get in as many locations as possible whilst minimising travel time, pick locations along a sensible route. Earlier I mentioned locations based loosely around the M4, but you could bring the same logic to any city in the UK, as long as you group them all efficiently.
What are my next steps?
If you have ideas for a multi-location campaign, but aren't sure where to start, read these 8 simple steps to prepare for a promotional vehicle campaign and what to include in your promotional vehicle brief.
If you are already thinking about cost, our budget calculator is a great place to ballpark your expenses and our costs and services guide can give you further insight in to every service we offer.
If you get stuck with anything please don't hesitate to contact us, we are always happy to help.