Are you interested in a promotional vehicle based campaign but feeling a bit uncertain? You might be wondering how the process works and whether it's really worth the hassle, and that's totally fine.
It's normal to be a bit cautious if you've never done anything like this before, which is why we've prepared Hush on the road.
In this in-depth case study we detail how we worked with trendy online retailer Hush, taking their ideas from dreams to reality and securing a stunning win for the company.
Who are Hush?
Hush is a women's fashion and lifestyle brand with a modern laidback sense of style, an easy-going attitude and a positive outlook on life that reflects their Australian roots.
A female founded company, Hush make clothes that not only look and feel good, but are also designed to be worn again and again - hopefully by more than one person.
What did Hush want?
Hush didn't have any physical stores at the time, so were looking for a way to visit multiple locations in the UK to engage with new and existing customers. The idea grew into a plan for a tour of England stopping in 8 cities along the way.
Hush were excited to get started but needed a partner who could bring their plans to fruition. That's how we first met Senior Events Executive Charlotte, whom you may have already met in the video above.
Promohire was recommended to Charlotte by colleagues, so after checking out our fleet of vehicles, past projects and reviews she sent us an enquiry.
Charlotte was interested in using one of our vintage vehicles to create a memorable experience that would engage all 5 senses. This meant customers wouldn't be limited to only visually interacting with Hush products as they would online.
They would be able to not only see the products in person, but touch them, feel them, smell them and of course discuss them with Hush representatives.
Charlotte wanted to brand and outfit the vehicle to support Hush's retail activation, with the ability to showcase clothing and other products inside the vehicle. She also had concerns about location and the logistics of moving the vehicle between them.
With so many locations to visit and customers to meet, Charlotte was eager to capture the campaign and extend the buzz onto social media. She wanted to tease out details of the campaign on social media, with accompanying footage to generate hype.
How did Promohire help?
Given Charlotte was looking for a vintage vehicle and that she would need a lot of internal space for displaying clothes and engaging with customers, we thought one of our Airstreams would be a perfect fit.

Charlotte loved the idea and we settled on a design that would modify the Airstream to align with her campaign vision and Hush's brand guidelines. The Promohire design and build team went to work, finalising artwork, printing and wrapping the Airstream's exterior, and remodelling the interior as per Charlotte's brief. One of the more significant changes was to add in several racks for displaying clothing.

The team also sourced several external props such as counters to allow reps to more easily engage customers outside, as well as deck chairs and parasols to provide fun photo ops and relaxation that matched Hush's laidback style.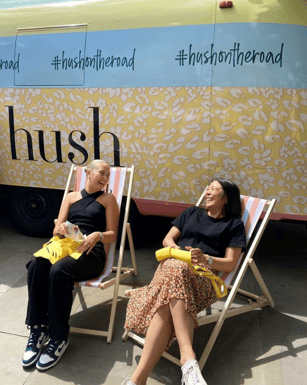 Meanwhile our campaign management team was busy sourcing the perfect locations to maximise Hush's chance to make a splash with customers. Once locations were finalised with Charlotte it was time to get them permitted, booked in and planned for.
Sourcing and organising promotional venues can be painful, you may have to liaise with local councils, site services and ensure your vehicle display complies with any health and safety regulations. This is exactly the kind of headache we were more than happy to clear up for Hush as part of their vehicle package.
We also took care of all vehicle logistics, which is standard for all our packages. This meant we managed all physical transport, setup and derig of the vehicle and display from beginning to end. We worked with Charlotte to create a realistic timesheet that would allow the vehicle to be transported from location to location with plenty of time to spare in case of unforeseen obstacles such as traffic.
We helped her to build in an appropriate amount of time for vehicle setup and derig, transport to accommodation and rest to take between events. Rest is something clients often forget about on extended campaigns, but when it comes to maximising your impact each activation day, you will want to be at your very best.
We also collaborated with Charlotte and the Hush team to produce a campaign journey video. Our premier videography service, we work with you to script, film and produce a long format video that captures your story and journey throughout the campaign. You also receive stills, videos and time-lapses to tease out on social media.
Charlotte really got on board with the video and you can see how her energy and enthusiasm translated into a polished and engaging story.
What was the result?
The result of this productive partnership was a smooth and successful promotional campaign. The Airstream, which they lovingly named 'Stevie' was a huge hit, and the team met and engaged with many new and existing customers as a result.
Hush directly gained hundreds of signups to their newsletter and in turn gave out hundreds of goodie bags to customers.
They also used Stevie as part of a photo op contest with participants encouraged to take pictures of themselves in their favourite Hush outfits, with bonus points for those capturing a pic of Stevie too. This proved very popular and they had loads of entries, the prize being a £100 Hush voucher.
They also took every opportunity to extend the campaign online, with posts to Instagram gaining 100s of likes and comments from interested customers with many wishing Hush had come to their city too!
Thanks for the opportunity Hush, It was a pleasure working with you!
Are you interested in making your promotional dreams come true?
If you are reading this and thinking, wow I'd love if that could work for me, then why not check out our vehicle options?
We have more than 20 different types of vehicle ranging from humble Tuk Tuks and trendy VW campers, all the way up to Land Rover Defenders and even Double Deckers.
It's also worth checking out our costs and services guide to familiarise yourself with everything we offer, plus our budget calculator which can ballpark your expenses.
If you've done all of that you're in a great position for us to help you and get the ball rolling, hope to hear from you soon!