Our US Postal Van, otherwise known as the Dodge Aeromate is probably the rarest vehicle in our extensive fleet. Created in collaboration with Utilimaster Corp in 1991 as a light deliveries van, this vehicle is also known as the Aeromate Utilimaster.
This is one of those vehicles you just don't see on the road, or even parked in a scrapheap graveyard. Promohire owns one of the very few roadworthy Aeromates in the whole of Europe, so having one of these distinctive vehicles on your campaign is a great advantage.
As with many front wheel drive vans, the idea with the Aeromate was to create a front wheel drive front mounted engine, in order to keep the rear of the vehicle as uncluttered as possible.
This gave the vehicle a low floor, meaning drivers could walk right into the van without having to bend over, opening up other possibilities for the vehicle. As a result, the Aeromate is a great candidate for a food or sampling truck and that's just what we had in mind when we bought it.
The US Postal Van is very unique, practical and relatively spacious, but is it the right vehicle for you?
In this article, we break down the pros and cons of US Postal Van hire, enabling you to find a best fit vehicle.
Legacy
The US Postal Van is both unique and practical, a real win-win in a sampling vehicle.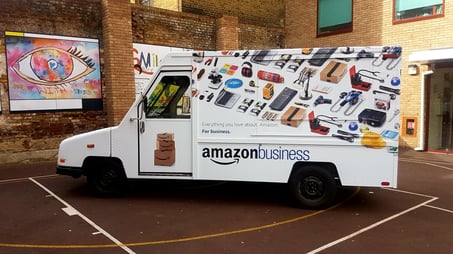 Pros
Unique American styling makes this vehicle standout, and it's bound to draw a crowd, especially decked out in high quality professional branding.
The long snout like front of the vehicle is very distinctive, even more exaggerated than the Grumman LLV, and is one of the first things people notice about this one of a kind vehicle. Like the Grumman, this vehicle was used to carry mail and other light goods all across America.
If logistics is important to your brand or campaign in any way, this vehicle is a natural choice, as you can play into the courier theme.
Amazon loved the vehicle for this reason, and we branded an Aeromate for their Amazon Business Anniversary celebration.
Cons
All our vintage vehicles our funky and attract attention at venues, but each has its own particular legacy. If funky postal van doesn't fit well with you, we have plenty of our other vehicles in the vintage collection that may suit you better.
The VW Camper is more of a free spirit, the Milk Float is a retrofuturistic British classic, the Airstream an American innovator; analyse your options to find the vehicle or vehicles that best suit you. We also have plenty of vehicles that have a less specific historical legacy, if that's more appealing to you.
Size
At 5.2 metres long, the US Postal Vans offer plenty of space for vending or sampling and are large enough to be seen out on the road.
Pros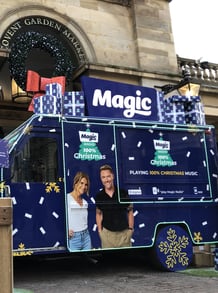 This vehicle is ideal for large-scale branding thanks to its large flat surfaces and boxy shape.
The US Postal Van is 360 degree brandable meaning we can brand every part of it to help you stand out.
The vehicles relatively compact size enables them to vend almost anywhere, which is a major advantage when it comes to complying with venue display restrictions.
It also makes it easy to park and setup in cities or other urban environments.
Cons
If you do feel you need extra space our Airstreams and Exhibition Vehicles are larger. Our Pop-Up Campers are an ideal smaller sampler, or if really small is an option check out our Piaggio Apes.
Customisability
Our Aeromates are highly customisable, we respect your brief to the letter. They are primarily designed for vending or sampling and are suitable for any industry.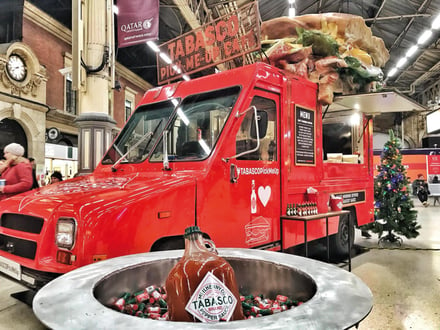 Pros
The serving hatches on this vehicle run the length of the rear compartment, making this vehicle perfect for vending or sampling food, drinks, snacks or products.
The Aeromate is large enough that we can supply a full kitchen fit out, replete with appliances built into the vehicle.
Our US Postal Vans can be adapted to suit many campaign purposes. We've seen the van used by the food & drink industry, beverages, retail, and many others, from challenger brands right up to household names we all know and love.
One of our favourites was the classic Tabasco Food Truck, for which we built and affixed a scaled up sandwich to the roof.
Cons
You can't engage customers inside, so if your activation requires an internal display, you are better off looking at the VW Camper Van if you want something small, or our Airstreams if you want something larger.
Logistics
This vehicle is included in our full logistics package. This includes a professional driver, route mapping and of course transporting your vehicle to and from each venue for each activation day.
Pros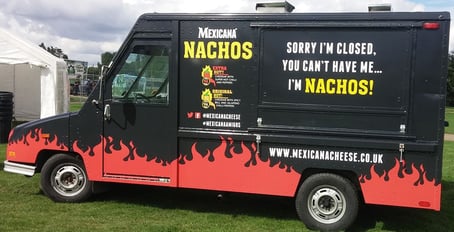 Although this vehicle works better as a static display, it is drivable around your locations of choice.
As with all our vintage vehicles, the Aeromate is social media ready, meaning it is capable of short journeys of 5-10 miles, providing a moving platform for photo ops and general customer engagement.
Cons
It is worth noting that the vehicle is quite difficult to maintain due to its age and difficulty in sourcing parts, so cannot be driven on motorways, which is why we transport it for you over long distances.
Cost
Our US Postal Vans are priced at £5,760 for a one day event, including wrapping and logistics. Internal modifications tend to start around £2000, but can exceed £10,000 if you want unique changes.
Pros
Our US Postal Van is much cheaper than a Citroën H-Van, which caps the small to medium vehicle range at £6,500.
It's also less expensive than our Ice Cream Vans and Land Rover Defenders, which price out at £6,100 and £6,500 respectively.
It's about the same price as quite a few small to medium vehicles including the Renault Estafette, Electric Milk Float and VW Pop-Up Camper.
Cons
The regular VW Camper is more than £500 cheaper at £5,230, and if you want to go even smaller our Piaggio Ape is just £3,390.
What are my next steps?
If you are interested in one of our US Postal Vans feel free to navigate to our budget calculator, where you can ballpark the cost of an Aeromate based campaign.
We also recommend using our costs and services guide, for a more specific explanation of all our services and how much that might add to your final bill.