A promotional campaign involves so much build up – you spend weeks or even months planning for its arrival, visualising and anticipating the outcome. You want to ensure that the end result is perfect, but as with all events you can't control everything – you'll need to hand over to your brand ambassadors to be the face of the brand on the day.
Will your promotional team reflect the pride in your brand and campaign? How can you be sure your hard work is in safe hands?
This article will take you through everything you need to know when hiring promotional staff, and brand ambassadors, including:
Why hire a promotional team?
Sure, you could do it yourself, or use internal staff to help you, but what are the key benefits of sourcing brand ambassadors and promo staff to support your campaign?
1. Increased brand awareness
Consumers engage with a new product far more if human, face-to-face interaction is involved. When a conversation takes place, or a product is demonstrated, it makes a longer-lasting impression than brief exposure to a newspaper advert, social media post or TV advert.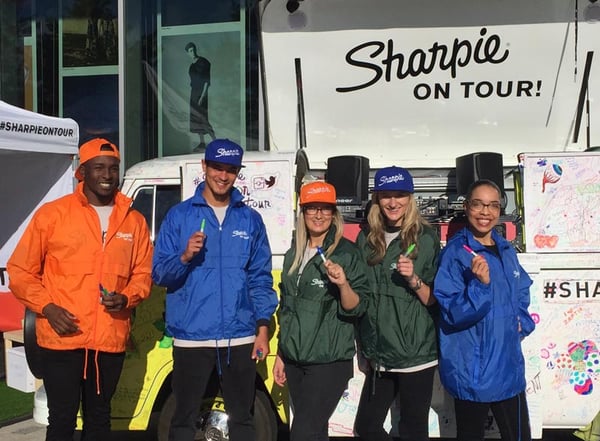 2. Useful fact finding
If you are running a sampling campaign, your promo team can gather valuable feedback from the public and report back, so you have an idea of how your product/service will be received through wider-scale distribution and advertising campaigns.
3. Enhanced audience experience
With a good, professional promo team, consumers can walk away from your campaign feeling positive about your product/service and with the seeds of future brand loyalty firmly sown. They will associate your brand with the enjoyment they experienced at your promotion, thanks in part to the efforts of your team.
4. Cost effective campaigning
A marketing campaign that will showcase your product or service across a wide area can be streamlined using promotional teams to cover multiple areas in a single day, freeing up your valuable time to focus on other campaign tasks.
5. Increased sales
An experienced promotional team will inform the public and engage them with your product in order to gather data and generate leads. The campaign will form the soft-sell part of your sales strategy. The team's campaign activities can then be shared on social media, prolonging their impact beyond the event they were hired for.
Activities where you can use promotional staff
Face-to-face contact between a consumer and a brand ambassador will enhance any campaign and this can be implemented in numerous ways, whether it is an organised trade show or a guerilla campaign, targeting unsuspecting shoppers! Here are a few ideas:
Doorstep campaigns

Nationwide

r

oadshows

Music/Food

f

estivals

City

c

entre

p

roduct

l

aunches

Sampling Activities

Exhibitions and Trade Shows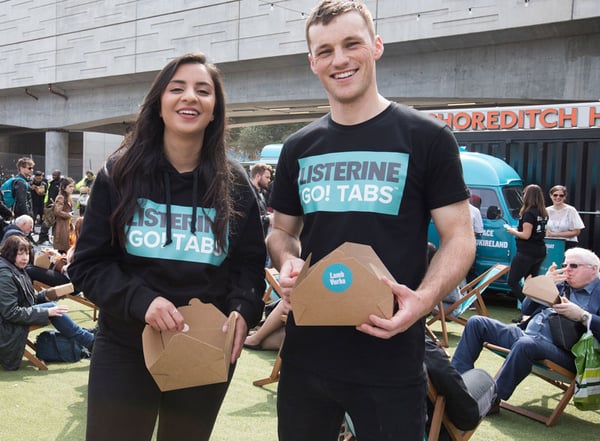 What do you need to look for in a brand ambassador?
1. Lead generation skills
Your brand ambassadors should have experience in successful lead generation. It is important they have the skills to demonstrate your product or explain your service, gathering any data you need without coming across as "pushy" and scaring people away.
2. Personality and passion
A positive, cheerful disposition in your promo staff is a must as their enthusiasm for your product will be contagious! They must be able to understand your brief and willing to demonstrate as much passion for your product as you have yourself. It is all about your team projecting the right image for your event, rather than having an encyclopedic knowledge of the product.
3. Reliability
Be sure to use a tried and trusted agency who won't let you down. Reliability is essential - when you have gone to the trouble and expense of organising your event, you cannot afford for your promotional team to let you down at the last minute. Find out what contingency plans, if any, the agency has for staff sickness or anything else that could reduce the size of the team you have booked.
4. Approachability
Last but not least, approachability in your team is essential if you want your event to draw in crowds. It is quite a skill to attract the attention and interest of passers-by and make them feel comfortable about stopping to learn more - you don't want them discouraged by a loud or over-enthusiastic promo team.
7 different types of promotional event staffing that can support your campaign
Sampling staff

Leafleting staff

Product demonstrators

Food/drink servers

Catering staff

Actors

Models
Where can you find

promotional staff?
1. Recruit your own brand ambassadors
You can advertise for brand ambassadors using online recruitment sites like Indeed and social media sites like LinkedIn, but this could be risky if you have not recruited your own team before. You could attract unsuitable applicants who do not have any previous experience. If you decide to recruit and train your own team, be sure they have up-to-date DBS checks and work permits, and seek references from previous employers.

2. Using agencies
Although it may be a more expensive option, using a reputable promotional staffing agency should ensure you will have a professional, experienced team with the right credentials to be representing your brand. Ensure they have a proven track record of providing promotional teams for similar campaigns to yours and check for authentic testimonials.
3. Using a promotional events company
As part of their promo support services a reputable events company will be able to provide a promotional team that has specialist experience. A company well-versed with promotional events will be able to accurately interpret your brief, and factor in any training or briefings that you require staff to undertake as the campaign approaches.
How to write a great staff brief
Whether you're sourcing via a job board or an events company, to avoid any miscommunications, it is useful to get all your staffing requirements down on paper:
Confirm dates and locations as far in advance as you can

Set expectations for the type of person you would like to represent your brand

What will they be doing during the day?

What dress code is required?

How long will the activation days be?



Hiring your promo team with confidence
Using a promotional team will prove to be a very worthwhile investment if they succeed in showcasing your brand to a wide audience. The secret of success is to get the right team promoting the right product in the right way and there are experts at hand who can help you. Once you hand over your campaign to your dream team there'll be no looking back!
At Promohire, we source a wide range of staff for vehicle hire campaigns. From brand ambassadors, to chefs and baristas, we ensure that our clients have the right people representing them while out on the road. If you'd like to find out more about our staffing and other additional promo support services, click here.