There is no doubt that an ambitious campaign featuring a fully converted and wrapped promotional vehicle, ready for taking out on the road, will make a great impact on your target audience, but in practice how long will the vehicle conversion take to plan and how much will it cost?
Hiring a promotional vehicle opens up so many possibilities to let your imagination go wild and a beautiful wrap on the exterior can complement your campaign's ethos and branding perfectly. But if your campaign involves the conversion of the vehicle's interior, then that takes it to another level.
In this blog we'll give you a thorough insight into promotional vehicle conversion project timelines, costs and other requirements so you can make an informed decision about how to progress with your plans.
How long will a vehicle conversion project take?
The time it takes to carry out the activities mentioned below will need to be factored into your campaign plan but expect the entire process to take between 8 and 12 weeks:
To make sure there is no misinterpretation of your expectations, make a detailed plan about exactly what it is you want to achieve. If the brief is vague, it is impossible to calculate how long a project will take (not to mention the associated costs!).
However, if there are elements you have not finalised, for example, the type of vehicle most appropriate for your campaign, then a promotional vehicle hire company will be able to advise.
Before you take your plans any further, you first need to decide what you will be using your vehicle for, and what style vehicle you would like to hire. The type of vehicle you choose will be largely determined by the type of activation you are planning, your budget and the role the vehicle will be playing in all of this
For a really immersive experience, you might want to bring people into the vehicle for an exhibition. Or perhaps it will provide a display area for a product launch or an on-board beauty salon for consultations and treatments? If your campaign involves handing out samples of food and drink you will need specific catering facilities and a good promotional vehicle hire company will be able to install and certify the catering equipment you're going to need.
Will you be equipping the vehicle with catering equipment and taking it on a nationwide tour? Or maybe you will be using a beautiful or quirky vintage vehicle to enhance a static promotion? Having a clear idea of your plans will help provide a much more accurate estimate of timeframes and costs. It also means that you and the production team are both on the same page, with a clear end goal in mind – and fewer curveballs and last-minute changes along the way.
This link will take you to a great selection of promotional vehicles available to hire, if you need some inspiration.
A large-scale vehicle conversion can be used to create a unique and memorable experience in whatever way works best for your brand. Here are a few examples:
Educational campaigns – a trailer or low-loader van can be converted into a kids' science lab for fun experiments, a nature hub, a library for literacy activities, artists' studio for painting lessons, kitchen for cookery classes etc.
Themed events – e.g. converting a double-decker bus into a museum for a 1940's tribute weekend, or converting a horse-box into a cider bar for a Cider and Sausage event.
Press events - converting an exhibition vehicle into a press space with the installation of desks, WiFi, TV screens, camera equipment etc. for members of the press to conduct interviews.
Nationwide tours- double-decker buses are a popular choice due to their versatility as there is the option to section off the interior into separate themed areas. At Christmas, for example, a bus can accommodate a Santa's Grotto and Winter Wonderland and have a sound system installed for carol singers!


Prior to conversion. If the vehicle needs complete renovation, including mechanics and repairing or changing body panels, it will require transporting to the workshop and some vintage vehicles will need to go on a trailer. If the vehicle is abroad, allow plenty of time for arrangements to be made to bring it to the UK.

Booking a skilled workforce.

Most hire companies will have a team of experts in-house that carry out any mechanical and conversion work that is required on their hire vehicles. However, if a specialist is needed for any aspect of the work, for example, with expertise around a particular vintage model, these skills will undoubtedly be sought after, so you will need to book well in advance.

Stripping out and converting the vehicle.

The hire company may have a suitable vehicle available that is already converted and equipped with everything necessary for your campaign. In that case, they can just make any small adjustments you may require, then wrap the vehicle in your branding.
On the other hand, the vehicle may have to be completely stripped out to be customised to your exact specifications. The internal fixtures, fittings and interior design will then be professionally installed, so that it can provide the functionality you need, and look fantastic! This will take skilled work and can take several weeks, especially in busy periods.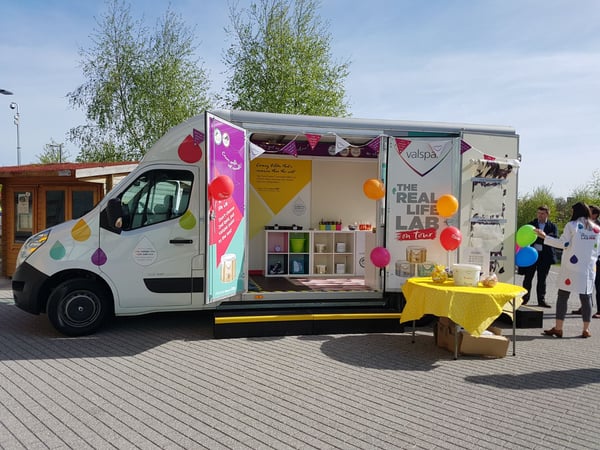 Applying the wrap.

T

h

e external wrap

is the finishing touch that will

capture the attention of passers

-

by

.

A

llow enough time to design the branding for your

campaign, and

decide

how it will be used on the vehicle wrap.

Will you be including any slogans or messages

?

Do you want to include your website address and a QR code for photo opport

u

nities?

Vehicle hire

Support Services

can assist with the design

of your wrap for an additional cost, but the application and removal of your wrap is included in the hire

fee

.
How much will the project cost?
It's tricky to say with any accuracy how much your project is likely to cost, but as a ball-park figure, the minimum you can expect to pay for basic conversion work starts at around £4,000. This can of course vary greatly depending on the level of fit-out and the type of vehicle you choose. Conversion could include the installation of beer taps in a Piaggio Ape or simply adding fridges to a camper bar. At the other end of the scale, a full kitchen in a Citroen H-van can cost up to £20,000.
Some of the points discussed above will potentially add an extra cost to a vehicle conversion such as:
Transportation of vehicle to the workshop, if required. (Some vehicle hire companies have their vehicles and workshop all on the same site to keep costs low).
Any necessary mechanical repairs
Skilled labour and materials for the internal conversion and kitting out of the vehicle.
Design of the wrap (most hire companies include the application and removal of the wrap in the hire fee).
If your budget will not cover the cost of a large-scale vehicle conversion, there are plenty of creative ways, as explained below, that you can still make a fabulous impact with a promotional vehicle.
Examples of large-scale vehicle conversions
Ikea Bus - Ikea converted a double decker bus into student digs using cool and affordable furniture and interior design from their product range. They also made the most of the space in front of their vehicle to make it look welcoming for students.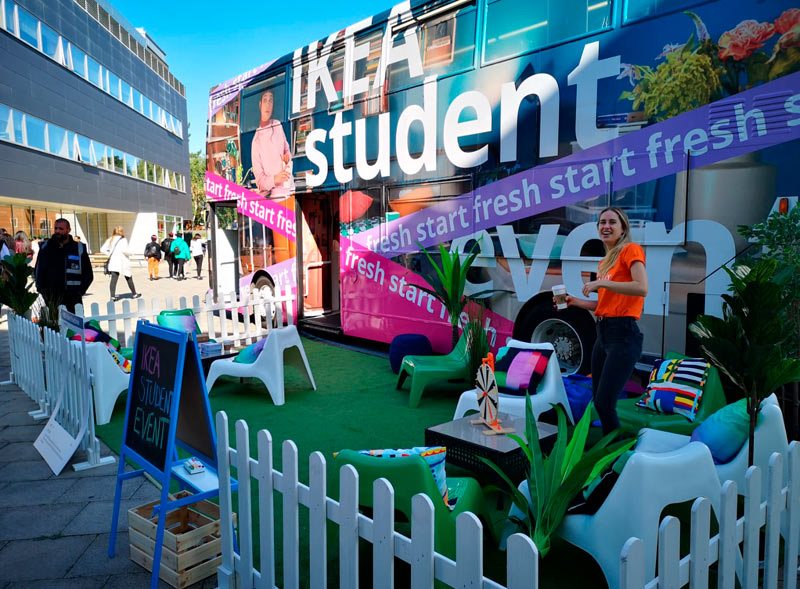 NARS Airstream – NARS Cosmetics converted the interior of a sleek Airstream trailer into a salon for sampling their products, using bright lighting and mirrors as well as luxurious interior design and carpeting.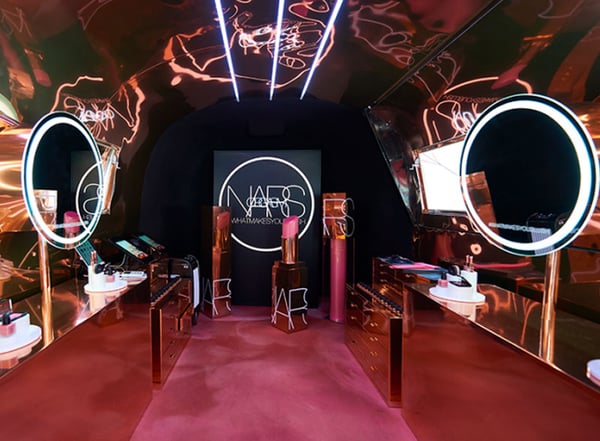 Loire Valley Wines Piaggio Ape - "Life's too short to drink bad wine" was the slogan emblazoned on the funky Piaggio Ape that Loire Valley Wines converted into a trendy wine-tasting venue, complete with refrigeration and giant-sized ice bucket.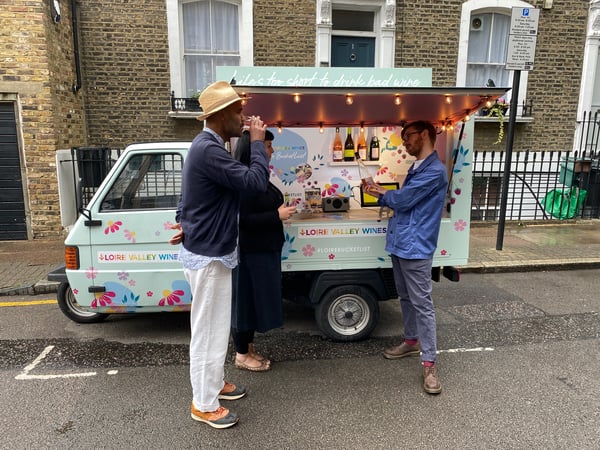 Ted Baker Taxi – Installed in front of one of their high street stores, Ted Baker's taxi was bedecked with beautiful blooms, both on the inside and outside of an iconic London taxi, to promote the launch of their summer range of clothing.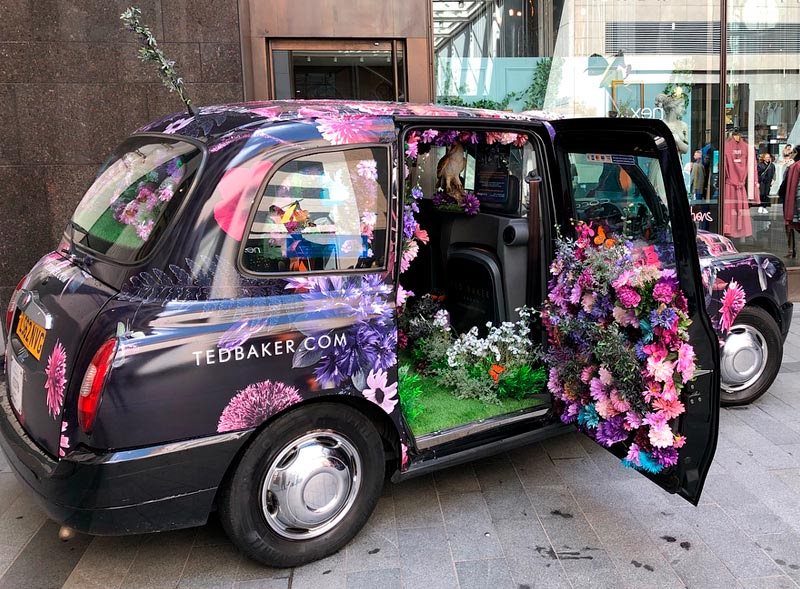 Selfridges Milk Float – Selfridges completely transformed a milk float to showcase their MILK range of vegan and cruelty-free cosmetics in full technicolour – part of their "Project Earth" sustainability strategy.


Carabao Tuk Tuk - A great example of how a modest promotional vehicle can make a towering impression with the clever use of a 3D model, as featured in the Carabao energy drink give-away!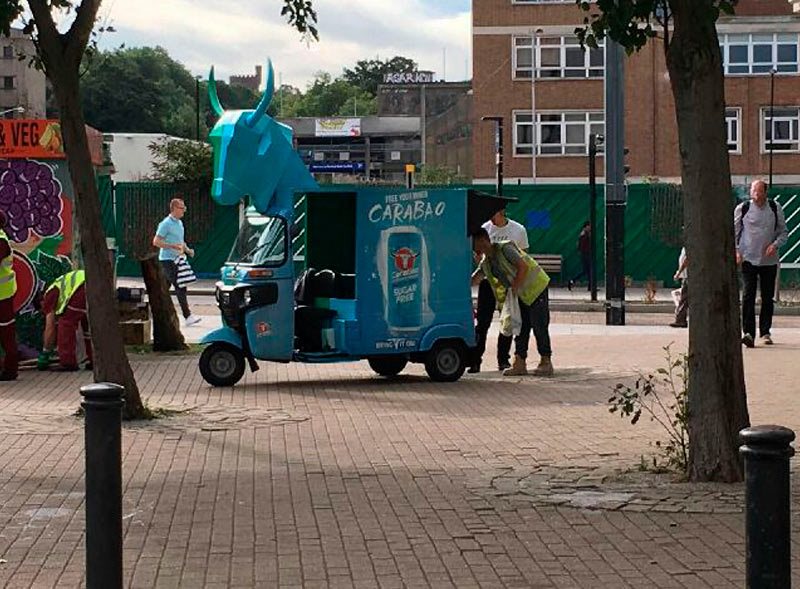 Gap Camper Van – this hipster promotional vehicle provided the perfect hanging space for a colourful range of Gap T-Shirts in their campaign.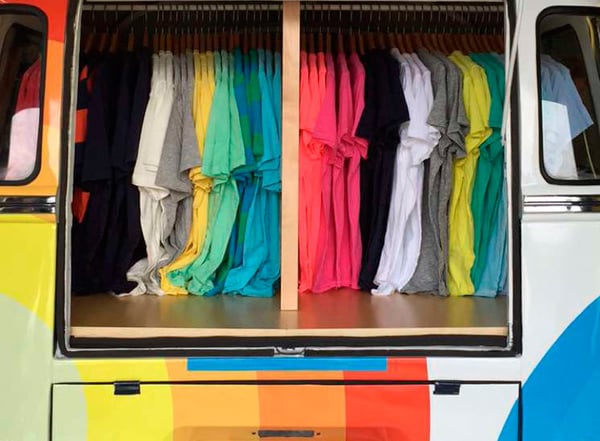 Ideas for smaller budgets
To keep costs down, a hire vehicle can be used as the stunning backdrop to an outside promotion, with an external branded wrap. The vehicle can always transport the equipment you need to your event, then you can set up everything when you arrive. Here are some ideas to create a fabulous impact without breaking the bank:
Erect a temporary picket fence around your pitch, and maybe roll out a carpet of Astroturf, if the existing ground surface is unattractive.
Use pop-up counters to demonstrate products and store any promotional items or ingredients you need.
Create a welcoming environment using branded gazebos and/or parasols and chairs.
Use accessories such as banners and flags to really attract attention to your pitch.
For inspiration, discover some great outdoors promotional product ideas here.
Are you ready to get started?
Promotional vehicles are in demand for all sorts of events, so we hope this article helps to explain why it's important to have a clear idea of timelines and costs in order to secure a vehicle and convert it into an amazing campaign asset.
Any reputable vehicle hire company will be honest about the time they'll need to deliver your campaign-ready vehicle, so touch base with them to register your interest in hiring a vehicle as early as possible to avoid disappointment - if you've got a clear brief at the ready, they will then be a much better position to give you a realistic lead time and quote for the cost.
If you're organising a campaign to launch a new product, then check out our eBook - "How To Use Promotional Vehicles In Product Launches" for some valuable guidance.