The London Taxi or black cab is as synonymous with the British capital as a Double Decker Bus. With a relatively wide body, short wheelbase, and retro styling, the black cab looks like nothing else on the road today.
The first taxicabs were rolled out by French manufacturer Unic in 1909, and whilst the aesthetic remains relatively unchanged, advancements in engineering greatly improved the function of the vehicle.
One of the greatest mechanical advantages of the London Taxi is the turning circle. Manufacturers designed the vehicles to be able to handle the notoriously tight Savoy Hotel mini roundabout, an important step in endearing the vehicle to London's elite.
The turning circle remains an important consideration in black cab design today, as it gives taxi drivers an enormous advantage on London's busy streets.
With its iconic retro styling and unique engineering, the London Taxi has become an iconic passenger vehicle over its 100+ year history, but is it the right vehicle for you?
In this article, we break down the pros and cons of London Taxi hire, enabling you to find a best fit vehicle.
Legacy
If you want a vehicle that's classical and practical, you can't go wrong with this British classic.
Pros
London taxis are as quintessentially British as a cup of Earl Grey. They've been haunting our streets so long that only ghosts remember London without their familiar amber glow.
This long legacy has given the taxi a sort of celebrity status, and owning one is a mark of social distinction. Famous owners include Stephen Fry, Noel Edmonds and oil millionaire Nubar Gulbenkian.
Businesses are beginning to capitalise on the black cab for practical reasons too, it makes sense to brand a vehicle that hangs out in central London anywhere from 8-12 hours a day.

It also makes sense to brand a vehicle that people have trained themselves to see. Black cabs are a hot commodity in London; people in a hurry stand by the side of the road eagerly looking for one – a win-win for an advertising strategy.
As a historic vehicle, branded taxis endear themselves to passers-by; people love seeing the familiar vehicle given a second lease on life as part of an eye-catching or bold display, so you are sure to draw a crowd.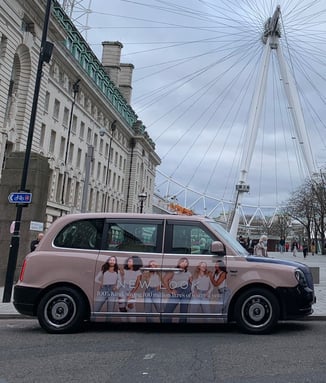 It's also a great way for a brand to send a message to a London audience that they acknowledge and understand the culture they are trying to engage with, helping customers feel comfortable.
Cons
All our vintage vehicles our funky and attract attention at venues, but each has its own particular legacy. If classic British taxi doesn't fit well with you we have plenty of our other vehicles in the vintage collection that may suit you better.
The VW Camper is more of a free spirit, the Milk Float is a retrofuturistic British classic, the Airstream an American innovator; analyse your options to find the vehicle or vehicles that best suit you.
Size
With an internal floorplan of 4.6m, these vehicles offer plenty of space for a variety of campaign requirements.
Pros
Although it does feature a curvy, almost ladybug style design, the black cab features plenty of relatively flat bodywork too. This is ideal for largescale graphics and branding.
There is also plenty of space to brand internally as well, which works great for one-to-one experiences and VIP centric fitouts.

The black cab is 360 degree brandable meaning we can brand every part of it to help you stand out.
These advantages allow you to really capitalise on the available surface area to create eye catching designs that will enable passers-by to recognise you from a distance.
Cons
If you need more space our long wheel base Citroën H-Vans and Airstreams are slightly larger, and our Exhibition Vehicles larger still. If you need a smaller vehicle the Piaggio Ape is a good vintage alternative.
Customisability
Our Black cabs are used as a statement backdrop for activations, as a distribution vehicle for sampling, stylish VIP transport for PR events and for immersive one-to-one experiences.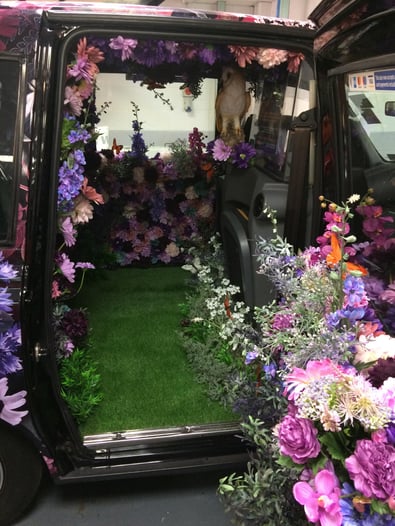 Pros
We have both the classic London TX series and newer electric black cabs available. These cabs have been used by a variety of industries for PR stunts, brand awareness and sampling based activities.
The electric cabs are great for green campaigns and also exempt from ULEZ charges.
We've seen our taxis used for retail, fashion, food, drink, beauty, tech, healthcare, fitness and recruitment activations.
Taxis have surprisingly spacious interiors, and in the past we've added miniature product themed installations, video booths and interactive screens.
If you want to use a taxi but aren't sure if it can accommodate your requirements, please reach out to us, we are more than happy to help.
The taxi on the right was created for Ted Baker, and featured hundreds of flowers growing from the walls, doors and even the ceiling of the taxi.
Cons
Black cabs aren't designed for catering, so if you are planning on serving food from the vehicle, you would be much better off with a Citroën H-Van or Renault Estafette. Our Pop-Up Land Rover Defenders are also a great choice if you want to keep things British.
Logistics
As a fully mobile vehicle Black Cabs are covered by our standard logistics package. This includes a professional driver, route mapping and of course transporting your vehicle to and from each venue for each activation day.
Pros
As modern vehicles our Black Cabs can be driven directly to and from each venue, rather than transported aboard a loader.
This means your design will be fully visible to the public and generate thousands of impressions on its way to your venue.
Cons
It is worth noting that with the electric variants we may opt to transport them over extreme distances as they have a range under 100 miles and excessive recharging can delay arrival times.
Cost
Our Taxis are priced at £4,060 for a one day event, including wrapping and logistics. Internal modifications tend to start around £2000, but can exceed £10,000 if you want unique changes.
Pros
The Black Cab is cheaper than almost every vintage vehicle in the fleet by a wide margin, and whilst the TX series of cabs aren't vintage models, they are classics in their own right.
The vehicle also has an equally storied history comparable too many of our older vehicles along with oodles of star power.
Cons
There are a couple of cheaper alternatives including the Piaggio Ape, Tuk Tuks and Vintage Horse Boxes, costing £3,390, £3,090 and £2,680 respectively.
However none of these vehicles are ideal for VIP transport, though they can be used for influencer/affiliate marketing style campaigns.
What are my next steps?
If you are interested in one of our London Taxis feel free to navigate to our budget calculator, where you can ballpark the cost of a Black Cab campaign.
We also recommend using our costs and services guide, for a more specific explanation of all our services and how much that might add to your final bill.