Planning a promotional vehicle campaign can seem daunting at first, but if you break down the operation down into stages, it will be much easier. Don't worry about everything at once, lets take it one step at a time.
In this article, you will learn how to plan a promotional vehicle campaign in just 8 easy steps. If you find yourself on step 4 before step 1, go right back to the beginning – it will save you time in the long run!
If you still find yourself struggling check out our example campaign at the end, it's a great way to get some real world context to your hypothetical ideas.
Step 1 – create a campaign document
This is the best way to help yourself – centralise your ideas!
You can copy the format of this article or make up your own, but the important thing is that you stay organised!
One big document where you can get down all your ideas is ideal.
Step 2 – what is your campaign goal?
What will the activity be, and what will you regard as a successful outcome?
Is that connecting with X amount of influencers? Is it to hand out X amount of samples? 20k more subscribers? Drive social media engagement?
Step 3 – How will your campaign work in practice?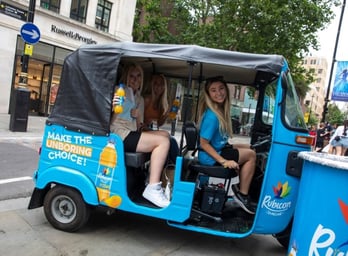 Whatever your goal, get specific – how exactly will this work?
Perhaps you have a QR code that you want people to scan to redirect them to a landing page, or a hashtag you want people to use. Whatever your hook is, think about how you can incorporate it into your vehicle's design.
For example, a big QR code on the side of your vehicle is a great user friendly way to help people understand how to engage with your campaign.
You may be very busy on the day connecting with customers, so if people can work out they need to scan a QR code without having to speak to you, then you enhance your ability to engage and reduce any chance of losing business.
This is why baking activation elements into your design from the beginning is so important, It can massively drive up your rate of engagement and add to the success of any campaign.
Step 4 – what is your ideal vehicle?
What vehicle will best represent your brand and help you achieve your campaign goal? Have a look at your vehicle options to find a best fit.
Your choice needs to be as aesthetic as it is functional. By this we mean you need to pick a vehicle that looks great on it's own but also has the potential to be overhauled for brand and campaign specificity and impact. This is achieved with an on-brand and eye catching design.
It also needs to be kitted out to be able to fulfil all your campaign objectives, for example you may need coffee machines, sinks, microwaves and fridges in order to vend hot drinks and snacks. For a retail campaign you may want a roomier vehicle with space for clothing racks, make up tables or full length mirrors.
You should also think about the history of the vehicle. All your choices should be stunning eye catching vehicles even before you have taken the trouble to decorate them, but think about history too. A double decker bus is as iconic as it is eye catching, as is an Airstream or a VW Camper van - if you really want to stand out, vintage vehicles are your friend.
Step 5 – What are your design ideas?

Know what you want yet? It's time to put your thinking cap on. Jump on Pinterest or Google to explore potential ideas and themes. Think about what your brand represents, do your ideas match up?
A moodboard is a great way to unite your ideas into a fairly cohesive plan. Canva has some great resources to get you started. Promotional vehicle design can be tricky, but you only need to have a rough idea of what you want at first. You can hash out the details later with your chosen service.
A vehicle wrap is the best way to create an eye catching design, and most promotional vehicle companies will opt to wrap your vehicle to bring your creation to life. But more involved designs may call for all manner of external props – the only limit is your imagination!
Don't forget about the interior of your vehicle – what kind of internal layout do you require? This will largely depend on what your goal is and whether customers will be entering the vehicle.
In the case of a retail or beauty activation, you might want to brand and theme the inside of the vehicle, paying careful attention to lighting and mood. For a catering setup on the other hand you would be concerned with fully equipping the vehicle with relevant appliances to prepare food and/or drink.
Step 6 – What locations will best suit your campaign?
Where can you best base your operation to maximise relevant impressions – the number of people who will see it and be interested.
It's time to get specific about your planned destinations and venues. That might be a town square, festival, shopping mall or even the home of an influencer.
Make sure you examine your venue carefully before booking and don't be afraid to ask questions. Read our top 6 vehicle specific questions to ask before you book a venue - this handy list of questions will get you on the right track and minimise chances of getting caught out come event day.
You may have grand plans for multiple locations, events and venues, so add a timesheet to your document to plan out all your logistics.
A timesheet or log sheet represents your logistical plan during your campaign. It comprises information such as how long it will take to travel between events, how long it might take to setup and close down, and how long it takes to get to your accommodation each night.
Step 7 - How much will your campaign cost?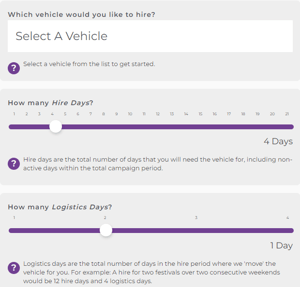 It's best to try to figure out price after you have your initial ideas down, so you don't have to keep updating your potential end costs.
Our budget calculator is a great way to ballpark your expenses in just a couple of clicks.
For a more detailed forecast of your potential expenses though, we recommend our costs and services article, which breaks down every potential service you may need to support a successful campaign.
Step 8 – Consult with a professional service
Once you have completed steps 1-6 it's time to find a professional service who can fulfil your requirements.
A good promotional vehicle supplier will be able to help with sourcing and designing your vehicle, as well as solving your logistical problems. This means they will fully manage the process of transporting your vehicle as well as set up and take down every activation day.
Don't know who to choose? We've compiled a list of 10 questions you can put to any promotional vehicle hire company you can use to screen for quality and professionalism.
Example Campaign
Let's say you have a sustainable product you want to promote, such as plant milk based skin cream. Your goal is to generate as much social media engagement as possible and to offer kickbacks to potential customers so they can purchase the cream at a discount.
Aside from being good for your skin, plant milk is also edible, so a great way to generate hype and to prove how safe it is for your health, is to offer it up as a drink!
You could go for a barista or smoothie setup, even ice cream if you're feeling creative. The main goal is that whatever you serve, should be delicious and FREE, to maximise your chances of engaging with customers.
But to get any customers, you first need to attract some, and this is where your promotional vehicle comes in. Have a look at your vehicle options, what stands out to you as the perfect way to show off your brand aesthetic and campaign message?
Let's say you go with the pop-up camper van, an iconic vehicle long associated with free spirits and diverse thinking. This vehicle is a good representation of the kind of people you are trying to appeal to – those who go outside the norm to include sustainability in their decision making process.
The other advantage of the pop-up camper in particular is that it is perfect for use as a barista van, and can be run off of nothing but lithium batteries to enhance sustainability.
So you've chosen your vehicle, now it's time to get creative! You scour places like Pinterest, Instagram and Google Images for inspiration, putting your favourite ideas into a moodboard using Canva.
At this stage you're looking for promotional vehicle design tips and swapping ideas back and forth with your team, but nothing's settled yet. You aren't sure whether what you're planning is feasible and want to talk to a professional service.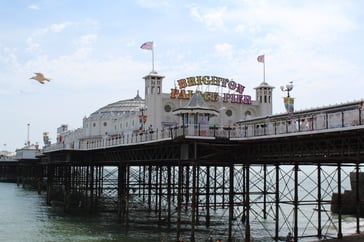 But before you do that, you need to think about where you can best base your operation to maximise relevant impressions – the number of people who will see it and be interested.
As this product is vegan you will definitely be looking for venues in cities like Brighton, which already has over 200 vegan and vegetarian restaurants and is widely known for being one of the greenest and most eco-friendly cities in the UK.
You add several locations to your timesheet, including Brighton, London and Manchester and start looking for a professional service.
What are my next steps?
If you're ready to take the next step, check out our promotional vehicle checklist, containing all the information you need plus a handy form to enable you to submit a polished brief.
If you are unsure or need more information, try our Learning Centre, chock full of promotional vehicle hire and campaign content.