Sleek and unique, the Airstreams eye catching looks have kept it relevant for over 90 years. The 'silver bullet' design is so popular that new models today still closely resemble Airstreams available 50 years ago.
Although originally designed as a caravan, the Airstream today is known worldwide as an American cultural icon associated with freedom, endurance and style. It's also a bit of a movie set status symbol, with celebrities and actors competing for the coolest caravan in Hollywood.
The Airstream is a testament to the American spirit, it's unique, cool and definitely eye-catching; but does that make it the right vehicle for your next campaign?
In this article, we break down the pros and cons of Airstream hire, enabling you to find a best fit vehicle.
Legacy
If you want an American icon to draw attention to your next campaign, you can't go wrong with the Airstream.
Pros
As a company Airstream weathered the Great Depression, World War 2 and dozens of cultural shifts across the decades, all whilst maintaining a relevant and popular line of products. This makes the vehicle perfect for brands championing innovation and refinement as part of their campaign message.

A staple of Hollywood, this vehicle is used both on and off camera, doubling as a classic set piece and stylish actors retreat. Tom Hanks, Johnny Depp, Brad Pitt and Sandra Bullock are among the many actors who have made this vehicle a permanent mobile asset.
Matthew McConaughey loved the Airstream so much he actually lived in one for several years, owning three of them by the time he bought a property large enough to store them in.
It's safe to say then that this vehicle is definitely cool, and has real star power behind it. Combined with its iconic looks, this celebrity X factor never fails to draw attention or gather a crowd.
As THE caravan of America, this vehicle is heavily associated with, travel, freedom, new places and new experiences, all great concepts for promotional campaigns.
Cons
If independence, innovation, style or creativity aren't important to your next campaign, then this vehicle might not be for you.
If you are looking for a larger more modern alternative our Exhibition Vehicle is a good option. If you want to keep it vintage our VW Camper may be a better fit, but it is smaller.
Size
With an internal floorplan of 6m, this vehicle offers plenty of space in a relatively compact package. It's a real Goldilocks option, not too big nor too small.
Pros
When it comes to space our Airstreams are unbeatable relative to their size. There is no engine and therefore no forward cab, allowing you to maximise every inch of space for your campaign.

The position of the door near the end of the vehicle relative to the body allows you to build out a functional space too, making this vehicle ideal as a meeting space or mobile retail display.
As a vehicle with smooth sides and large flat surfaces, this vehicle is ideal for large scale graphics and branding. Windows on our Airstreams are optional, coming with shutters that allow us to seamlessly blend them into your design if you prefer not to use them, again enhancing your surface area.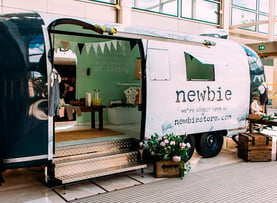 These advantages allow you to really capitalise on the available surface area to create eye catching designs that will enable passers by to recognise you from a distance.
The size and shape also grants you a lot of roof space, perfect for a solar panel and lithium battery setup. You can often go a whole day without using external power.
Cons
These vehicles have a good amount of room to be able to engage a good number of clients, but if you have more ambitious plans you would be better served by our larger Exhibition Vehicles, which even come with meeting rooms. If you want to supersize our Double Decker or vintage Routemaster Buses are ideal.
If the size is too much for you but you want to engage clients inside, our VW Camper can seat up to 3 people inside, and has been used as a mini meeting space at many corporate events.
If you just want to vend we have numerous smaller options, including Citroën H-Vans, Renault Estafettes and Pop-Up Camper Bars. If you want a smaller green alternative to the Airstream check out our Electric Maxus or vintage Milk Floats.
Customisability
As one of our most adaptable offerings, we've seen the Airstream used for endless varieties of campaigns
Pros
They've been transformed for retail, hospitality, health, beauty, corporate events and even food sampling - you name we've done it!
We offer 3 different layouts for our Airstreams.
Layout A is a large blank canvas which can be easily transformed based on your budget.

Layout B features a deep wrap around counter, seating, a storage cupboard and a sink – perfect for a variety of sampling activations. It can also be used as a meeting or demonstration space.

Our latest addition, layout C, has a more traditional large serving hatch, ideal for food and drink sampling.

Cons
The walls of the Airstream are relatively thin, so we do have to be careful about what we mount to the side of them. That being said we can often build heavier items up from the floor, thus negating the issue.
Logistics
This vehicle is included in our full logistics package as there is no engine. This includes a support vehicle with professional driver who will plan a route to transport your vehicle to and from venues each activation day.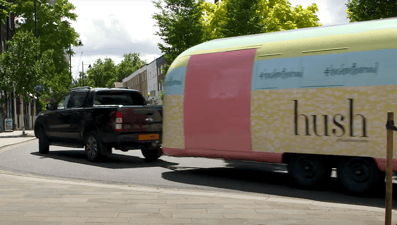 Pros
Although it can't be driven, this vehicle is designed to be towed, so it will still generate thousands of impressions out on the road being driven to your venue by our support vehicle.
Cons
You can't drive it, so if a high degree of mobility is essential to your next campaign we would recommend taking another look at the fleet page.
Depending on your requirements, a smaller sampling vehicle such as the Citroën H-Van may be more suitable, or the VW Camper if you are looking for a mobile retail display.
If you need more space for vending we have classic Ice Cream Vans, Postal Vans and Modern Sampling Vans. If you need more space for consultations or for retail displays we have Exhibition Vehicles and Double Decker Buses and Routemasters.
Cost
So, what does it cost to get your hands on one of these stylish American icons?
Pros
Our popular Airstreams are priced at £7,530 for a one day event, including wrapping and logistics. Although it is slightly more expensive than some of our other vehicles, you do get a lot more usable space relative to the vehicles overall size.
Internal modifications to the Airstream tend to start around £3000, but can exceed £10,000 if you want unique changes.
Cons
This vehicle has no direct competitors as it is in a size class of its own. However it is a more expensive option, so if price is your primary concern our VW Campers cost about £2000 less.
If vintage isn't a primary concern our Exhibition Vehicles are actually £300 less for even more space, though as they are larger vehicles you may need to pick your venues more carefully.
What are my next steps?
If you are interested in one of our Airstreams feel free to navigate to our budget calculator, where you can ballpark the cost of an Airstream based campaign.
We also recommend using our costs and services guide, for a more specific explanation of all our services and how much that might add to your final bill.