Christmas is traditionally the busiest time for the retail sector and there will likely be even more enthusiasm for Christmas shopping this year as people make up for last year's restrictions.
Apart from buying gifts from supermarkets, online shopping was the only option in 2020, so shopping centres that were in decline before the pandemic will be looking to capitalise on the turnaround in shopping habits. Footfall is likely to increase not just in shopping centres, but cities, towns and car parks will also be much busier, offering opportunities for in-person marketing activity this festive season. But with lots of shops and brand activations going all out for Christmas, competition for audience attention is incredibly high.
So, what types of campaign can you run to make a splash and stand out from the crowd this festive season? We have come up with some Christmas marketing campaign ideas to delight your audience and promote your brand. We also have some tips about how to manage your seasonal campaign to maximise its results and ensure it is a success, including …....
….... defining your objectives and target audience
The type of Christmas promotion you run will depend largely on your objectives and target audience. For instance, do you want people to sample a new product you are launching or do you want to boost awareness of an existing brand? Or maybe you want to conduct market research into a product that is still in development? How well people engage with your campaign will to a large extent be down to their demographic (see box below). Once you have decided what objectives you want your campaign to achieve and the audience you want to target, you will be ready to consider the format of your campaign.
The five key demographic segments:
Age

Gender

Income and occupation

Ethnicity and religion

Family structure
All of the above demographics will influence the format of your marketing campaign, from which type of events to organise for in-person promotions, to the type of social media channels to use to publicise your campaign.
Taken from Five essential ingredients for successful promotional campaigns.
Five winning Christmas Campaign ideas: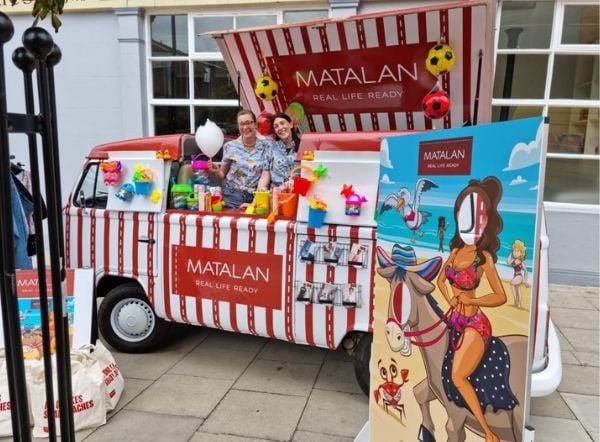 1. Doorstep gift campaigns
Doorstep promotions rely on creating a buzz on social media to reach a large audience, rather than heavy footfall. They are great for engaging the enthusiasm of influencers who can endorse your product to their huge followings in just a few seconds.
However, a successful doorstep promotion takes careful planning. If you want to target influencers, you need to introduce yourself and their product to them well in advance of your campaign, or approach their agent, if they have one. It may take a little while to engage their support and agree to endorsing your campaign in exchange for a free gift of your product.
If you want to boost your brand with your existing customers, you could organise an online ballot to select the lucky winners who will receive a visit from you, bearing their gift. What could be nicer for your customers at Christmas than being given a beautifully-wrapped free gift on their doorstep? Surely it is the perfect Instagrammable moment for them to share on social media?
If you have hired a branded promotional vehicle to visit the winners, your arrival will create quite a buzz in the street, and an unexpected photo-opportunity for the excited residents. Our blog, "How to plan a great doorstep promotional campaign" has further ideas and guidance to inspire you.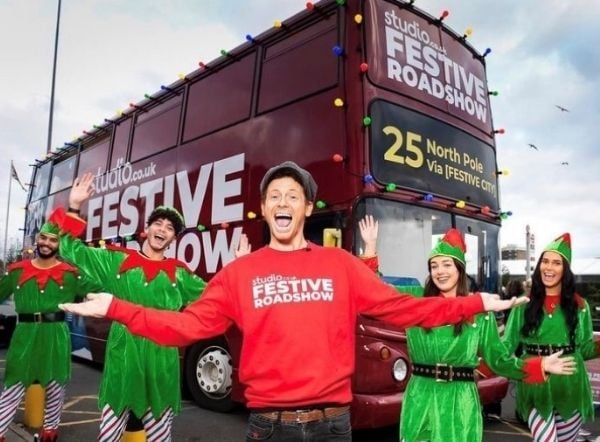 2. PR stunts in towns and city centres
PR stunts are great for promoting special events like brand anniversaries or a product launch that you really want to make a splash with. With a bit of imagination and creativity, you can make a far-reaching and lasting impression with your audience. Images of the Ghostbusters Marshmallow Man breaking through the concourse at Waterloo Station went global, receiving a huge amount of publicity across all media platforms. Or something as simple as a musical "flash-mob" singing a Christmas hit can create a stir without even having to organise a pitch for your event.
PR stunts work especially well in busy towns and city centres during the festive season, when people are more receptive to unexpected fun and surprises and you can go all out with music and sparkle! Remember to check for things like permits, risk assessments etc. in advance and don't forget to let local media know what you are planning, so your stunt gets plenty of publicity.
If you are using a branded promotional vehicle as the centrepiece to your stunt, you can include your website and a QR code on the wrap as your call to arms, and the vehicle can also form a colourful backdrop for selfies.
3. Product sampling and Christmas games at markets and festivals
Christmas markets and festivals are the ideal places to hold a product sampling event, when the cold winter weather has brought an end to outdoor shows and fairs. People will be seeking out Christmas present ideas for their friends and family so a Christmas-themed stand, with plenty of free samples to hand out, will attract attention and create a buzz around your brand.
Christmas festivals are the perfect venue if your campaign's target audience is families with young children. A festive selfie contest or Christmas game can be one of the lively activities for families to enjoy as they explore all the event has to offer. As many of the attractions, such as fairground rides and food stalls, will eat into the family budget, any entertainment on offer for free will be especially popular.
If you are using a branded vehicle in your campaign, it can form the backdrop for a Christmas selfie contest. For example, if you have a wrap on your vehicle featuring a sleigh, you could give away free Christmas hats, branded with your logo, and invite people to put on their hat and take a selfie whilst striking a pose as Santa by the sleigh. Invite participants to upload their selfie to your online gallery and tell them there will be a fabulous prize for the winner. Even if they don't win the selfie contest, they will have a fetching new Christmas hat! It is a simple and effective way to create a fun and positive experience around your brand that will be shared amongst a large online audience.
A festive game will also be a good crowd-puller, such as "Christmas Spin and Win" with sparkly samples of your product to give away as prizes. Everyone can be a winner though, if you also have money-off vouchers or another special offer around your brand to give to every participant.
Check out our blog for lots of advice about holding a product launch event in a post-Lockdown world.
4. Christmas gift bundle/advent calendar giveaways in retail parks
Retail parks are also getting back to their pre-Covid footfall numbers. Having been deprived of a traditional Christmas shopping experience during the pandemic, shoppers will be excited to experience "in-person" service again, and keen to spot the seasonal trends and offers to take advantage of. This presents an exciting opportunity to showcase your brand in a fun and festive way, and giving away free Christmas gift bundles of "fun-size" samples of your product will go down a treat with shoppers.
Another idea that is both popular and cost-effective is an advent-calendar giveaway. The windows in the calendar can each feature a link to a voucher or entry into a draw to win a sample of your product, thus promoting your brand's website. You can also include links to unexpected surprises on social media, such as a celebrity or influencer guest appearance on Facebook and Twitter. Anything to create a positive experience around your brand! An advent calendar giveaway can launch a bigger, even more far-reaching Christmas social media campaign and develop brand loyalty.
5. Voucher giveaways on railway concourses
Railway stations are also getting busy again now workers are returning to their offices after months of working from home. You could set up a promotional vehicle to use as a base for handing out vouchers to commuters as they hurry to and from work in the run-up to Christmas. The vehicle will not only draw attention to your Christmas promotion, it can also be used for transporting your team, props and boxes of vouchers from venue to venue if you are organising a multi-site seasonal campaign. The branded wrap on your vehicle will be showcasing your product while you're on the road, further extending the reach of your campaign.
Feeling inspired?
We hope these Christmas marketing campaign ideas are helpful, because as soon as you have decided the format of your campaign you can decide the best type of venues to attend and plan your timetable accordingly. Be sure to book your promotional vehicle, promo team and photographer in plenty of time as they will be in high demand during the festive season.
During the event, your team should be gathering plenty of data from prospective customers for your follow-up marketing activity. You may be looking for customer feedback about the product you are promoting, or simply want to keep them informed of other special offers and launches around your brand.
Having a professional photographer and videographer will enable you to share your seasonal campaign activity with your online audience and maybe even live stream some festive fun. When your campaign is over, you can schedule social media posts featuring video footage and photos from your events to extend its length and reach a wider audience. Keep in touch with your prospects, and encourage them to engage with your posts, to nurture their brand loyalty.
Whatever type of marketing campaign you are organising, if you are taking it on a nationwide tour, our blog has guidance around campaign logistics and route planning to help you. Below is a list of further blogs we have written to offer guidance around running successful marketing campaigns:
7 support services to level up your next campaign
Tips for hiring a winning promotional team for your campaign
How to do product sampling with a promotional vehicle
Five creative product launch ideas to inspire your campaign
Why are product launch videos important for brand success?
Discover more about how you can use promotional vehicles as part of your product launches and brand awareness campaigns by downloading our eBook below!